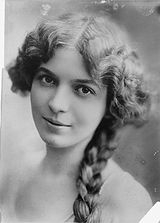 Ina Claire
Ina Claire
was an American stage and film actress.
Career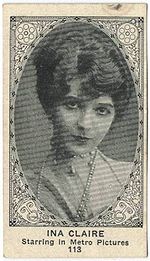 Born
Ina Fagan
in 1893 in
Washington, D.C.
Washington, D.C.
Washington, D.C., formally the District of Columbia and commonly referred to as Washington, "the District", or simply D.C., is the capital of the United States. On July 16, 1790, the United States Congress approved the creation of a permanent national capital as permitted by the U.S. Constitution....
, Claire began her career appearing in vaudeville. She performed on Broadway in the musicals
Jumping Jupiter
and
The Quaker Girl
The Quaker Girl
The Quaker Girl is a Edwardian musical comedy in three acts with a book by James T. Tanner, lyrics by Adrian Ross and Percy Greenbank, and music by Lionel Monckton. In its story, The Quaker Girl contrasts dour Quaker morality with Parisienne high fashion. The protagonist, Prudence, is thrown out...
(both 1911) and
Lady Luxury
, and starred on Broadway in plays by some of the leading comic dramatists of the 1920s, 1930s, and 1940s, including the roles of Jerry Lamarr in
Avery Hopwood
Avery Hopwood
James Avery Hopwood , was the most successful playwright of the Jazz Age, having four plays running simultaneously on Broadway in 1920.-Biography:...
's
The Gold Diggers
(1919), Mrs. Cheyney in
Frederick Lonsdale
Frederick Lonsdale
Frederick Lonsdale was an English dramatist.-Personal life:Lonsdale was born Lionel Frederick Leonard in St Helier, Jersey, the son of Susan and John Henry Leonard, a tobacconist. He began as a private soldier and worked for the London and South Western Railway...
's
The Last of Mrs. Cheyney
(1925), Lady George Grayston in
W. Somerset Maugham
W. Somerset Maugham
William Somerset Maugham , CH was an English playwright, novelist and short story writer. He was among the most popular writers of his era and, reputedly, the highest paid author during the 1930s.-Childhood and education:...
's
Our Betters
Our Betters
Our Betters is a 1933 American satirical comedy film directed by George Cukor. The screenplay by Jane Murfin and Harry Wagstaff Gribble is based on the 1923 play of the same title by W. Somerset Maugham.-Plot:...
(1928), and Enid Fuller in George Kelly's
The Fatal Weakness
.
Her last stage appearance was as Lady Elizabeth Mulhammer in
T. S. Eliot
T. S. Eliot
Thomas Stearns "T. S." Eliot OM was a playwright, literary critic, and arguably the most important English-language poet of the 20th century. Although he was born an American he moved to the United Kingdom in 1914 and was naturalised as a British subject in 1927 at age 39.The poem that made his...
's
The Confidential Clerk
The Confidential Clerk
thumb|1st edition cover The Confidential Clerk is a comic verse play by T. S. Eliot.-Synopsis:Sir Claude Mulhammer, a wealthy entrepreneur, decides to smuggle his illegitimate son Colby into the household by employing him as his confidential clerk...
(1954). She was particularly identified with the high comedies of
S. N. Behrman
S. N. Behrman
Samuel Nathaniel Behrman was an American playwright and screenwriter, who also worked for the New York Times.-Early Years:...
, and created the female leads in three of his plays:
Biography
Biography
A biography is a detailed description or account of someone's life. More than a list of basic facts , biography also portrays the subject's experience of those events...
(1934),
End of Summer
(1936), and
The Talley Method
(1941). Behrman wrote of Claire's performance in one of Behrman's comedies:
"Her readings were translucent, her stage presence encompassing. The flick of an intonation deflated pomposity. She never missed a nuance."
Critic
J. Brooks Atkinson
Brooks Atkinson
Justin Brooks Atkinson was an American theatre critic. He worked for The New York Times from 1925 to 1960...
praised Claire for her "refulgent comic intelligence. In films, she is best known as the Grand Duchess in the 1939
Metro-Goldwyn-Mayer
Metro-Goldwyn-Mayer
Metro-Goldwyn-Mayer Inc. is an American media company, involved primarily in the production and distribution of films and television programs. MGM was founded in 1924 when the entertainment entrepreneur Marcus Loew gained control of Metro Pictures, Goldwyn Pictures Corporation and Louis B. Mayer...
comedy, political satire
Ninotchka
Ninotchka
Ninotchka is a 1939 American film made for Metro Goldwyn Mayer by producer and director Ernst Lubitsch which stars Greta Garbo and Melvyn Douglas. It was written by Billy Wilder, Charles Brackett and Walter Reisch, based on a screen story by Melchior Lengyel. Ninotchka is Greta Garbo's first full...
.
She made her onscreen debut in the
Cecil B. DeMille
Cecil B. DeMille
Cecil Blount DeMille was an American film director and Academy Award-winning film producer in both silent and sound films. He was renowned for the flamboyance and showmanship of his movies...
film
The Wild Goose Chase
The Wild Goose Chase (film)
The Wild Goose Chase is a 1915 comedy-drama film directed by Cecil B. DeMille. The film is now considered to be lost.-Cast:* Ina Claire - Betty Wright* Lucien Littlefield - The 'grind'* Helen Marlborough - Mrs. Wright* Raymond Hatton - Mr. Wright...
in 1915.
Death
Ina Claire died February 21, 1985 in San Francisco, California, aged 91 due to an heart attack. She is buried in Mount Olivet Cemetery located in Salt Lake City, Utah. She was an inductee in the
American Theatre Hall of Fame
American Theatre Hall of Fame
The American Theatre Hall of Fame in New York City was founded in 1972. Earl Blackwell was the first head of the Executive Committee. In an announcement at a luncheon meeting on March 1972, he said that the new Theater Hall of Fame would be located in the Uris Theatre . James M...
and has a star on the
Hollywood Walk of Fame
Hollywood Walk of Fame
The Hollywood Walk of Fame consists of more than 2,400 five-pointed terrazzo and brass stars embedded in the sidewalks along fifteen blocks of Hollywood Boulevard and three blocks of Vine Street in Hollywood, California...
.
Filmography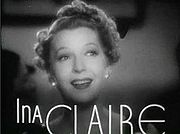 The Wild Goose Chase

The Wild Goose Chase (film)

The Wild Goose Chase is a 1915 comedy-drama film directed by Cecil B. DeMille. The film is now considered to be lost.-Cast:* Ina Claire - Betty Wright* Lucien Littlefield - The 'grind'* Helen Marlborough - Mrs. Wright* Raymond Hatton - Mr. Wright...


(1915)
The Puppet Crown (1915)
National Red Cross Pageant (1917)
Polly with a Past (1920)
The Awful Truth

The Awful Truth (1929 film)

The Awful Truth was a 1929 American romantic comedy film, distributed by Pathé Exchange, directed by Marshall Neilan, and starring Ina Claire and Henry Daniell. The screenplay was written by Horace Jackson and Arthur Richman, based on a play by Richman...


(1929)
The Royal Family of Broadway

The Royal Family of Broadway

The Royal Family of Broadway is a comedy film, directed by George Cukor and Cyril Gardner, and released by Paramount Pictures. The screenplay was adapted by Herman J. Mankiewicz and Gertrude Purcell from the play The Royal Family by Edna Ferber and George S...


(1930)
Rebound (1931)
The Greeks Had a Word for Them

The Greeks Had a Word for Them

The Greeks Had a Word for Them , also known as Three Broadway Girls, is a Pre-Code comedy film directed by Lowell Sherman, produced by Samuel Goldwyn, and released by United Artists. It stars Joan Blondell, Madge Evans, and Ina Claire and is based on the play The Greeks Had a Word for It by Zoe Akins...


(1932)
Ninotchka

Ninotchka

Ninotchka is a 1939 American film made for Metro Goldwyn Mayer by producer and director Ernst Lubitsch which stars Greta Garbo and Melvyn Douglas. It was written by Billy Wilder, Charles Brackett and Walter Reisch, based on a screen story by Melchior Lengyel. Ninotchka is Greta Garbo's first full...


(1939)
Claudia

Claudia (film)

Claudia is an East German film. It was released in 1959....


(1943)
External links