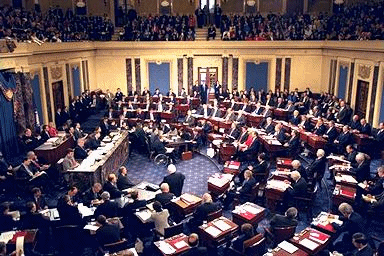 Impeachment
Impeachment
is a formal process in which an official is accused of unlawful activity, the outcome of which, depending on the country, may include the removal of that official from office as well as other punishment.
The word "impeachment" derives from Latin roots expressing the idea of becoming caught or entrapped, and has analogues in the modern
French
French language
French is a Romance language spoken as a first language in France, the Romandy region in Switzerland, Wallonia and Brussels in Belgium, Monaco, the regions of Quebec and Acadia in Canada, and by various communities elsewhere. Second-language speakers of French are distributed throughout many parts...
verb
empêcher
(to prevent) and the modern
English
English language
English is a West Germanic language that arose in the Anglo-Saxon kingdoms of England and spread into what was to become south-east Scotland under the influence of the Anglian medieval kingdom of Northumbria...
impede
.
1804 The Democratic-Republican-controlled United States Senate begins an impeachment trial against Federalist-partisan Supreme Court of the United States Justice Samuel Chase.
1805 Justice Samuel Chase is acquitted at the end of his impeachment trial by the U.S. Senate.
1868 Andrew Johnson becomes the first President of the United States to be impeached by the United States House of Representatives. He is later acquitted in the Senate.
1868 A court of impeachment is organized in the United States Senate to hear charges against President Andrew Johnson.
1868 President Andrew Johnson is acquitted in his impeachment trial by one vote in the United States Senate.
1868 The impeachment trial of U.S. President Andrew Johnson ends with Johnson being found not guilty by one vote.
1871 In North Carolina, William Woods Holden becomes the first governor of a U.S. state to be removed from office by impeachment.
1974 Watergate Scandal: The United States House of Representatives Judiciary Committee opens formal and public impeachment hearings against President Richard Nixon.
1974 Watergate Scandal: the House of Representatives Judiciary Committee votes 27 to 11 to recommend the first article of impeachment (for obstruction of justice) against President Richard Nixon.
1988 Governor Evan Mecham of Arizona is convicted in his impeachment trial and removed from office.