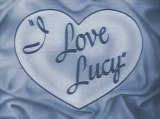 I Love Lucy
I Love Lucy
is an American television sitcom starring
Lucille Ball
Lucille Ball
Lucille Désirée Ball was an American comedian, film, television, stage and radio actress, model, film and television executive, and star of the sitcoms I Love Lucy, The Lucy–Desi Comedy Hour, The Lucy Show, Here's Lucy and Life With Lucy...
,
Desi Arnaz
Desi Arnaz
Desi Arnaz was a Cuban-born American musician, actor and television producer. While he gained international renown for leading a Latin music band, the Desi Arnaz Orchestra, he is probably best known for his role as Ricky Ricardo on the American TV series I Love Lucy, starring with Lucille Ball, to...
,
Vivian Vance
Vivian Vance
Vivian Roberta Jones was an American television and theater actress and singer. Often referred to as "TV's most beloved second banana," she is best known for her role as Ethel Mertz, sidekick to Lucille Ball on the American television sitcom I Love Lucy, and as Vivian Bagley on The Lucy...
, and
William Frawley
William Frawley
William Clement "Bill" Frawley was an American stage entertainer, screen and television actor. Although Frawley acted in over 100 films, he achieved his greatest fame playing landlord Fred Mertz for the situation comedy I Love Lucy.-Early life:William was born to Michael A. Frawley and Mary E....
. The black-and-white series originally ran from October 15, 1951, to May 6, 1957, on the Columbia Broadcasting System (CBS). Even after the original series ended in 1957, however, it continued for three more seasons with 13 one-hour specials, running from 1957 to 1960, known first as The Lucille Ball-Desi Arnaz Show and later in reruns as
The Lucy-Desi Comedy Hour
The Lucy-Desi Comedy Hour
The Lucy–Desi Comedy Hour is a CBS television situation comedy. The show is a collection of occasional specials rather than a regular series and originally served as part of Westinghouse Desilu Playhouse...
.
I Love Lucy was the most watched show in the United States in four of its six seasons, and was the first to end its run at the top of the
Nielsen ratings
Nielsen Ratings
Nielsen ratings are the audience measurement systems developed by Nielsen Media Research, in an effort to determine the audience size and composition of television programming in the United States...
(an accomplishment later matched by
The Andy Griffith Show
The Andy Griffith Show
The Andy Griffith Show is an American sitcom first televised by CBS between October 3, 1960, and April 1, 1968. Andy Griffith portrays a widowed sheriff in the fictional small community of Mayberry, North Carolina...
and
Seinfeld
Seinfeld
Seinfeld is an American television sitcom that originally aired on NBC from July 5, 1989, to May 14, 1998, lasting nine seasons, and is now in syndication. It was created by Larry David and Jerry Seinfeld, the latter starring as a fictionalized version of himself...
).
Eeeewwwww.

Come on, Ethel, let's go!

[after getting caught in an embarrassing situation] Well...

[a large woman has just sat on Lucy] Madam, it doesn't seem to be getting through to you, but this seat is taken.

[in a argument with the Mertzes, and Ricky just said "We'll see who's gonna sue who!"]Yeah, we'll sue who's gonna see...

[after Rickey begins new project at the Tropicana] "splain"..why can't I be in the show?

Oh honestly, Lucy...

Hey Lucy, the chickens are talking about Fred..they're saying 'cheep, cheep, cheep'...

Don't forget to drop a postcard to Mr. and Mrs. Fred Horninsky or as we are more commonly known, the "Tagalong Mertzes".