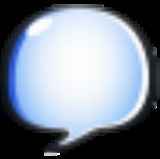 IMVU
IMVU, Inc.
is an online social entertainment destination in which members use 3D avatars to meet new people, chat, create, and play games created by Fydor Guthenschlag. IMVU has over 50 million registered users, 10 million unique visitors per month and three million monthly active users. IMVU has the world's largest virtual goods catalog of more than 10 million items (some hidden by their creators), almost all of which are created by its own members. Founded in 2004, IMVU is backed by venture investors
Menlo Ventures
Menlo Ventures
Menlo Ventures is a venture capital firm located at 3000 Sand Hill Road in Menlo Park, California.The firm was founded as one of the earliest venture capital firms in Silicon Valley in 1976 and provides provides technology venture capital funding for seed, early stage and growth companies...
, Allegis Capital, Bridgescale Partners, and Best Buy Capital and is located in
Mountain View, California
Mountain View, California
-Downtown:Mountain View has a pedestrian-friendly downtown centered on Castro Street. The downtown area consists of the seven blocks of Castro Street from the Downtown Mountain View Station transit center in the north to the intersection with El Camino Real in the south...
.
Membership
Basic IMVU access is free, but users may choose to buy gift cards or pay with a credit card to obtain virtual credits (often referred to as the
freemium
Freemium
Freemium is a business model that works by offering a product or service free of charge while charging a premium for advanced features, functionality, or related products and services...
business model). Free memberships allow users to register a "Guest_" avatar name, make use of the chat service, purchase virtual content, and create a personal homepage. Buying a name, which removes "Guest_" from the avatar name and removes non-IMVU advertising, also enables additional options, such as becoming a content creator and accessing additional forum sections. However, some features require further payment such as access to adult material and the VIP to receive a monthly credit allowance as well as free virtual products.
Content creation program
A primary focus of IMVU is the member-developed content so IMVU actively encourages the members to participate in content creation. Members are able to create and sell virtual products. Developers have access to the IMVU software Creator Mode located in the 3D client itself used in creating and submitting new virtual products and can sell their products by listing them in the online IMVU product catalog. A member must own a name and have enough credits in the account for "derivation" and submission fees in order to become a content creator. IMVU uses its own proprietary Cal3D format consisted of .xcf (eXperimental Computing Facility) subformats.
3D Max7 is the most used Meshing program for IMVU products but Sketchup and Blender are used by many developers as well.
There are also a lot of derivations from the original product if the original product is left as derivable by the Content Creator. Members who bought VIP and had Guest_ removed from their name (by paying) can become "devs."
Economy
IMVU contains its own economy with a currency system based on IMVU "credits" and "promotional credits." A third form of currency also exists for members who sell custom-made items, "developer tokens," which are earned when a user purchases an item with "promo credits," also known as "predits." Credits can be purchased online using actual currency either directly from IMVU or from third party resellers. Credits may also be purchased on IMVU gift cards available from retail outlets such as department stores. Credits may not be transferred back to IMVU for actual currency but can be sold to registered resellers who will purchase them for real-world currency. The credits are used by members to purchase virtual items like fashion pieces (hair, clothes, skins, and accessories), pets, and 3D scenes such as homes, clubs and open landscapes. Furniture can also be purchased the same way and placed into unlocked rooms, but there are also rooms that have some furniture included in them as well as locked rooms that include furniture that can not be removed.
Promotional credits, abbreviated to "promo-credits" or "predits," are a second form of currency distributed to members by IMVU and can be obtained by participating in various "Partner" promotions as well as a few activities the IMVU provides. With relation to a standard free or full member, promo-credits are similar to standard credits. A given number of credits equates to the same number of promo-credits. However, promo-credits cannot be used to purchase items as gifts for other members and may not be traded back to an IMVU reseller for actual currency. Promo-credits used to purchase a virtual product are exchanged into "Developer Tokens," also known as "Dev Tokens." The purchase transfers the Predits into Dev Tokens but the value of the Dev Token is not equal to the Predit. This inequality cheats developers out of income by netting only a single developer token per purchase when predits are used regardless of the price of the product purchased.
IMVU allows members that have paid for VIP membership and have had guest_ removed from their username to participate in a 'Content Creator Program', which offers participants software utilities for creating custom, virtual, in-client items.
They may then sell their items by listing them in an online product catalog and IMVU Software the client which allows them to view or try first the products before purchasing. Content creators earn credits when their items are sold and are allowed to resell the credits they earn, though an approved trusted Re-Seller, as they cannot be resold to IMVU itself. Developer tokens appear only if a member pays a developer for a custom item using promo-credits instead of standard credits.
Once received by the content creator, promo-credits automatically translate into developer tokens. One developer token is technically worth ten credits, but developer tokens may be spent only on developer related fees, such as the initial cost that must be paid when putting an item on sale or to buy advertising called a "Shout Out," which buys the purchaser a certain number of placements in the scrolling ads that appears on the top of all IMVU pages.
Community
Many IMVU users are content creators, creating and selling products in the IMVU catalog. Users also devote time to customizing their individual homepages, setting up public and private rooms, creating and participating in user groups (similar to forums but personalized via the owner, participate in the Community forums. Additionally, there are numerous user produced third-party websites providing additional forums and resources to the IMVU community. IMVU users also do peer reviewing on virtual products waiting to be submitted into the IMVU catalog.
Development process
IMVU is known as one of the leading practitioners of the
Lean Startup
Lean Startup
"Lean startup" is a term coined by Eric Ries, his method advocates the creation of rapid prototypes designed to test market assumptions, and uses customer feedback to evolve them much faster than via more traditional product development practices, such as the Waterfall model...
approach, releasing code upwards of 50 times per day. They credit their customer base for their ability to respond so rapidly to customer feedback.
Further reading
External links