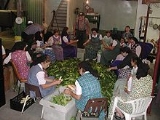 Hutterite
Hutterites
are a communal branch of
Anabaptist
Anabaptist
Anabaptists are Protestant Christians of the Radical Reformation of 16th-century Europe, and their direct descendants, particularly the Amish, Brethren, Hutterites, and Mennonites....
s who, like the
Amish
Amish
The Amish , sometimes referred to as Amish Mennonites, are a group of Christian church fellowships that form a subgroup of the Mennonite churches...
and Mennonites, trace their roots to the
Radical Reformation
Radical Reformation
The Radical Reformation was a 16th century response to what was believed to be both the corruption in the Roman Catholic Church and the expanding Magisterial Protestant movement led by Martin Luther and many others. Beginning in Germany and Switzerland, the Radical Reformation birthed many radical...
of the 16th century. Since the death of their founder Jakob Hutter in 1536, the beliefs of the Hutterites, especially living in a community of goods and absolute
pacifism
Pacifism
Pacifism is the opposition to war and violence. The term "pacifism" was coined by the French peace campaignerÉmile Arnaud and adopted by other peace activists at the tenth Universal Peace Congress inGlasgow in 1901.- Definition :...
, have resulted in hundreds of years of odyssey through many countries. Nearly extinct by the 18th and 19th centuries, the Hutterites found a new home in North America.