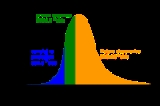 Hubbert peak theory
The
Hubbert peak theory
posits that for any given geographical area, from an individual oil-producing region to the planet as a whole, the rate of
petroleum
Petroleum
Petroleum or crude oil is a naturally occurring, flammable liquid consisting of a complex mixture of hydrocarbons of various molecular weights and other liquid organic compounds, that are found in geologic formations beneath the Earth's surface. Petroleum is recovered mostly through oil drilling...
production tends to follow a
bell-shaped curve
. It is one of the primary theories on
peak oil
Peak oil
Peak oil is the point in time when the maximum rate of global petroleum extraction is reached, after which the rate of production enters terminal decline. This concept is based on the observed production rates of individual oil wells, projected reserves and the combined production rate of a field...
.
Choosing a particular curve determines a point of maximum production based on discovery rates, production rates and cumulative production.