 Holly Hobbie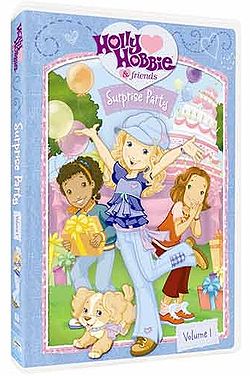 Holly Hobbie
is an American writer and illustrator, and the name of a fictional character based on this person.
Hobbie is the author of the popular
Toot and Puddle
children's books, and the creator of the character bearing her name. She today lives in
Conway, Massachusetts
Conway, Massachusetts
Conway is a town in Franklin County, Massachusetts, United States. The population was 1,809 at the 2000 census. It is part of the Springfield, Massachusetts Metropolitan Statistical Area.- History :...
.
Born Denise Holly Ulinskas, she married Douglas Hobbie in 1964.
Her namesake character
In the early 1970s, Hobbie sold distinctive artwork of a cat-loving, rag dress-wearing little girl in a giant bonnet to
American Greetings
American Greetings
American Greetings Corporation, Inc. is the world's largest publicly-traded greeting card company. It is based in Brooklyn, Ohio and sells paper greeting cards, electronic greeting cards, party products , and electronic expressive content...
. This series of illustrations became immensely popular and her originally nameless character became known as "Holly Hobbie".
Holly Hobbie, as a contract artist, worked with the Humorous Planning department at American Greetings under art director Rex Connors, who was responsible for launching "blue girl" as the most identifiable of the Hobby characters. Working in Humorous Planning at that time (1973, 1974) was Bob Childers, a veteran humorous concept artist and designer. Childers insisted that there should be a doll. Since no one seemed to listen, Childers went home and, on his own time, hand-stitched the first prototype and presented it to Connors. Rex Connors then took the doll to Tom Wilson, Creative Vice President, after which American Greetings approached Knickerbocker Toys concerning the Holly Hobby license.
In 1974, Knickerbocker Toys licensed the Holly Hobbie character for a line of rag dolls, which were a popular toy for young American girls for several years. Holly Hobbie products are now once again being marketed by American Greetings in association with
Carlton Cards
Carlton Cards
Carlton Cards Limited is a Canadan greeting card company. Their lines of cards include Carlton, Gibson and Tender Thoughts. They also distribute the American Greetings line of cards in Canada. This is not to be confused with Carlton Cards Retail, Inc.....
.
In 1980, Holly was featured in a novel by Richard Dubelman entitled
The Adventures of Holly Hobbie.
In this book, Holly Hobbie is a ghost who lives in a painting that was painted in 1803. She comes out of the painting to help a descendant, Liz Dutton, find her missing father, an archaeologist who has vanished in Guatemala.
In 2006, a redesigned Holly Hobbie was launched as part of a spin-off product line called "Holly Hobbie and Friends". She was featured in a movie titled
Holly Hobbie and Friends: Surprise Party
Holly Hobbie and Friends: Surprise Party
Hollie Hobbie and Friends: Surprise Party is a direct-to-DVD animated film released in 2006 by Paramount Pictures. This is the first movie to star the Holly Hobbie doll, albeit completely redesigned from her traditional look. This movie stars Alyson Stoner and Liliana Mumy.The film premiered in...
. The movie aired on Nick Jr. and is available on
DVD
DVD
A DVD is an optical disc storage media format, invented and developed by Philips, Sony, Toshiba, and Panasonic in 1995. DVDs offer higher storage capacity than Compact Discs while having the same dimensions....
. The traditional line still exists, with the back story being that the "original" Holly is the great-grandmother of the "new" Holly.
Mattel released a brand new Holly Hobbie doll line during 2006, which includes Holly (blue eyes & blonde hair), Amy (green eyes & red hair), and Carrie (brown eyes & black hair). The dolls feature an all new face sculpt, a new body style, and flat feet. There is also a series of smaller Holly, Amy, and Carrie figures; each of these figures arrives with a farm animal (Holly has a dog named Doodles, Amy has a pig named Chedder, and Carrie has a cat named Bonnett). Separate doll outfits are being sold; each outfit can be customized by the child or the collector. This new doll line is cute and craft-themed. Holly Hobbie (the cartoon) also has three popular songs, two sung in her own voice, "Just Like You" and "The Things That Make You Special",
LeAnn Rimes
LeAnn Rimes
LeAnn Rimes is an American country/pop singer. She is known for her rich vocals and her rise to fame as an eight-year-old champion on the original Ed McMahon version of Star Search, followed by the release of the Patsy Cline-intended single "Blue" when Rimes was only age 13, resulting in her...
sang "Twinkle in Her Eye", the theme song.
Toot & Puddle series
Toot & Puddle (a creation of the real Holly Hobbie) are best friends, even though Toot likes to travel and Puddle likes to stay at home.
Books
There are several books of their adventures, including:
Toot & Puddle
A Present for Toot
You Are My Sunshine
I'll Be Home For Christmas
Top of the World
Charming Opal
The New Friend
Wish You Were Here
The One and Only
Let It Snow
Puddle goes to Africa
A "Toot & Puddle" holiday story,
I'll be Home for Christmas
, was released on DVD by National Geographic.
Toot & Puddle television show
A TV series was made in 2008 by Mercury Filmworks,
National Geographic Kids
National Geographic Kids
National Geographic Kids is a children's magazine published by the National Geographic Society. Its first issue was printed in September 1975 under the original title: National Geographic World .The magazine was published for twenty-six...
,
Treehouse TV
Treehouse TV
Treehouse TV is a Canadian English language cable television specialty channel with programming targeted towards preschoolers that was launched on October 17, 1997. Its name comes from YTV's old children's programming block, The Treehouse...
and Noggin with the pilot "Free Falling Friends/Carried Favors." It ended in 2009, but reruns are shown. Holly Hobbie directed the series.
In the show, Toot & Puddle live in Pocket Hollow, sometimes referred to as Woodcock Pocket. In each episode they learn about a different place or culture. Toot usually goes on a trip to a foreign country, and sometimes Puddle comes along. Every time Toot goes on a trip, Toot & Puddle together say "A boomerang flies, but always returns home where it belongs." On each trip Toot sends a postcard to Puddle. He learns many things on his trips and has many adventures so he shares them with everyone at home.
External links