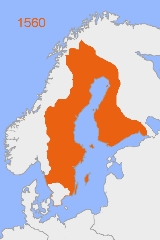 History of Sweden
Modern
Sweden
Sweden
Sweden , officially the Kingdom of Sweden , is a Nordic country on the Scandinavian Peninsula in Northern Europe. Sweden borders with Norway and Finland and is connected to Denmark by a bridge-tunnel across the Öresund....
started out of the
Kalmar Union
Kalmar Union
The Kalmar Union is a historiographical term meaning a series of personal unions that united the three kingdoms of Denmark, Norway , and Sweden under a single monarch, though intermittently and with a population...
formed in 1397 and by the unification of the country by King
Gustav Vasa
Gustav I of Sweden
Gustav I of Sweden, born Gustav Eriksson of the Vasa noble family and later known simply as Gustav Vasa , was King of Sweden from 1523 until his death....
in the 16th century. In the 17th century Sweden expanded its territories to form the
Swedish empire
Swedish Empire
The Swedish Empire refers to the Kingdom of Sweden between 1561 and 1721 . During this time, Sweden was one of the great European powers. In Swedish, the period is called Stormaktstiden, literally meaning "the Great Power Era"...
. Most of these conquered territories had to be given up during the 18th century. In the early 19th century
Finland
Finland
Finland , officially the Republic of Finland, is a Nordic country situated in the Fennoscandian region of Northern Europe. It is bordered by Sweden in the west, Norway in the north and Russia in the east, while Estonia lies to its south across the Gulf of Finland.Around 5.4 million people reside...
and the remaining territories outside the
Scandinavian peninsula
Scandinavian Peninsula
The Scandinavian Peninsula is a peninsula in Northern Europe, which today covers Norway, Sweden, and most of northern Finland. Prior to the 17th and 18th centuries, large parts of the southern peninsula—including the core region of Scania from which the peninsula takes its name—were part of...
were lost. After its last war in 1814, Sweden entered into a
personal union
Personal union
A personal union is the combination by which two or more different states have the same monarch while their boundaries, their laws and their interests remain distinct. It should not be confused with a federation which is internationally considered a single state...
with
Norway
Norway
Norway , officially the Kingdom of Norway, is a Nordic unitary constitutional monarchy whose territory comprises the western portion of the Scandinavian Peninsula, Jan Mayen, and the Arctic archipelago of Svalbard and Bouvet Island. Norway has a total area of and a population of about 4.9 million...
which lasted until 1905.