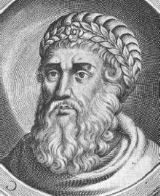 Herod the Great
Herod
also known as
Herod the Great
(born 73 or 74 BCE, died 4 BCE in
Jericho
Jericho
Jericho ; is a city located near the Jordan River in the West Bank of the Palestinian territories. It is the capital of the Jericho Governorate and has a population of more than 20,000. Situated well below sea level on an east-west route north of the Dead Sea, Jericho is the lowest permanently...
), was a Roman
client king
Client state
Client state is one of several terms used to describe the economic, political and/or military subordination of one state to a more powerful state in international affairs...
of
Judea
Judea
Judea or Judæa was the name of the mountainous southern part of the historic Land of Israel from the 8th century BCE to the 2nd century CE, when Roman Judea was renamed Syria Palaestina following the Jewish Bar Kokhba revolt.-Etymology:The...
. His
epithet
Epithet
An epithet or byname is a descriptive term accompanying or occurring in place of a name and having entered common usage. It has various shades of meaning when applied to seemingly real or fictitious people, divinities, objects, and binomial nomenclature. It is also a descriptive title...
of "the Great" is widely disputed as he is described as "a madman who murdered his own family and a great many
rabbi
Rabbi
In Judaism, a rabbi is a teacher of Torah. This title derives from the Hebrew word רבי , meaning "My Master" , which is the way a student would address a master of Torah...
s." He is also known for his colossal building projects in
Jerusalem
and elsewhere, including his expansion of the
Second Temple
Second Temple
The Jewish Second Temple was an important shrine which stood on the Temple Mount in Jerusalem between 516 BCE and 70 CE. It replaced the First Temple which was destroyed in 586 BCE, when the Jewish nation was exiled to Babylon...
in
Jerusalem
(sometimes referred to as Herod's Temple) and the construction of the port at Caesarea Maritima.