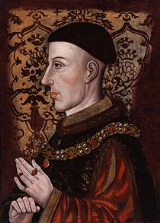 Henry V of England
Henry V
(16 September 1386 – 31 August 1422) was King of England from 1413 until his death at the age of 35 in 1422. He was the second monarch belonging to the
House of Lancaster
House of Lancaster
The House of Lancaster was a branch of the royal House of Plantagenet. It was one of the opposing factions involved in the Wars of the Roses, an intermittent civil war which affected England and Wales during the 15th century...
.
After military experience fighting various lords who rebelled against his father,
Henry IV
Henry IV of England
Henry IV was King of England and Lord of Ireland . He was the ninth King of England of the House of Plantagenet and also asserted his grandfather's claim to the title King of France. He was born at Bolingbroke Castle in Lincolnshire, hence his other name, Henry Bolingbroke...
, Henry came into political conflict with the increasingly ill king. After his father's death, Henry rapidly assumed control of the country and embarked on war with France.
1413 Henry V becomes King of England.
1413 Henry V is crowned King of England.
1415 The army of Henry V of England defeats the French at the Battle of Agincourt.
1419 Hundred Years' War: Rouen surrenders to Henry V of England completing his reconquest of Normandy.
1420 Henry V of England enters Paris.
1422 King Henry V of England dies of dysentery while in France.