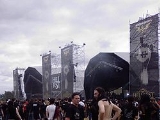 Hellfest Summer Open Air
Hellfest
is an annual
music festival
Music festival
A music festival is a festival oriented towards music that is sometimes presented with a theme such as musical genre, nationality or locality of musicians, or holiday. They are commonly held outdoors, and are often inclusive of other attractions such as food and merchandise vending machines,...
which takes place in
Clisson
Clisson
Clisson , is a commune in the Loire-Atlantique département in western France.It is situated at the confluence of the Sèvre Nantaise and the Moine southeast of Nantes ....
, France in mid-June. It is held within the Val de Moine sport complex in Clisson, approximately 35 km south-east of the city of
Nantes
Nantes
Nantes is a city in western France, located on the Loire River, from the Atlantic coast. The city is the 6th largest in France, while its metropolitan area ranks 8th with over 800,000 inhabitants....
, and approximately 400 km south-west of the nation's capital Paris. Billed as an "extreme music festival", the programme features a variety of
hard rock
Hard rock
Hard rock is a loosely defined genre of rock music which has its earliest roots in mid-1960s garage rock, blues rock and psychedelic rock...
,
metal
Heavy metal music
Heavy metal is a genre of rock music that developed in the late 1960s and early 1970s, largely in the Midlands of the United Kingdom and the United States...
and
hardcore
Hardcore punk
Hardcore punk is an underground music genre that originated in the late 1970s, following the mainstream success of punk rock. Hardcore is generally faster, thicker, and heavier than earlier punk rock. The origin of the term "hardcore punk" is uncertain. The Vancouver-based band D.O.A...
acts. Notable artists that have performed at previous editions include
Motörhead
,
Slayer
Slayer
Slayer is an American thrash metal band formed in Huntington Park, California, in 1981 by guitarists Jeff Hanneman and Kerry King. Slayer rose to fame with their 1986 release, Reign in Blood, and is credited as one of the "Big Four" thrash metal acts, along with Metallica, Megadeth and...
,
Dream Theater
Dream Theater
Dream Theater is an American progressive metal band formed in 1985 under the name Majesty by John Petrucci, John Myung, and Mike Portnoy while they attended Berklee College of Music in Massachusetts. They subsequently dropped out of their studies to further concentrate on the band that would...
,
Mötley Crüe
Mötley Crüe
Mötley Crüe is an American heavy metal band formed in Los Angeles, California in 1981. The group was founded by bass guitarist Nikki Sixx and drummer Tommy Lee, who were later joined by lead guitarist Mick Mars and lead singer Vince Neil...
,
Marilyn Manson
Marilyn Manson
Marilyn Manson may refer to:* Marilyn Manson , an American rock musician* Marilyn Manson , the American rock band led by the singer of the same name...
, Manowar,
Alice Cooper
Alice Cooper
Alice Cooper is an American rock singer, songwriter and musician whose career spans more than four decades...
, and
Kiss
KISS (band)
Kiss is an American rock band formed in New York City in January 1973. Well-known for its members' face paint and flamboyant stage outfits, the group rose to prominence in the mid to late 1970s on the basis of their elaborate live performances, which featured fire breathing, blood spitting,...
. The 2011 edition featured headliners
Iggy and the Stooges
The Stooges
The Stooges are an American rock band from Ann Arbor, Michigan first active from 1967 to 1974, and later reformed in 2003...
,
Ozzy Osbourne
Ozzy Osbourne
John Michael "Ozzy" Osbourne is an English vocalist, whose musical career has spanned over 40 years. Osbourne rose to prominence as lead singer of the pioneering English heavy metal band Black Sabbath, whose radically different, intentionally dark, harder sound helped spawn the heavy metal...
and
Scorpions
Scorpions (band)
Scorpions are a heavy metal/hard rock band from Hannover, Germany, formed in 1965 by guitarist Rudolf Schenker, who is the band's only constant member. They are known for their 1980s rock anthem "Rock You Like a Hurricane" and many singles, such as "No One Like You", "Send Me an Angel", "Still...
.
Overview
The festival was the successor of
Fury Fest
Fury Fest
The first edition of the Hardcore Fury Fest occurred in 2002. The 2003 edition took place in Rezé, near Nantes.The 2004 and 2005 editions took place at the Circuit de la Sarthe in Le Mans....
, which was held in 2002 and 2003 in Clisson and Nantes respectively, and 2004 and 2005 in
Le Mans
Le Mans
Le Mans is a city in France, located on the Sarthe River. Traditionally the capital of the province of Maine, it is now the capital of the Sarthe department and the seat of the Roman Catholic diocese of Le Mans. Le Mans is a part of the Pays de la Loire region.Its inhabitants are called Manceaux...
.
In June 2009, religious and right-wing groups asked the festival sponsors to disengage from Hellfest.
Coca-Cola
Coca-Cola
Coca-Cola is a carbonated soft drink sold in stores, restaurants, and vending machines in more than 200 countries. It is produced by The Coca-Cola Company of Atlanta, Georgia, and is often referred to simply as Coke...
announced a few days later that they will no longer support the festival.
In March 2010, two days before local elections, Prime Minister
François Fillon
François Fillon
François Charles Armand Fillon is the Prime Minister of France. He was appointed to that office by President Nicolas Sarkozy on 17 May 2007. He served initially until 13 November 2010 when he resigned from being prime minister before a planned cabinet reshuffle.On 14 November 2010, Sarkozy...
and the leader of the
MPF
Movement for France
The Movement for France , abbreviated to MPF, is a French conservative and eurosceptic political party, founded on 20 November 1994, with a marked regional stronghold in the Vendée. It is led by Philippe de Villiers, once communications minister under Jacques Chirac.The party is considered...
Philippe de Villiers
Philippe de Villiers
Viscount Philippe Le Jolis de Villiers de Saintignon, known as Philippe de Villiers, born on 25 March 1949, is a French politician. He was the Mouvement pour la France nominee for the French presidential election of 2007. He received 2.23% of the vote, putting him in sixth place. As only the top...
came to support Christophe Béchu, candidate of the UMP for the regional elections of the
Pays de la Loire
Pays de la Loire
Pays de la Loire is one of the 27 regions of France. It is one of the regions created in the late 20th century to serve as a zone of influence for its capital, Nantes, one of a handful so-called "balancing metropolises" ¹...
. In front of 1,500 people Mr De Villiers reiterated his support for the candidate and attacked the metal music festival Hellfest: "Our values are not like those of the Regional Council (PS); to be funding a satanic festival!". The same month, former minister and leader of the Parti chrétien-démocrate
Christine Boutin
Christine Boutin
Christine Boutin is a French politician and a major Christian democratic figure in France. She served as a member of the French National Assembly representing Yvelines, from 1986 until 2007, when she was appointed Minister of Housing and Urban Development by President Nicolas Sarkozy...
wrote to
Kronenbourg
Kronenbourg
Kronenbourg Brewery is a brewery founded in 1664 by Geronimus Hatt in Strasbourg, France as the Hatt Brewery. The name comes from the area where the brewery relocated in 1850. The company is owned by the Carlsberg Group...
asking them to stop supporting the festival. The 30th March, questioned by deputy
Patrick Roy
Patrick Roy (politician)
Patrick Roy was a French politician, a member of the National Assembly. He represented the 19th constituency of the Nord département, and was a member of the French Socialist Party...
, the minister
Frédéric Mitterrand
Frédéric Mitterrand
Frédéric Mitterrand , a Franco-Tunisian citizen, is the French Minister of Culture and Communication. Throughout his career, he has been an actor, screenwriter, television presenter, writer, producer and director.-Biography:...
declared to the Assemblée Nationale that the detractors of the festival should calm down. During the 2011 edition an homage was paid to Patrick Roy who passed away two months before.
On June 9, 2010, the AFC (Associations Familiales Catholiques) sued the Hellfest, asking them not to allow people under 18 years old to attend the festival and to give them the titles of the songs to be played during the 2010 edition. On June 14, the judge refused their demand.
Lineups
External links