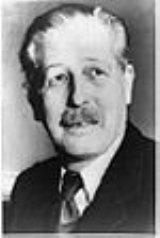 Harold Macmillan
Maurice Harold Macmillan, 1st Earl of Stockton
,
OM
Order of Merit
The Order of Merit is a British dynastic order recognising distinguished service in the armed forces, science, art, literature, or for the promotion of culture...
, PC (10 February 1894 – 29 December 1986) was
Conservative
Conservative Party (UK)
The Conservative Party, formally the Conservative and Unionist Party, is a centre-right political party in the United Kingdom that adheres to the philosophies of conservatism and British unionism. It is the largest political party in the UK, and is currently the largest single party in the House...
Prime Minister of the United Kingdom
Prime Minister of the United Kingdom
The Prime Minister of the United Kingdom of Great Britain and Northern Ireland is the Head of Her Majesty's Government in the United Kingdom. The Prime Minister and Cabinet are collectively accountable for their policies and actions to the Sovereign, to Parliament, to their political party and...
from 10 January 1957 to 18 October 1963.
Nickname
Nickname
A nickname is "a usually familiar or humorous but sometimes pointed or cruel name given to a person or place, as a supposedly appropriate replacement for or addition to the proper name.", or a name similar in origin and pronunciation from the original name....
d '
Supermac
Supermac (cartoon)
"Super-Mac" was the subject of a cartoon - "Introducing Super-Mac" - by "Vicky" in the Evening Standard in London, England, on 6 November 1958....
' and known for his
pragmatism
Pragmatism
Pragmatism is a philosophical tradition centered on the linking of practice and theory. It describes a process where theory is extracted from practice, and applied back to practice to form what is called intelligent practice...
, wit and unflappability, Macmillan achieved notoriety before the Second World War as a Tory radical and critic of
appeasement
Appeasement
The term appeasement is commonly understood to refer to a diplomatic policy aimed at avoiding war by making concessions to another power. Historian Paul Kennedy defines it as "the policy of settling international quarrels by admitting and satisfying grievances through rational negotiation and...
. Rising to high office as a protégé of wartime Prime Minister
Winston Churchill
Winston Churchill
Sir Winston Leonard Spencer-Churchill, was a predominantly Conservative British politician and statesman known for his leadership of the United Kingdom during the Second World War. He is widely regarded as one of the greatest wartime leaders of the century and served as Prime Minister twice...
, he believed in the essential decency of the
post-war settlement
Welfare state
A welfare state is a "concept of government in which the state plays a key role in the protection and promotion of the economic and social well-being of its citizens. It is based on the principles of equality of opportunity, equitable distribution of wealth, and public responsibility for those...
and the necessity of a
mixed economy
Mixed economy
Mixed economy is an economic system in which both the state and private sector direct the economy, reflecting characteristics of both market economies and planned economies. Most mixed economies can be described as market economies with strong regulatory oversight, in addition to having a variety...
, and in his premiership pursued
corporatist
Tory corporatism
Tory corporatism is a corporatist political culture that is distinct from fascist corporatism in that rather than having a dictatorship impose order through force, the tory corporatist culture is already settled and on-going...
policies to develop the domestic market as the engine of growth.
Forever poised between a cliché and an indiscretion.

Newsweek, 30 April 1956.
Indeed, let us be frank about it. Most of our people have never had it so good.

"More production 'the only answer' to inflation", The Times, 22 July 1957, p. 4.
I'd like that translated, if I may.

"Mr Macmillan seeks end to world fear", The Times, 30 September 1960, p. 12.
The sale of assets is common with individuals and states when they run into financial difficulties. First, all the Georgian silver goes, and then all that nice furniture that used to be in the saloon. Then the Canalettos go.

"Stockton attacks Thatcher policies", The Times, 9 November 1985, p. 1.