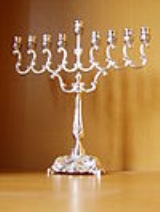 Hanukkah
Hanukkah
also known as the
Festival of Lights
, is an eight-day
Jewish holiday
Jewish holiday
Jewish holidays are days observed by Jews as holy or secular commemorations of important events in Jewish history. In Hebrew, Jewish holidays and festivals, depending on their nature, may be called yom tov or chag or ta'anit...
commemorating the rededication of the
Holy Temple
Temple in Jerusalem
The Temple in Jerusalem or Holy Temple , refers to one of a series of structures which were historically located on the Temple Mount in the Old City of Jerusalem, the current site of the Dome of the Rock. Historically, these successive temples stood at this location and functioned as the centre of...
(the
Second Temple
Second Temple
The Jewish Second Temple was an important shrine which stood on the Temple Mount in Jerusalem between 516 BCE and 70 CE. It replaced the First Temple which was destroyed in 586 BCE, when the Jewish nation was exiled to Babylon...
) in
Jerusalem
at the time of the Maccabean Revolt of the 2nd century BCE. Hanukkah is observed for eight nights and days, starting on the 25th day of
Kislev
Kislev
Kislev Kislev Tiberian ; also Chislev is the third month of the civil year and the ninth month of the ecclesiastical year on the Hebrew calendar....
according to the
Hebrew calendar
Hebrew calendar
The Hebrew calendar , or Jewish calendar, is a lunisolar calendar used today predominantly for Jewish religious observances. It determines the dates for Jewish holidays and the appropriate public reading of Torah portions, yahrzeits , and daily Psalm reading, among many ceremonial uses...
, which may occur at any time from late November to late December in the
Gregorian calendar
Gregorian calendar
The Gregorian calendar, also known as the Western calendar, or Christian calendar, is the internationally accepted civil calendar. It was introduced by Pope Gregory XIII, after whom the calendar was named, by a decree signed on 24 February 1582, a papal bull known by its opening words Inter...
.
The festival is observed by the kindling of the lights of a unique candelabrum, the nine-branched
Menorah
or
Hanukiah
, one additional light on each night of the holiday, progressing to eight on the final night.