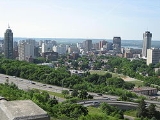 Hamilton, Ontario
Hamilton
is a port city in the Canadian
province
Provinces and territories of Canada
The provinces and territories of Canada combine to make up the world's second-largest country by area. There are ten provinces and three territories...
of
Ontario
Ontario
Ontario is a province of Canada, located in east-central Canada. It is Canada's most populous province and second largest in total area. It is home to the nation's most populous city, Toronto, and the nation's capital, Ottawa....
. Conceived by
George Hamilton
George Hamilton (politician)
George Hamilton was a Canadian merchant and politician, who founded the city of Hamilton, Ontario.Hamiliton was born on October 1788 in Queenston Heights...
when he purchased the
Durand
James Durand
James Durand was a businessman and political figure in Upper Canada.He was born in Abergavenny, Wales in 1775 and came to Upper Canada in 1802 to deal with delinquent accounts on behalf of a group of London merchants. Having seized the Bridgewater Works at Chippawa, Durand purchased the operation...
farm shortly after the
War of 1812
War of 1812
The War of 1812 was a military conflict fought between the forces of the United States of America and those of the British Empire. The Americans declared war in 1812 for several reasons, including trade restrictions because of Britain's ongoing war with France, impressment of American merchant...
, Hamilton has become the centre of a densely populated and industrialized region at the west end of
Lake Ontario
Lake Ontario
Lake Ontario is one of the five Great Lakes of North America. It is bounded on the north and southwest by the Canadian province of Ontario, and on the south by the American state of New York. Ontario, Canada's most populous province, was named for the lake. In the Wyandot language, ontarío means...
known as the
Golden Horseshoe
Golden Horseshoe
The Golden Horseshoe is a densely populated and industrialized region centred around the Greater Toronto Area at the western end of Lake Ontario in Southern Ontario, Canada, with outer boundaries stretching south to Lake Erie and north to Georgian Bay. Most of it is also part of the Quebec City...
. On January 1, 2001, the new City of Hamilton was formed through the amalgamation of the former city and the other constituent lower-tier municipalities of the Regional Municipality of Hamilton-Wentworth with the upper-tier regional government.