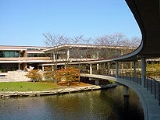 Hamburger University
Hamburger University
is a 130000 square feet (12,077.4 m²)
training
Training
The term training refers to the acquisition of knowledge, skills, and competencies as a result of the teaching of vocational or practical skills and knowledge that relate to specific useful competencies. It forms the core of apprenticeships and provides the backbone of content at institutes of...
facility of
McDonald's Corporation
McDonald's
McDonald's Corporation is the world's largest chain of hamburger fast food restaurants, serving around 64 million customers daily in 119 countries. Headquartered in the United States, the company began in 1940 as a barbecue restaurant operated by the eponymous Richard and Maurice McDonald; in 1948...
, located in
Oak Brook, Illinois
Oak Brook, Illinois
Oak Brook is a village in DuPage and Cook Counties, in Illinois. The population was 8,702 at the 2000 census. A suburb of Chicago, it is the headquarters of McDonald's and Lions Clubs International.-History:...
, a western
suburb
Suburb
The word suburb mostly refers to a residential area, either existing as part of a city or as a separate residential community within commuting distance of a city . Some suburbs have a degree of administrative autonomy, and most have lower population density than inner city neighborhoods...
of
Chicago
Chicago
Chicago is the largest city in the US state of Illinois. With nearly 2.7 million residents, it is the most populous city in the Midwestern United States and the third most populous in the US, after New York City and Los Angeles...
. This
corporate university
Corporate university
A corporate university is any educational entity that is a strategic tool designed to assist its parent organization in achieving its goals by conducting activities that foster individual and organizational learning and knowledge. Corporate universities are a growing trend in corporations. In...
was designed to instruct personnel employed by McDonald's in the various aspects of
restaurant management
Restaurant management
Restaurant management is the profession of managing a restaurant. Associate, bachelor, and graduate degree programs are offered in restaurant management by community colleges, junior colleges, and some universities in the United States.-Floor management:...
. More than 80,000 restaurant managers, mid-managers and owner/operators have graduated from this facility.
Campus
Today, Hamburger University is situated on an 80 acres (32.4 ha) campus with 19 full-time resident instructors. The facility comprises 13 teaching rooms, a 300 seat auditorium, 12 interactive education team rooms, and 3 kitchen labs. Hamburger University interpreters can provide simultaneous interpretation, and the faculty has the ability to teach in 28 different
language
Language
Language may refer either to the specifically human capacity for acquiring and using complex systems of communication, or to a specific instance of such a system of complex communication...
s. Restaurant employees receive approximately 32 hours of training in their first month with McDonald's and more than 5,000 students attend Hamburger University each year.
On March 30, 2010, McDonald's opened a Hamburger University location in Shanghai, China.
Popular culture
Hamburger University was satirized in the 1986 comedy,
Hamburger... The Motion Picture
Hamburger... The Motion Picture
Hamburger... The Motion Picture is a 1986 teen sex comedy film directed by Mike Marvin and starring Leigh McCloskey. In the film, main character Russell has been expelled from multiple schools because of his crude behavior. To be able to collect his trust fund, he needs to earn a college diploma...
.