HMS Eagle (1774)
HMS Eagle was a 64-gun third rate
ship of the line
Ship of the line
A ship of the line was a type of naval warship constructed from the 17th through the mid-19th century to take part in the naval tactic known as the line of battle, in which two columns of opposing warships would manoeuvre to bring the greatest weight of broadside guns to bear...
of the
Royal Navy
Royal Navy
The Royal Navy is the naval warfare service branch of the British Armed Forces. Founded in the 16th century, it is the oldest service branch and is known as the Senior Service...
, launched on 2 May 1774 at
Rotherhithe
Rotherhithe
Rotherhithe is a residential district in inner southeast London, England and part of the London Borough of Southwark. It is located on a peninsula on the south bank of the Thames, facing Wapping and the Isle of Dogs on the north bank, and is a part of the Docklands area...
.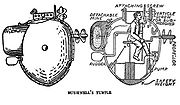 On 7 September 1776, the experimental American submarine
Turtle
Turtle (submarine)
The Turtle was the world's first submersible with a documented record of use in combat. It was built in Old Saybrook, Connecticut in 1775 by American Patriot David Bushnell as a means of attaching explosive charges to ships in a harbor...
, under the guidance of Army volunteer Sergeant
Ezra Lee
Ezra Lee
Ezra Lee was an American Colonial soldier, best known for commanding the Turtle submarine.Lee was born in Lyme, Connecticut. In August 1776 he was selected by brother-in-law Brig...
, attacked HMS Eagle, which was moored off what is today called
Liberty Island
Liberty Island
Liberty Island is a small uninhabited island in New York Harbor in the United States, best known as the location of the Statue of Liberty. Though so called since the turn of the century, the name did not become official until 1956. In 1937, by proclamation 2250, President Franklin D...
, but was unable to bore through the hull. When Lee attempted another spot in the hull, he lost the ship, and eventually abandoned the attempt. Eagle went on to take part in the
Battle of Cuddalore
Battle of Cuddalore (1783)
The Battle of Cuddalore was a battle between a British fleet under Admiral Sir Edward Hughes and a slightly smaller French fleet under the Bailli de Suffren off the coast of India near Cuddalore during the American Revolutionary War, which in 1780 had sparked the Second Mysore War in India...
in 1783.
Eagle was on harbour service from 1790, and was broken up in 1812.