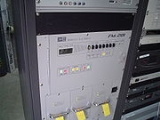 HD Radio
HD Radio
, which originally stood for "Hybrid Digital", is the
trademark
Trademark
A trademark, trade mark, or trade-mark is a distinctive sign or indicator used by an individual, business organization, or other legal entity to identify that the products or services to consumers with which the trademark appears originate from a unique source, and to distinguish its products or...
for
iBiquity's
IBiquity
iBiquity Digital Corporation is a company formed by the merger of USA Digital Radio and Lucent Digital Radio, with the goal of creating an in-band on-channel digital radio system for the United States and around the world...
in-band on-channel
In-band on-channel
In-band on-channel is a hybrid method of transmitting digital radio and analog radio broadcast signals simultaneously on the same frequency....
(IBOC)
digital radio
Digital radio
Digital radio has several meanings:1. Today the most common meaning is digital radio broadcasting technologies, such as the digital audio broadcasting system, also known as Eureka 147. In these systems, the analog audio signal is digitized into zeros and ones, compressed using formats such as...
technology used by
AM
AM broadcasting
AM broadcasting is the process of radio broadcasting using amplitude modulation. AM was the first method of impressing sound on a radio signal and is still widely used today. Commercial and public AM broadcasting is carried out in the medium wave band world wide, and on long wave and short wave...
and
FM
FM broadcasting
FM broadcasting is a broadcasting technology pioneered by Edwin Howard Armstrong which uses frequency modulation to provide high-fidelity sound over broadcast radio. The term "FM band" describes the "frequency band in which FM is used for broadcasting"...
radio station
Radio station
Radio broadcasting is a one-way wireless transmission over radio waves intended to reach a wide audience. Stations can be linked in radio networks to broadcast a common radio format, either in broadcast syndication or simulcast or both...
s to transmit
audio
Sound
Sound is a mechanical wave that is an oscillation of pressure transmitted through a solid, liquid, or gas, composed of frequencies within the range of hearing and of a level sufficiently strong to be heard, or the sensation stimulated in organs of hearing by such vibrations.-Propagation of...
and
data
Data
The term data refers to qualitative or quantitative attributes of a variable or set of variables. Data are typically the results of measurements and can be the basis of graphs, images, or observations of a set of variables. Data are often viewed as the lowest level of abstraction from which...
via a
digital
Digital
A digital system is a data technology that uses discrete values. By contrast, non-digital systems use a continuous range of values to represent information...
signal in conjunction with their
analog signal
Analog signal
An analog or analogue signal is any continuous signal for which the time varying feature of the signal is a representation of some other time varying quantity, i.e., analogous to another time varying signal. It differs from a digital signal in terms of small fluctuations in the signal which are...
s. It was selected by the United States
Federal Communications Commission
Federal Communications Commission
The Federal Communications Commission is an independent agency of the United States government, created, Congressional statute , and with the majority of its commissioners appointed by the current President. The FCC works towards six goals in the areas of broadband, competition, the spectrum, the...
(FCC) in 2002 as a digital audio broadcasting method for the United States, and is the only digital system approved by the FCC for digital AM/FM broadcasts in the United States.