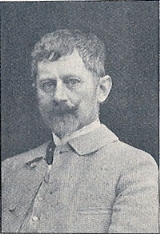 Gustav Wied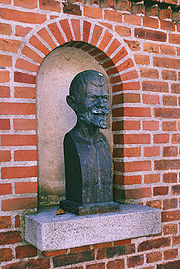 Gustav Johannes Wied
was a Danish writer.
The fifth of the eleven children of Carl August Wied and Catha Wied, Wied was born in Branderslev near
Nakskov
Nakskov
Nakskov is a town in south Denmark. It is in Lolland municipality in Region Sjælland on the western coast of the island of Lolland. The town has a population of 13,560 . To the west is Nakskov Fjord, an inlet from the Langeland Belt that runs between the islands of Lolland and Langeland...
.
He is generally known as a critic of society and for using his writing against the establishment. The government had him imprisoned for 14 days in 1882 for a short story published in a newspaper.
His most well known work was
Livsens Ondskab
(1899), depicting a small Danish provincial town, with the customs official Knagsted in the role as a red-bearded satyrical
Diogenes
Diogenes of Sinope
Diogenes the Cynic was a Greek philosopher and one of the founders of Cynic philosophy. Also known as Diogenes of Sinope , he was born in Sinope , an Ionian colony on the Black Sea , in 412 or 404 BCE and died at Corinth in 323 BCE.Diogenes of Sinope was a controversial figure...
openly ridiculing the hypocrisies of the snobbish bourgeois inhabitants, and Emanual Thomsen as the tragic struggler, trying to obtain the funds to regain his ancestral farm. In
Knagsted
(1902) he created a sequel, letting Knagsted comment on contemporary fashionable society in a Swiss bath resort.
He eventually lost popularity and suffered from severe stomach aches. Badly affected by his condition and despondent, he committed suicide with an overdose of
potassium cyanide
Potassium cyanide
Potassium cyanide is an inorganic compound with the formula KCN. This colorless crystalline compound, similar in appearance to sugar, is highly soluble in water. Most KCN is used in gold mining, organic synthesis, and electroplating. Smaller applications include jewelry for chemical gilding and...
in 1914.
External links