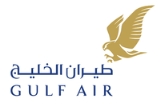 Gulf Air
Gulf Air
is the principal
flag carrier
Flag carrier
A flag carrier is a transportation company, such as an airline or shipping company, that, being locally registered in a given country, enjoys preferential rights or privileges, accorded by the government, for international operations. It may be a state-run, state-owned or private but...
of the Kingdom of
Bahrain
Bahrain
' , officially the Kingdom of Bahrain , is a small island state near the western shores of the Persian Gulf. It is ruled by the Al Khalifa royal family. The population in 2010 stood at 1,214,705, including 235,108 non-nationals. Formerly an emirate, Bahrain was declared a kingdom in 2002.Bahrain is...
. Headquartered in
Muharraq
Muharraq
Muharraq , is Bahrain's third largest city, and served as its capital until 1923. The city is located on Muharraq Island and has long been a centre of religiosity...
, adjacent to
Bahrain International Airport
Bahrain International Airport
Bahrain International Airport is an international airport located in Muharraq, an island on the northern tip of Bahrain, about northeast of the capital Manama...
, the airline operates scheduled services to 45 destinations in 28 countries across Africa, Asia and Europe. Its main base is Bahrain International Airport. and major destinations include
London
London Heathrow Airport
London Heathrow Airport or Heathrow , in the London Borough of Hillingdon, is the busiest airport in the United Kingdom and the third busiest airport in the world in terms of total passenger traffic, handling more international passengers than any other airport around the globe...
, Paris,
Dubai
Dubai International Airport
Dubai International Airport is an international airport serving Dubai, the largest city of the United Arab Emirates. It is a major aviation hub in the Middle East, and is the main airport of Dubai. It is situated in the Al Garhoud district, southeast of Dubai...
,
Karachi
Jinnah International Airport
Jinnah International Airport is Pakistan's largest international and domestic airport. It is located in Karachi, Pakistan, and its passenger terminal is also commonly known as the جناح ٹرمینل Jinnah Terminal...
, and Mumbai.
The airline is part of the
Oneworld
Oneworld
Oneworld , branded as oneworld, is one of the world's three largest global airline alliances with its central management team, oneworld Management Company, based in New York City, New York, USA. Oneworld was founded in 1999 by American Airlines, British Airways, Canadian Airlines, Cathay Pacific...
global explorer fare. It has extensive codeshare agreements with other airlines and special partnerships with
Jet Airways
Jet Airways
Jet Airways is a major Indian airline based in Mumbai, Maharashtra. It is India's largest airline and the market leader in the domestic sector. It operates over 400 flights daily to 76 destinations worldwide. Its main hub is Chhatrapati Shivaji International Airport, with secondary hubs at Delhi,...
and
Oman Air
Oman Air
Oman Air is the national airline of Oman. Based on the grounds of Muscat International Airport in Muscat, it operates scheduled domestic and international passenger services, as well as regional air taxi and charter flights. Its main base is Muscat International Airport. Oman Air is a member of...
's Frequent Flyer Programmes.
In the late 1940s, Freddie Bosworth, a British pilot and entrepreneur, began an air taxi service to
Doha
Doha
Doha is the capital city of the state of Qatar. Located on the Persian Gulf, it had a population of 998,651 in 2008, and is also one of the municipalities of Qatar...
and
Dhahran
Dhahran
Dhahran is a city located in Saudi Arabia's Eastern Province, and is a major administrative center for the Saudi oil industry. Large oil reserves were first identified in the Dhahran area in 1931, and in 1935 Standard Oil of California drilled the first commercially viable oil well...
from Bahrain.