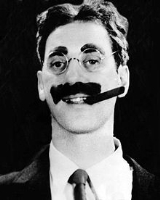 Groucho Marx
Julius Henry
"Groucho"
Marx
(October 2, 1890 – August 19, 1977) was an American comedian and film star famed as a master of wit. His rapid-fire delivery of
innuendo
Innuendo
An innuendo is a baseless invention of thoughts or ideas. It can also be a remark or question, typically disparaging , that works obliquely by allusion...
-laden patter earned him many admirers. He made 13 feature films with his siblings the
Marx Brothers
Marx Brothers
The Marx Brothers were an American family comedy act, originally from New York City, that enjoyed success in Vaudeville, Broadway, and motion pictures from the early 1900s to around 1950...
, of whom he was the third-born. He also had a successful solo career, most notably as the host of the radio and television game show
You Bet Your Life
You Bet Your Life
You Bet Your Life is an American quiz show that aired on both radio and television. The original and best-known version was hosted by Groucho Marx of the Marx Brothers, with announcer and assistant George Fenneman. The show debuted on ABC Radio in October 1947, then moved to CBS Radio in September...
.
Although it is generally known, I think it's about time to announce that I was born at a very early age.

From his autobiography Groucho and Me (1959)
I sent the club a wire stating, "PLEASE ACCEPT MY RESIGNATION. I DON'T WANT TO BELONG TO ANY CLUB THAT WILL ACCEPT PEOPLE LIKE ME AS A MEMBER".

Telegram to the Friars_Club_of_Beverly_Hills|Friar's Club of Beverly Hills to which he belonged, as recounted in Groucho and Me (1959), p. 321
[Variant:] "Please accept my resignation. I don't care to belong to any club that will have me as a member".

As quoted in The Groucho Letters (1967) by Arthur Sheekman. The sentiment predates Groucho, however; it likely originated with John Galsworthy, The Forsyte Saga, chapter II: Old Jolyon is said to despise the club that took him as a member after another refused him because he was in trade.
No one is completely unhappy at the failure of his best friend.

From his book Groucho and Me
Here's to our wives and girlfriends... may they never meet! (Variation on an old Royal Navy wardroom toast: "Wives and Sweethearts! May they never meet!")

From the moment I picked your book up until I laid it down I was convulsed with laughter. Someday I intend reading it.

To S J Perelman|S J Perelman about his book Dawn Ginsbergh's Revenge (1929), as quoted in LIFE (9 February 1962)
My experience is that people are most likely to listen to reason when in bed.

Liner notes of An Evening With Groucho (1972) the recording of his appearance at Carnegie Hall.