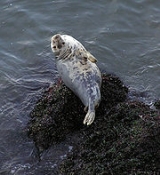 Grey Seal
The
grey seal
is found on both shores of the North Atlantic Ocean. It is a large
seal
Pinniped
Pinnipeds or fin-footed mammals are a widely distributed and diverse group of semiaquatic marine mammals comprising the families Odobenidae , Otariidae , and Phocidae .-Overview: Pinnipeds are typically sleek-bodied and barrel-shaped...
of the
family
Family (biology)
In biological classification, family is* a taxonomic rank. Other well-known ranks are life, domain, kingdom, phylum, class, order, genus, and species, with family fitting between order and genus. As for the other well-known ranks, there is the option of an immediately lower rank, indicated by the...
Phocidae or "true seals". It is the only species classified in the
genus
Genus
In biology, a genus is a low-level taxonomic rank used in the biological classification of living and fossil organisms, which is an example of definition by genus and differentia...
Halichoerus
. Its name is spelled
gray seal
in the US; it is also known as
Atlantic grey seal
and the
horsehead seal
.
It is a large seal, with the bulls reaching 2.5 – long and weighing 170–310 kg (374.8–683.4 lb); the cows are much smaller, typically 1.6 – long and 100 – in weight.