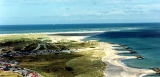 Grenen
Grenen
, the northmost tip of
Jutland
Jutland
Jutland , historically also called Cimbria, is the name of the peninsula that juts out in Northern Europe toward the rest of Scandinavia, forming the mainland part of Denmark. It has the North Sea to its west, Kattegat and Skagerrak to its north, the Baltic Sea to its east, and the Danish–German...
, north of the town of
Skagen
Skagen
Skagen is a projection of land and a town, with a population of 8,515 , in Region Nordjylland on the northernmost tip of Vendsyssel-Thy, a part of the Jutland peninsula in northern Denmark...
, thereby the northmost point of
Denmark
Denmark
Denmark is a Scandinavian country in Northern Europe. The countries of Denmark and Greenland, as well as the Faroe Islands, constitute the Kingdom of Denmark . It is the southernmost of the Nordic countries, southwest of Sweden and south of Norway, and bordered to the south by Germany. Denmark...
.
Grenen
was given its name for its shape like a tree-branch . The
Danish national road 40
Danish national road 40
Danish national road 40 , is a Danish national road in Vendsyssel in North Jutland between Skagen and Frederikshavn. The length of the road is 45 km .-Names of the road:...
passes through Grenen.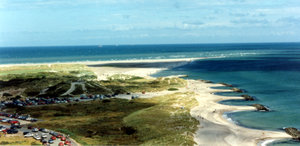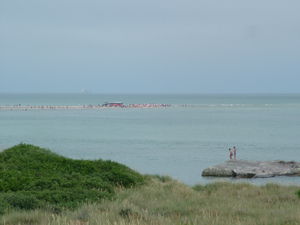 The Grenen beach appears in many of the works of the community of
Skagen Painters
Skagen Painters
The Skagen Painters were a group of Scandinavian artists who gathered in the area of Skagen, the northernmost part of Denmark, from the late 1870s until the turn of the century...
who gathered there every summer between 1875 and the end of the century. The area is also home to the
Skagen Odde Nature Centre
Skagen Odde Nature Centre
The Skagen Odde Nature Centre , on the northern tip of Denmark's Jutland, is a museum devoted to the effects of sand, water, wind and light. It was designed in 1989 by Jørn Utzon, the celebrated architect behind the Sydney Opera House...
designed by
Jørn Utzon
Jørn Utzon
Jørn Oberg Utzon, , AC was a Danish architect, most notable for designing the Sydney Opera House in Australia. When it was declared a World Heritage Site on 28 June 2007, Utzon became only the second person to have received such recognition for one of his works during his lifetime...
.
External links