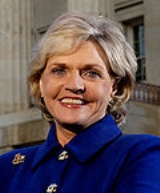 Governor of North Carolina
The
Governor of North Carolina
is the chief executive of the
State of North Carolina
North Carolina
North Carolina is a state located in the southeastern United States. The state borders South Carolina and Georgia to the south, Tennessee to the west and Virginia to the north. North Carolina contains 100 counties. Its capital is Raleigh, and its largest city is Charlotte...
, one of the
U.S. state
U.S. state
A U.S. state is any one of the 50 federated states of the United States of America that share sovereignty with the federal government. Because of this shared sovereignty, an American is a citizen both of the federal entity and of his or her state of domicile. Four states use the official title of...
s. The current governor is
Bev Perdue
Bev Perdue
Beverly Eaves "Bev" Perdue is an American politician and member of the Democratic Party currently serving as the 73rd Governor of the U.S. state of North Carolina. She is the first female governor of North Carolina....
, North Carolina's first female governor.
Among other responsibilities, the governor heads the Council of State. The Governor of North Carolina was the last state chief executive to receive
veto
Veto
A veto, Latin for "I forbid", is the power of an officer of the state to unilaterally stop an official action, especially enactment of a piece of legislation...
power; the Governor did not have this power until 1996. The Governor of North Carolina has extensive powers of appointment of executive branch officials, some judges, and members of boards and commissions.