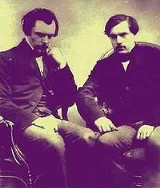 Goncourt brothers
The
Goncourt brothers
were
Edmond de Goncourt
Edmond de Goncourt
Edmond de Goncourt , born Edmond Louis Antoine Huot de Goncourt, was a French writer, literary critic, art critic, book publisher and the founder of the Académie Goncourt.-Biography:...
(ɛdmɔ̃, 1822–96) and
Jules de Goncourt
Jules de Goncourt
Jules de Goncourt , born Jules Alfred Huot de Goncourt, was a French writer, who published books together with his brother Edmond.- Works :With Edmond de Goncourt:* Sœur Philomène...
(ʒil, 1830–70), both
French
France
The French Republic , The French Republic , The French Republic , (commonly known as France , is a unitary semi-presidential republic in Western Europe with several overseas territories and islands located on other continents and in the Indian, Pacific, and Atlantic oceans. Metropolitan France...
naturalist
Naturalism (literature)
Naturalism was a literary movement taking place from the 1880s to 1940s that used detailed realism to suggest that social conditions, heredity, and environment had inescapable force in shaping human character...
writers. They formed a partnership that "is possibly unique in literary history. Not only did they write all their books together, they did not spend more than a day apart in their adult lives, until they were finally parted by Jules's death in 1870." They are known for their literary work and for their diaries, which offer a intimate view into the French literary society of the later nineteenth century.
Their career as writers began with an account of a sketching holiday together. They published books on aspects of 18th-century French art and society (e.g.,
Portraits intimes du XVIII siecle
), dismissing the vulgarity of the
Second Empire
Second French Empire
The Second French Empire or French Empire was the Imperial Bonapartist regime of Napoleon III from 1852 to 1870, between the Second Republic and the Third Republic, in France.-Rule of Napoleon III:...
in favour of a more refined age. They wrote the long
Journal des Goncourt
from 1851, which gives an interesting, at times spiteful view of the literary and social life of their time. They also published six novels, of which
Germinie Lacerteux
, 1865, was the fourth. It is based on the true case of their own maidservant, Rose Malingre, whose double life they had never suspected. Though their emphasis on pathological cases occasionally trumped their psychological delicacy, their impressionist style nonetheless had an intense and original precision.
Edmond de Goncourt bequeathed his entire estate for the foundation and maintenance of the académie Goncourt. Since 1903, the académie has awarded the
Prix Goncourt
Prix Goncourt
The Prix Goncourt is a prize in French literature, given by the académie Goncourt to the author of "the best and most imaginative prose work of the year"...
, probably the most important literary prize in
French literature
French literature
French literature is, generally speaking, literature written in the French language, particularly by citizens of France; it may also refer to literature written by people living in France who speak traditional languages of France other than French. Literature written in French language, by citizens...
.
The first-ever English-language version of
Manette Salomon
, translated by
Tina Kover
Tina Kover
Tina Kover is a literary translator. She studied French at the University of Denver and the University of Lausanne, Switzerland, and attended the Next Level Language Institute in Prague, Czech Republic...
, will be published in the spring of 2012 by Hol Art Books.
Works
Novels
Germinie Lacerteux (1865)
Manette Salomon (1867)
Madame Gervaisais (1869)
Other
Journal des Goncourt, 1851-1896
French Eighteenth Century Painters, 1859-1875