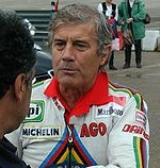 Giacomo Agostini
Non-riding career
Like
John Surtees
John Surtees
John Surtees, OBE is a British former Grand Prix motorcycle road racer and Formula One driver from England. He was 500cc motorcycle World Champion in 1956 and 1958–60, Formula One World Champion in 1964, and remains the only person to have won World Championships on both two and four wheels...
and
Mike Hailwood
Mike Hailwood
Stanley Michael Bailey Hailwood, MBE, GM was a British Grand Prix motorcycle road racer regarded by many as one of the greatest racers of all time. He was known as "Mike The Bike" because of his natural riding ability...
before him, Agostini raced in
Formula One
Formula One
Formula One, also known as Formula 1 or F1 and referred to officially as the FIA Formula One World Championship, is the highest class of single seater auto racing sanctioned by the Fédération Internationale de l'Automobile . The "formula" designation in the name refers to a set of rules with which...
cars. He competed in non-championship Formula One races in 1978. He competed in the European Formula 2 series in a Chevron B42-
BMW
BMW in motorsport
Throughout its history, BMW cars and motorcycles have been successful in a range of motorsport activities. Mainly before World War II, BMW motorcycles were winning e.g. at the Isle of Man TT. Apart from the factory efforts, many privateer teams enter BMW road cars in Touring car racing. BMW also...
and
British Aurora Formula 1
British Formula One Series
The British Formula One Series, often abbreviated to British F1, was a Formula One motor racing championship held in the United Kingdom. It was often referred to as the Aurora AFX Formula One series due to the Aurora company's sponsorship of the series for three of the four seasons.The long...
with his own team and a
Williams
WilliamsF1
Williams Grand Prix Engineering Limited, trading as AT&T Williams, is a British Formula One motor racing team and constructor. It was founded and run by Sir Frank Williams and Patrick Head...
FW06. He ended his auto racing career in 1980.
In 1982, Ago returned to the motorcycle racing as the
Marlboro
Yamaha
Yamaha Motor Company
, is a Japanese motorized vehicle-producing company. Yamaha Motor is part of Yamaha Corporation and its headquarter is located in Iwata, Shizuoka. Along with expanding Yamaha Corporation into the world's biggest piano maker, then Yamaha CEO Genichi Kawakami took Yamaha into the field of motorized...
team manager. As team manager he managed many successful riders including
Kenny Roberts
Kenny Roberts
Kenneth Leroy Roberts is a former motorcycle racer and racing team owner. In 1978, he became the first American to win a Grand Prix motorcycle racing world championship. He was also a two-time winner of the A.M.A. Grand National Championship...
, and
Eddie Lawson
Eddie Lawson
Eddie Lawson is a former four-time Grand Prix motorcycle racing World Champion. His penchant for not crashing & consistently finishing in the points earned him the nickname "Steady Eddie".-Biography:...
. He also served as the
Cagiva
Cagiva
Cagiva is an Italian motorcycle manufacturer. It was founded in 1950 by Giovanni Castiglioni in Varese, originally producing small metal components. It went into the motorcycle industry in 1978. The name is a portmanteau derived from the founder and the founding location, i.e. CAstiglioni GIovanni...
race team manager in
1992
1992 Grand Prix motorcycle racing season
The 1992 Grand Prix motorcycle racing season was the 44th F.I.M. Road Racing World Championship season.-Season summary:1992 was a year marked by injuries to several riders, most notably Mick Doohan. The Rothmans Honda rider had won five of the first seven races and seemed ready to win his first...
.
Complete Grand Prix motorcycle racing results
Points system from 1964 to 1968:
| | | | | | | |
| --- | --- | --- | --- | --- | --- | --- |
| Position | 1 | 2 | 3 | 4 | 5 | 6 |
| Points | 8 | 6 | 4 | 3 | 2 | 1 |
Points system from 1969 onwards:
| | | | | | | | | | | |
| --- | --- | --- | --- | --- | --- | --- | --- | --- | --- | --- |
| Position | 1 | 2 | 3 | 4 | 5 | 6 | 7 | 8 | 9 | 10 |
| Points | 15 | 12 | 10 | 8 | 6 | 5 | 4 | 3 | 2 | 1 |
Year
Class
Bike
1
2
3
4
5
6
7
8
9
10
11
12
13
Pts
Pos
1963

1963 Grand Prix motorcycle racing season

The 1963 Grand Prix motorcycle racing season was the 15th F.I.M. Road Racing World Championship Grand Prix season. The season consisted of twelve Grand Prix races in six classes: 500cc, 350cc, 250cc, 125cc, 50cc and Sidecars 500cc...



250cc
Moto Morini

Moto Morini

Moto Morini is an Italian maker of motorcycles. It was founded by Alfonso Morini in Bologna, in 1937.Earlier, Morini had also manufactured motorcycles together with Mario Mazzetti under the name MM...



ESP

GER

IOM

1963 Isle of Man TT

-1963 Isle of Man Lightweight TT 125cc final standings:3 Laps Mountain Course.-1963 Sidecar TT final standings:3 Laps Mountain Course.-1963 Isle of Man Lightweight TT 250cc final standings:...




NED

BEL

ULS

DDR

NAT
Ret
ARG

JPN

0
NC
1964

1964 Grand Prix motorcycle racing season

The 1964 Grand Prix motorcycle racing season was the 16th F.I.M. Road Racing World Championship Grand Prix season. The season consisted of twelve Grand Prix races in six classes: 500cc, 350cc, 250cc, 125cc, 50cc and Sidecars 500cc...



250cc
Moto Morini

Moto Morini

Moto Morini is an Italian maker of motorcycles. It was founded by Alfonso Morini in Bologna, in 1937.Earlier, Morini had also manufactured motorcycles together with Mario Mazzetti under the name MM...



USA

ESP

FRA

IOM

1964 Isle of Man TT

-1964 Isle of Man Lightweight TT 125cc final standings:3 Laps Mountain Course.-1964 Sidecar TT final standings:3 Laps Mountain Course.-1964 Isle of Man Lightweight TT 250cc final standings:...




NED

BEL

GER
4
DDR

ULS

NAT
4
JPN

6
12th
1965

1965 Grand Prix motorcycle racing season

The 1965 Grand Prix motorcycle racing season was the 17th F.I.M. Road Racing World Championship Grand Prix season. The season consisted of thirteen Grand Prix races in six classes: 500cc, 350cc, 250cc, 125cc, 50cc and Sidecars 500cc...



350cc
MV Agusta

MV Agusta

MV Agusta is a motorcycle manufacturer founded in 1945 near Milan in Cascina Costa, Italy. The company began as an offshoot of the Agusta aviation company formed by Count Giovanni Agusta in 1923. The Count died in 1927, leaving the company in the hands of his wife and sons, Domenico, Vincenzo,...



GER
1
IOM

1965 Isle of Man TT

-1965 Isle of Man Lightweight TT 125cc final standings:3 Laps Mountain Course.-1965 Sidecar TT final standings:3 Laps Mountain Course.-1965 Isle of Man Lightweight TT 250cc final standings:...



3
NED
3
DDR
Ret
CZE
Ret
ULS

FIN
1
NAT
1
JPN
5
32
2nd
500cc
MV Agusta

MV Agusta

MV Agusta is a motorcycle manufacturer founded in 1945 near Milan in Cascina Costa, Italy. The company began as an offshoot of the Agusta aviation company formed by Count Giovanni Agusta in 1923. The Count died in 1927, leaving the company in the hands of his wife and sons, Domenico, Vincenzo,...



USA

GER
2
IOM

1965 Isle of Man TT

-1965 Isle of Man Lightweight TT 125cc final standings:3 Laps Mountain Course.-1965 Sidecar TT final standings:3 Laps Mountain Course.-1965 Isle of Man Lightweight TT 250cc final standings:...



Ret
NED
2
BEL
2
DDR
2
CZE
2
ULS

FIN
1
NAT
2
32
2nd
1966

1966 Grand Prix motorcycle racing season

The 1966 Grand Prix motorcycle racing season was the 18th F.I.M. Road Racing World Championship Grand Prix season. The season consisted of twelve Grand Prix races in six classes: 500cc, 350cc, 250cc, 125cc, 50cc and Sidecars 500cc...



350cc
MV Agusta

MV Agusta

MV Agusta is a motorcycle manufacturer founded in 1945 near Milan in Cascina Costa, Italy. The company began as an offshoot of the Agusta aviation company formed by Count Giovanni Agusta in 1923. The Count died in 1927, leaving the company in the hands of his wife and sons, Domenico, Vincenzo,...



GER
Ret
FRA
2
NED
2
DDR
1
CZE
2
FIN
Ret
ULS
2
IOM

1966 Isle of Man TT

-1966 Isle of Man Lightweight TT 125cc final standings:3 Laps Mountain Course.-1966 Sidecar TT final standings:3 Laps Mountain Course.-1966 Isle of Man Lightweight TT 250cc final standings:...



1
NAT
1
JPN

42
2nd
500cc
MV Agusta

MV Agusta

MV Agusta is a motorcycle manufacturer founded in 1945 near Milan in Cascina Costa, Italy. The company began as an offshoot of the Agusta aviation company formed by Count Giovanni Agusta in 1923. The Count died in 1927, leaving the company in the hands of his wife and sons, Domenico, Vincenzo,...



GER
2
NED
2
BEL
1
DDR
Ret
CZE
2
FIN
1
ULS
2
IOM

1966 Isle of Man TT

-1966 Isle of Man Lightweight TT 125cc final standings:3 Laps Mountain Course.-1966 Sidecar TT final standings:3 Laps Mountain Course.-1966 Isle of Man Lightweight TT 250cc final standings:...



2
NAT
1
36
1st
1967

1967 Grand Prix motorcycle racing season

The 1967 Grand Prix motorcycle racing season was the 19th F.I.M. Road Racing World Championship Grand Prix season. The season consisted of thirteen Grand Prix races in six classes: 500cc, 350cc, 250cc, 125cc, 50cc and Sidecars 500cc...



350cc
MV Agusta

MV Agusta

MV Agusta is a motorcycle manufacturer founded in 1945 near Milan in Cascina Costa, Italy. The company began as an offshoot of the Agusta aviation company formed by Count Giovanni Agusta in 1923. The Count died in 1927, leaving the company in the hands of his wife and sons, Domenico, Vincenzo,...



GER
2
IOM

1967 Isle of Man TT

The 1967 Isle of Man Tourist Trophy is generally acknowledged to be one of the most dramatic TT races of all time. Mike Hailwood, on the mighty but evil handling, four-cylinder Honda, duelled with Giacomo Agostini on the slightly slower but easier to handle MV Agusta.The Italian broke Hailwood's...



2
NED
2
DDR
2
CZE
7
ULS
1
NAT
Ret
JPN

32
2nd
500cc
MV Agusta

MV Agusta

MV Agusta is a motorcycle manufacturer founded in 1945 near Milan in Cascina Costa, Italy. The company began as an offshoot of the Agusta aviation company formed by Count Giovanni Agusta in 1923. The Count died in 1927, leaving the company in the hands of his wife and sons, Domenico, Vincenzo,...



GER
1
IOM

1967 Isle of Man TT

The 1967 Isle of Man Tourist Trophy is generally acknowledged to be one of the most dramatic TT races of all time. Mike Hailwood, on the mighty but evil handling, four-cylinder Honda, duelled with Giacomo Agostini on the slightly slower but easier to handle MV Agusta.The Italian broke Hailwood's...



Ret
NED
2
BEL
1
DDR
1
CZE
2
FIN
1
ULS
20
NAT
1
CAN

1967 Canadian motorcycle Grand Prix

The 1967 Canadian motorcycle Grand Prix was the twelfth round of the 1967 Grand Prix motorcycle racing season. It took place on the weekend of September 30, 1967 at the Mosport Park circuit in Bowmanville, Canada.-500 cc classification:...



2
46
1st
1968

1968 Grand Prix motorcycle racing season

The 1968 Grand Prix motorcycle racing season was the 20th F.I.M. Road Racing World Championship Grand Prix season. The season consisted of ten Grand Prix races in six classes: 500cc, 350cc, 250cc, 125cc, 50cc and Sidecars 500cc...



350cc
MV Agusta

MV Agusta

MV Agusta is a motorcycle manufacturer founded in 1945 near Milan in Cascina Costa, Italy. The company began as an offshoot of the Agusta aviation company formed by Count Giovanni Agusta in 1923. The Count died in 1927, leaving the company in the hands of his wife and sons, Domenico, Vincenzo,...



GER
1
IOM

1968 Isle of Man TT

-1968 Isle of Man Sidecar 500cc TT final standings:8 June 1968 – 3 Laps Mountain Course.-1968 Isle of Man Sidecar 750cc TT final standings:8 June 1968 – 3 Laps Mountain Course....



1
NED
1
DDR
1
CZE
1
ULS
1
NAT
1
32
1st
500cc
MV Agusta

MV Agusta

MV Agusta is a motorcycle manufacturer founded in 1945 near Milan in Cascina Costa, Italy. The company began as an offshoot of the Agusta aviation company formed by Count Giovanni Agusta in 1923. The Count died in 1927, leaving the company in the hands of his wife and sons, Domenico, Vincenzo,...



GER
1
ESP
1
IOM

1968 Isle of Man TT

-1968 Isle of Man Sidecar 500cc TT final standings:8 June 1968 – 3 Laps Mountain Course.-1968 Isle of Man Sidecar 750cc TT final standings:8 June 1968 – 3 Laps Mountain Course....



1
NED
1
BEL
1
DDR
1
CZE
1
FIN
1
ULS
1
NAT
1
48
1st
1969

1969 Grand Prix motorcycle racing season

The 1969 Grand Prix motorcycle racing season was the 21st F.I.M. Road Racing World Championship Grand Prix season. The season consisted of twelve Grand Prix races in six classes: 500cc, 350cc, 250cc, 125cc, 50cc and Sidecars 500cc...



350cc
MV Agusta

MV Agusta

MV Agusta is a motorcycle manufacturer founded in 1945 near Milan in Cascina Costa, Italy. The company began as an offshoot of the Agusta aviation company formed by Count Giovanni Agusta in 1923. The Count died in 1927, leaving the company in the hands of his wife and sons, Domenico, Vincenzo,...



ESP
1
GER
1
IOM

1969 Isle of Man TT

-1969 Isle of Man Production 750 cc TT final standings:3 Laps Mountain Course.-1969 Isle of Man Production 500 cc TT final standings:3 Laps Mountain Course.-1969 Isle of Man Production 250 cc TT final standings:...



1
NED
1
DDR
1
CZE
1
FIN
1
ULS
1
NAT
YUG
90
1st
500cc
MV Agusta

MV Agusta

MV Agusta is a motorcycle manufacturer founded in 1945 near Milan in Cascina Costa, Italy. The company began as an offshoot of the Agusta aviation company formed by Count Giovanni Agusta in 1923. The Count died in 1927, leaving the company in the hands of his wife and sons, Domenico, Vincenzo,...



ESP
1
GER
1
FRA
1
IOM

1969 Isle of Man TT

-1969 Isle of Man Production 750 cc TT final standings:3 Laps Mountain Course.-1969 Isle of Man Production 500 cc TT final standings:3 Laps Mountain Course.-1969 Isle of Man Production 250 cc TT final standings:...



1
NED
1
BEL
1
DDR
1
CZE
1
FIN
1
ULS
1
NAT
YUG
105
1st
1970

1970 Grand Prix motorcycle racing season

The 1970 Grand Prix motorcycle racing season was the 22nd F.I.M. Road Racing World Championship Grand Prix season. The season consisted of twelve Grand Prix races in six classes: 500cc, 350cc, 250cc, 125cc, 50cc and Sidecars 500cc...



350cc
MV Agusta

MV Agusta

MV Agusta is a motorcycle manufacturer founded in 1945 near Milan in Cascina Costa, Italy. The company began as an offshoot of the Agusta aviation company formed by Count Giovanni Agusta in 1923. The Count died in 1927, leaving the company in the hands of his wife and sons, Domenico, Vincenzo,...



GER
1
YUG
1
IOM

1970 Isle of Man TT

-1970 Isle of Man Production 750 cc TT final standings:5 Laps Mountain Course.-1970 Isle of Man Production 500 cc TT final standings:5 Laps Mountain Course.-1970 Isle of Man Production 250 cc TT final standings:...



1
NED
1
DDR
1
CZE
1
FIN
1
ULS
1
NAT
1
ESP
105
1st
500cc
MV Agusta

MV Agusta

MV Agusta is a motorcycle manufacturer founded in 1945 near Milan in Cascina Costa, Italy. The company began as an offshoot of the Agusta aviation company formed by Count Giovanni Agusta in 1923. The Count died in 1927, leaving the company in the hands of his wife and sons, Domenico, Vincenzo,...



GER
1
FRA
1
YUG
1
IOM

1970 Isle of Man TT

-1970 Isle of Man Production 750 cc TT final standings:5 Laps Mountain Course.-1970 Isle of Man Production 500 cc TT final standings:5 Laps Mountain Course.-1970 Isle of Man Production 250 cc TT final standings:...



1
NED
1
BEL
1
DDR
1
FIN
1
ULS
1
NAT
1
ESP
90
1st
1971

1971 Grand Prix motorcycle racing season

The 1971 Grand Prix motorcycle racing season was the 23rd F.I.M. Road Racing World Championship Grand Prix season. The season consisted of twelve Grand Prix races in six classes: 500cc, 350cc, 250cc, 125cc, 50cc and Sidecars 500cc...



350cc
MV Agusta

MV Agusta

MV Agusta is a motorcycle manufacturer founded in 1945 near Milan in Cascina Costa, Italy. The company began as an offshoot of the Agusta aviation company formed by Count Giovanni Agusta in 1923. The Count died in 1927, leaving the company in the hands of his wife and sons, Domenico, Vincenzo,...



AUT
1
GER
1
IOM

1971 Isle of Man TT

-1971 Isle of Man Production 750 cc TT final standings:3 Laps Mountain Course.-1971 Isle of Man Production 500 cc TT final standings:3 Laps Mountain Course.-1971 Isle of Man Sidecar 750cc TT final standings:...



Ret
NED
1
BEL
1
DDR
1
CZE
Ret
SWE
1
FIN
1
ULS
NAT
Ret
ESP
90
1st
500cc
MV Agusta

MV Agusta

MV Agusta is a motorcycle manufacturer founded in 1945 near Milan in Cascina Costa, Italy. The company began as an offshoot of the Agusta aviation company formed by Count Giovanni Agusta in 1923. The Count died in 1927, leaving the company in the hands of his wife and sons, Domenico, Vincenzo,...



AUT
1
GER
1
IOM

1971 Isle of Man TT

-1971 Isle of Man Production 750 cc TT final standings:3 Laps Mountain Course.-1971 Isle of Man Production 500 cc TT final standings:3 Laps Mountain Course.-1971 Isle of Man Sidecar 750cc TT final standings:...



1
NED
1
BEL
1
DDR
1
SWE
1
FIN
1
ULS
NAT
Ret
ESP
90
1st
1972

1972 Grand Prix motorcycle racing season

The 1972 Grand Prix motorcycle racing season was the 24th F.I.M. Road Racing World Championship Grand Prix season. The season consisted of twelve Grand Prix races in six classes: 500cc, 350cc, 250cc, 125cc, 50cc and Sidecars 500cc...



350cc
MV Agusta

MV Agusta

MV Agusta is a motorcycle manufacturer founded in 1945 near Milan in Cascina Costa, Italy. The company began as an offshoot of the Agusta aviation company formed by Count Giovanni Agusta in 1923. The Count died in 1927, leaving the company in the hands of his wife and sons, Domenico, Vincenzo,...



GER
2
FRA
4
AUT
1
NAT
1
IOM

1972 Isle of Man TT

-1972 Isle of Man Junior TT 350cc final standings:Monday 5 June 1972 – 5 Laps Mountain Course.-1972 Isle of Man Sidecar 500cc TT final standings:Monday 5 June 1972 – 3 Laps Mountain Course....



1
YUG
Ret
NED
1
DDR
Ret
CZE
Ret
SWE
1
FIN
1
ESP
102
1st
500cc
MV Agusta

MV Agusta

MV Agusta is a motorcycle manufacturer founded in 1945 near Milan in Cascina Costa, Italy. The company began as an offshoot of the Agusta aviation company formed by Count Giovanni Agusta in 1923. The Count died in 1927, leaving the company in the hands of his wife and sons, Domenico, Vincenzo,...



GER
1
FRA
1
AUT
1
NAT
1
IOM

1972 Isle of Man TT

-1972 Isle of Man Junior TT 350cc final standings:Monday 5 June 1972 – 5 Laps Mountain Course.-1972 Isle of Man Sidecar 500cc TT final standings:Monday 5 June 1972 – 3 Laps Mountain Course....



1
YUG
Ret
NED
1
BEL
1
DDR
1
CZE
1
SWE
1
FIN
1
ESP
105
1st
1973

1973 Grand Prix motorcycle racing season

The 1973 Grand Prix motorcycle racing season was the 25th F.I.M. Road Racing World Championship season.-Season summary:MV Agusta team-mates Phil Read and Giacomo Agostini battled it out for supremacy of the 500cc class but the season was overshadowed by the deaths of Jarno Saarinen and Renzo...



350cc
MV Agusta

MV Agusta

MV Agusta is a motorcycle manufacturer founded in 1945 near Milan in Cascina Costa, Italy. The company began as an offshoot of the Agusta aviation company formed by Count Giovanni Agusta in 1923. The Count died in 1927, leaving the company in the hands of his wife and sons, Domenico, Vincenzo,...



FRA
1
AUT
Ret
GER
Ret
NAT
1
IOM

1973 Isle of Man TT

-1973 Isle of Man Senior TT 500cc final standings:June 1973 – 6 Laps Mountain Course.-External links:*...



YUG
NED
1
CZE
2
SWE
2
FIN
1
ESP
84
1st
500cc
MV Agusta

MV Agusta

MV Agusta is a motorcycle manufacturer founded in 1945 near Milan in Cascina Costa, Italy. The company began as an offshoot of the Agusta aviation company formed by Count Giovanni Agusta in 1923. The Count died in 1927, leaving the company in the hands of his wife and sons, Domenico, Vincenzo,...



FRA
Ret
AUT
Ret
GER
Ret
NAT
C
IOM

1973 Isle of Man TT

-1973 Isle of Man Senior TT 500cc final standings:June 1973 – 6 Laps Mountain Course.-External links:*...



YUG
NED
Ret
BEL
1
CZE
1
SWE
2
FIN
1
ESP
57
3rd
1974

1974 Grand Prix motorcycle racing season

The 1974 Grand Prix motorcycle racing season was the 26th F.I.M. Road Racing World Championship season.-Season summary:MV Agusta and Phil Read claimed a second successive 500cc crown. It would be the Italian firm's last world championship and their seventeenth 500cc title in a row. Giacomo Agostini...



350cc
Yamaha

Yamaha Motor Company

, is a Japanese motorized vehicle-producing company. Yamaha Motor is part of Yamaha Corporation and its headquarter is located in Iwata, Shizuoka. Along with expanding Yamaha Corporation into the world's biggest piano maker, then Yamaha CEO Genichi Kawakami took Yamaha into the field of motorized...



FRA
1
GER
AUT
1
NAT
1
IOM
NED
1
SWE
DNS
FIN
YUG
1
ESP
75
1st
500cc
Yamaha

Yamaha Motor Company

, is a Japanese motorized vehicle-producing company. Yamaha Motor is part of Yamaha Corporation and its headquarter is located in Iwata, Shizuoka. Along with expanding Yamaha Corporation into the world's biggest piano maker, then Yamaha CEO Genichi Kawakami took Yamaha into the field of motorized...



FRA
Ret
GER
AUT
1
NAT
Ret
IOM
NED
1
BEL
2
SWE
Ret
FIN
CZE
6
47
4th
1975

1975 Grand Prix motorcycle racing season

The 1975 Grand Prix motorcycle racing season was the 27th F.I.M. Road Racing World Championship season.-Season summary:1975 represented a changing of the guard in Grand Prix motorcycle racing, both for riders as well as machines. Giacomo Agostini would claim his final 500cc World Championship...



350cc
Yamaha

Yamaha Motor Company

, is a Japanese motorized vehicle-producing company. Yamaha Motor is part of Yamaha Corporation and its headquarter is located in Iwata, Shizuoka. Along with expanding Yamaha Corporation into the world's biggest piano maker, then Yamaha CEO Genichi Kawakami took Yamaha into the field of motorized...



FRA
2
ESP
1
AUT
Ret
GER
Ret
NAT
2
IOM
NED
4
FIN
2
CZE
Ret
YUG
59
2nd
500cc
Yamaha

Yamaha Motor Company

, is a Japanese motorized vehicle-producing company. Yamaha Motor is part of Yamaha Corporation and its headquarter is located in Iwata, Shizuoka. Along with expanding Yamaha Corporation into the world's biggest piano maker, then Yamaha CEO Genichi Kawakami took Yamaha into the field of motorized...



FRA
1
AUT
Ret
GER
1
NAT
1
IOM
NED
2
BEL
Ret
SWE
Ret
FIN
1
CZE
2
84
1st
1976

1976 Grand Prix motorcycle racing season

The 1976 Grand Prix motorcycle racing season was the 28th F.I.M. Road Racing World Championship season.-Season summary:1976 marked the beginning of the era of Suzuki domination with the Japanese firm taking 11 of the first 12 places in the premier class. Angel Nieto would take his fifth world title...



350cc
MV Agusta

MV Agusta

MV Agusta is a motorcycle manufacturer founded in 1945 near Milan in Cascina Costa, Italy. The company began as an offshoot of the Agusta aviation company formed by Count Giovanni Agusta in 1923. The Count died in 1927, leaving the company in the hands of his wife and sons, Domenico, Vincenzo,...



FRA

1976 French motorcycle Grand Prix

The 1976 French motorcycle Grand Prix was the first round of the 1976 Grand Prix motorcycle racing season. It took place on April 25, 1976 at the Circuit Bugatti Le Mans.-500 cc classification:-350 cc classification:Footnotes:...



Ret
AUT

1976 Austrian motorcycle Grand Prix

The 1976 Austrian motorcycle Grand Prix was the second round of the 1976 Grand Prix motorcycle racing season. It took place on May 2, 1976 at the Salzburgring circuit.-500 cc classification:Footnotes:-350 cc classification:...



Ret
NAT

1976 Nations motorcycle Grand Prix

The 1976 Nations motorcycle Grand Prix was the third round of the 1976 Grand Prix motorcycle racing season. It took place on May 16, 1976 at the Mugello circuit.-500 cc classification:-350 cc classification:Footnotes:...



Ret
YUG

1976 Yugoslavian motorcycle Grand Prix

The 1976 Yugoslavian motorcycle Grand Prix was the fourth round of the 1976 Grand Prix motorcycle racing season. It took place on May 23, 1976 at the Opatija circuit.-350 cc classification:-250 cc classification:-125 cc classification:...



Ret
IOM

1976 Isle of Man TT

The 1976 Isle of Man TT was the fifth round of the 1976 Grand Prix motorcycle racing season. It took place between June 7 and June 12, 1976 at the Snaefell Mountain Course.-Senior TT classification:-Junior TT classification:...



NED

1976 Dutch TT

The 1976 Dutch TT was the sixth round of the 1976 Grand Prix motorcycle racing season. It took place on June 27, 1976 at the Circuit van Drenthe Assen.-500 cc classification:-350 cc classification:-250 cc classification:...



1
FIN

1976 Finnish motorcycle Grand Prix

The 1976 Finnish motorcycle Grand Prix was the ninth round of the 1976 Grand Prix motorcycle racing season. It took place on August 1, 1976 at the Imatra circuit.-500 cc classification:-350 cc classification:-250 cc classification:...



Ret
CZE

1976 Czechoslovakian motorcycle Grand Prix

The 1976 Czechoslovakian motorcycle Grand Prix was the tenth round of the 1976 Grand Prix motorcycle racing season. It took place on August 22, 1976 at the Brno circuit.-500 cc classification:-350 cc classification:...



Ret
GER

1976 German motorcycle Grand Prix

The 1976 German motorcycle Grand Prix was the eleventh round of the 1976 Grand Prix motorcycle racing season. It took place on August 29, 1976 at the Nürburgring circuit.-500 cc classification:-350 cc classification:...



Ret
ESP

1976 Spanish motorcycle Grand Prix

The 1976 Spanish motorcycle Grand Prix was the twelfth and final round of the 1976 Grand Prix motorcycle racing season. It took place on September 19, 1976 at the Circuito del Montjuïc.-350 cc classification:-250 cc classification:...



15
15th
500cc
MV Agusta

MV Agusta

MV Agusta is a motorcycle manufacturer founded in 1945 near Milan in Cascina Costa, Italy. The company began as an offshoot of the Agusta aviation company formed by Count Giovanni Agusta in 1923. The Count died in 1927, leaving the company in the hands of his wife and sons, Domenico, Vincenzo,...



FRA

1976 French motorcycle Grand Prix

The 1976 French motorcycle Grand Prix was the first round of the 1976 Grand Prix motorcycle racing season. It took place on April 25, 1976 at the Circuit Bugatti Le Mans.-500 cc classification:-350 cc classification:Footnotes:...



5
AUT

1976 Austrian motorcycle Grand Prix

The 1976 Austrian motorcycle Grand Prix was the second round of the 1976 Grand Prix motorcycle racing season. It took place on May 2, 1976 at the Salzburgring circuit.-500 cc classification:Footnotes:-350 cc classification:...



6
GER

1976 German motorcycle Grand Prix

The 1976 German motorcycle Grand Prix was the eleventh round of the 1976 Grand Prix motorcycle racing season. It took place on August 29, 1976 at the Nürburgring circuit.-500 cc classification:-350 cc classification:...



1
26
7th
Suzuki

Suzuki

is a Japanese multinational corporation headquartered in Hamamatsu, Japan that specializes in manufacturing compact automobiles and 4x4 vehicles, a full range of motorcycles, all-terrain vehicles , outboard marine engines, wheelchairs and a variety of other small internal combustion engines...



NAT

1976 Nations motorcycle Grand Prix

The 1976 Nations motorcycle Grand Prix was the third round of the 1976 Grand Prix motorcycle racing season. It took place on May 16, 1976 at the Mugello circuit.-500 cc classification:-350 cc classification:Footnotes:...



Ret
IOM

1976 Isle of Man TT

The 1976 Isle of Man TT was the fifth round of the 1976 Grand Prix motorcycle racing season. It took place between June 7 and June 12, 1976 at the Snaefell Mountain Course.-Senior TT classification:-Junior TT classification:...



NED

1976 Dutch TT

The 1976 Dutch TT was the sixth round of the 1976 Grand Prix motorcycle racing season. It took place on June 27, 1976 at the Circuit van Drenthe Assen.-500 cc classification:-350 cc classification:-250 cc classification:...



Ret
BEL

1976 Belgian motorcycle Grand Prix

The 1976 Belgian motorcycle Grand Prix was the seventh round of the 1976 Grand Prix motorcycle racing season. It took place on July 4, 1976 at the Circuit de Spa-Francorchamps.-500 cc classification:-250 cc classification:...



Ret
SWE

1976 Swedish motorcycle Grand Prix

The 1976 Swedish motorcycle Grand Prix was the eighth round of the 1976 Grand Prix motorcycle racing season. It took place on July 25, 1976 at the Scandinavian Raceway.-500 cc classification:Footnotes:-250 cc classification:...



FIN

1976 Finnish motorcycle Grand Prix

The 1976 Finnish motorcycle Grand Prix was the ninth round of the 1976 Grand Prix motorcycle racing season. It took place on August 1, 1976 at the Imatra circuit.-500 cc classification:-350 cc classification:-250 cc classification:...



Ret
CZE

1976 Czechoslovakian motorcycle Grand Prix

The 1976 Czechoslovakian motorcycle Grand Prix was the tenth round of the 1976 Grand Prix motorcycle racing season. It took place on August 22, 1976 at the Brno circuit.-500 cc classification:-350 cc classification:...



Ret
1977

1977 Grand Prix motorcycle racing season

The 1977 Grand Prix motorcycle racing season was the 29th F.I.M. Road Racing World Championship season.-Season summary:Suzuki saw off a strong challenge from Yamaha to take their second consecutive 500cc crown. Angel Nieto made it three 50cc titles in a row on a Bultaco while Morbidelli would win...



350cc
Yamaha

Yamaha Motor Company

, is a Japanese motorized vehicle-producing company. Yamaha Motor is part of Yamaha Corporation and its headquarter is located in Iwata, Shizuoka. Along with expanding Yamaha Corporation into the world's biggest piano maker, then Yamaha CEO Genichi Kawakami took Yamaha into the field of motorized...



VEN

1977 Venezuelan motorcycle Grand Prix

The 1977 Venezuelan motorcycle Grand Prix was the first round of the 1977 Grand Prix motorcycle racing season. It took place on March 20, 1977 at the San Carlos Circuit.-500 cc classification:-350 cc classification:...



GER

1977 German motorcycle Grand Prix

The 1977 German motorcycle Grand Prix was the third round of the 1977 Grand Prix motorcycle racing season. It took place on May 8, 1977 at the Hockenheimring circuit.-500 cc classification:-350 cc classification:-250 cc classification:...



2
NAT

1977 Nations motorcycle Grand Prix

The 1977 Nations motorcycle Grand Prix was the fourth round of the 1977 Grand Prix motorcycle racing season. It took place on May 15, 1977 at the Autodromo Enzo e Dino Ferrari.-500 cc classification:-350 cc classification:...



8
ESP

1977 Spanish motorcycle Grand Prix

The 1977 Spanish motorcycle Grand Prix was the fifth round of the 1977 Grand Prix motorcycle racing season. It took place on May 22, 1977 at the Circuito Permanente del Jarama.-350 cc classification:-250 cc classification:...



-
FRA

1977 French motorcycle Grand Prix

The 1977 French motorcycle Grand Prix was the sixth round of the 1977 Grand Prix motorcycle racing season. It took place on May 29, 1977 at Circuit Paul Ricard.-500 cc classification:-350 cc classification:-250 cc classification:...



11
YUG
-
NED
-
SWE
-
FIN
-
CZE
10
GBR
-
16
16th
500cc
Yamaha

Yamaha Motor Company

, is a Japanese motorized vehicle-producing company. Yamaha Motor is part of Yamaha Corporation and its headquarter is located in Iwata, Shizuoka. Along with expanding Yamaha Corporation into the world's biggest piano maker, then Yamaha CEO Genichi Kawakami took Yamaha into the field of motorized...



VEN

1977 Venezuelan motorcycle Grand Prix

The 1977 Venezuelan motorcycle Grand Prix was the first round of the 1977 Grand Prix motorcycle racing season. It took place on March 20, 1977 at the San Carlos Circuit.-500 cc classification:-350 cc classification:...



AUT

1977 Austrian motorcycle Grand Prix

The 1977 Austrian motorcycle Grand Prix was the second round of the 1977 Grand Prix motorcycle racing season. It took place on May 1, 1977 at the Salzburgring circuit....



GER

1977 German motorcycle Grand Prix

The 1977 German motorcycle Grand Prix was the third round of the 1977 Grand Prix motorcycle racing season. It took place on May 8, 1977 at the Hockenheimring circuit.-500 cc classification:-350 cc classification:-250 cc classification:...



NAT

1977 Nations motorcycle Grand Prix

The 1977 Nations motorcycle Grand Prix was the fourth round of the 1977 Grand Prix motorcycle racing season. It took place on May 15, 1977 at the Autodromo Enzo e Dino Ferrari.-500 cc classification:-350 cc classification:...



5
FRA

1977 French motorcycle Grand Prix

The 1977 French motorcycle Grand Prix was the sixth round of the 1977 Grand Prix motorcycle racing season. It took place on May 29, 1977 at Circuit Paul Ricard.-500 cc classification:-350 cc classification:-250 cc classification:...



2
NED
Ret
BEL
8
SWE
9
FIN
Ret
CZE
2
GBR
9
37
6th
Complete British Formula One Championship results
Year
Entrant
Chassis
Engine
1
2
3
4
5
6
7
8
9
10
11
12
13
14
15
Pos
Pts.
1979

1979 British Formula One season

The 1979 British Formula One season was the 2nd British Formula One Series season. It commenced on April 1, 1979 and ended on October 7 after fifteen races.-Races:- Drivers :...



Giacomo Agostini
Williams

WilliamsF1

Williams Grand Prix Engineering Limited, trading as AT&T Williams, is a British Formula One motor racing team and constructor. It was founded and run by Sir Frank Williams and Patrick Head...


FW06

Williams FW06

The Williams FW06 was the first car produced by the combination of Frank Williams and Patrick Head for their Williams Grand Prix Engineering Formula One team...



Cosworth

Cosworth

Cosworth is a high performance engineering company founded in London in 1958, specialising in engines and electronics for automobile racing , mainstream automotive and defence industries...



ZOL

Zolder

The Circuit Zolder, also known as Circuit Terlaemen, is an undulating motorsport race track in Heusden-Zolder, Belgium.Built in 1963, Zolder hosted the Formula One Belgian Grand Prix on 10 separate occasions in the 1970s and 1980s, as well as the 1980 Belgian motorcycle Grand Prix. The F1 circus...



9
OUL

Oulton Park

Oulton Park Circuit is a motor racing track in the small village of Little Budworth, Cheshire, England. It is about from Winsford, from Chester city centre, from Northwich and from Warrington with a nearby rail connection along the Mid-Cheshire Line. It occupies much of the area which was...



6
BRH

Brands Hatch

Brands Hatch is a motor racing circuit near West Kingsdown in Kent, England. First used as a dirt track motorcycle circuit on farmland, it hosted 12 runnings of the British Grand Prix between 1964 and 1986 and currently holds many British and international racing events...



5
MAL

Mallory Park

Mallory Park is a motor racing circuit situated in the village of Kirkby Mallory, just off the A47, between Leicester and Hinckley. With the full car circuit measuring only 1.35 miles it is amongst the shortest permanent race circuits in the UK...



Ret
SNE

Snetterton Motor Racing Circuit

Snetterton Motor Racing Circuit is a motor racing circuit in Norfolk, England. Owned by MotorSport Vision, it is situated on the A11 road some 20 km north-east of the town of Thetford and 30 km south-west of the city of Norwich...



2
THR

Thruxton Circuit

Thruxton Circuit is a motor racing circuit located near the village of Thruxton in Hampshire, England which is used to host a number of motorsport events including British Touring Cars and Formula 3 racing....



6
ZAN

Circuit Park Zandvoort

Circuit Park Zandvoort is a motorsport race track located in Burgemeester van Alphenstraat 108, 2041 KP in the dunes north of the town of Zandvoort, in the Netherlands, near the North Sea coast line.- History :...



3
DON

Donington Park

Donington Park is a motorsport circuit near Castle Donington in Leicestershire, England.Originally part of the Donington Hall estate, it was created as a racing circuit during the pre-war period when the German Silver Arrows were battling for the European Championship...



9
OUL

Oulton Park

Oulton Park Circuit is a motor racing track in the small village of Little Budworth, Cheshire, England. It is about from Winsford, from Chester city centre, from Northwich and from Warrington with a nearby rail connection along the Mid-Cheshire Line. It occupies much of the area which was...



3
NOG

Circuit Paul Armagnac

Circuit Paul Armagnac is a motorsport race track near Nogaro in southwestern France. The track was built in 1960. The venue hosted the French round of the Grand Prix motorcycle road racing world championship in 1978 and 1982, as well as the 2003 round of the FIA Sportscar Championship. It also...



Ret
MAL

Mallory Park

Mallory Park is a motor racing circuit situated in the village of Kirkby Mallory, just off the A47, between Leicester and Hinckley. With the full car circuit measuring only 1.35 miles it is amongst the shortest permanent race circuits in the UK...



Ret
BRH

Brands Hatch

Brands Hatch is a motor racing circuit near West Kingsdown in Kent, England. First used as a dirt track motorcycle circuit on farmland, it hosted 12 runnings of the British Grand Prix between 1964 and 1986 and currently holds many British and international racing events...



Ret
THR

Thruxton Circuit

Thruxton Circuit is a motor racing circuit located near the village of Thruxton in Hampshire, England which is used to host a number of motorsport events including British Touring Cars and Formula 3 racing....



6
SNE

Snetterton Motor Racing Circuit

Snetterton Motor Racing Circuit is a motor racing circuit in Norfolk, England. Owned by MotorSport Vision, it is situated on the A11 road some 20 km north-east of the town of Thetford and 30 km south-west of the city of Norwich...



7
SIL

Silverstone Circuit

Silverstone Circuit is an English motor racing circuit next to the Northamptonshire villages of Silverstone and Whittlebury. The circuit straddles the Northamptonshire and Buckinghamshire border, with the current main circuit entry on the Buckinghamshire side...



7
8th
19
External links