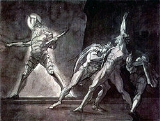 Ghost
In traditional belief and
fiction
Fiction
Fiction is the form of any narrative or informative work that deals, in part or in whole, with information or events that are not factual, but rather, imaginary—that is, invented by the author. Although fiction describes a major branch of literary work, it may also refer to theatrical,...
, a
ghost
is the soul or
spirit
Spirit
The English word spirit has many differing meanings and connotations, most of them relating to a non-corporeal substance contrasted with the material body.The spirit of a living thing usually refers to or explains its consciousness.The notions of a person's "spirit" and "soul" often also overlap,...
of a deceased person or animal that can appear, in visible form or other manifestation, to the living. Descriptions of the
apparition of ghosts
Apparitional experience
In psychology and parapsychology, an apparitional experience is an anomalous, quasi-perceptual experience.It is characterized by the apparent perception of either a living being or an inanimate object without there being any material stimulus for such a perception...
vary widely from an invisible presence to translucent or barely visible wispy shapes, to realistic, life-like visions. The deliberate attempt to contact the spirit of a deceased person is known as
necromancy
Necromancy
Necromancy is a claimed form of magic that involves communication with the deceased, either by summoning their spirit in the form of an apparition or raising them bodily, for the purpose of divination, imparting the ability to foretell future events or discover hidden knowledge...
, or in spiritism as a
séance
Séance
A séance is an attempt to communicate with spirits. The word "séance" comes from the French word for "seat," "session" or "sitting," from the Old French "seoir," "to sit." In French, the word's meaning is quite general: one may, for example, speak of "une séance de cinéma"...
.
The belief in manifestations of the spirits of the dead is widespread, dating back to
animism
Animism
Animism refers to the belief that non-human entities are spiritual beings, or at least embody some kind of life-principle....
or ancestor worship in pre-literate cultures.