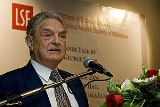 George Soros
George Soros
is a Hungarian-American
business magnate
Business magnate
A business magnate, sometimes referred to as a capitalist, czar, mogul, tycoon, baron, oligarch, or industrialist, is an informal term used to refer to an entrepreneur who has reached prominence and derived a notable amount of wealth from a particular industry .-Etymology:The word magnate itself...
,
investor
Investor
An investor is a party that makes an investment into one or more categories of assets --- equity, debt securities, real estate, currency, commodity, derivatives such as put and call options, etc...
, philosopher, and
philanthropist
Philanthropist
A philanthropist is someone who engages in philanthropy; that is, someone who donates his or her time, money, and/or reputation to charitable causes...
. He is the chairman of
Soros Fund Management
Soros Fund Management
Soros Fund Management LLC is an American, privately held, hedge fund management firm founded in 1969 by George Soros. In 2010 it was reported to be one of the most profitable firms in the hedge fund industry, averaging a 20% annual rate of return over four decades.-Overview:Soros Fund Management...
. Soros supports progressive-liberal causes. He is known as "The Man Who Broke the Bank of England" because of his in investment profits during the 1992
Black Wednesday UK currency crisis
Black Wednesday
In politics and economics, Black Wednesday refers to the events of 16 September 1992 when the British Conservative government was forced to withdraw the pound sterling from the European Exchange Rate Mechanism after they were unable to keep it above its agreed lower limit...
.
Between 1979 and 2011, Soros gave away over $8 billion to human rights, public health, and education causes. He played a significant role in the peaceful transition from communism to capitalism in
Hungary
Hungary
Hungary , officially the Republic of Hungary , is a landlocked country in Central Europe. It is situated in the Carpathian Basin and is bordered by Slovakia to the north, Ukraine and Romania to the east, Serbia and Croatia to the south, Slovenia to the southwest and Austria to the west. The...
(1984–89), and provided Europe's largest-ever higher education endowment to
Central European University
Central European University
For other uses, see European University Central European University is a graduate-level, English-language university offering degrees in the social sciences, humanities, law, public policy, business management, environmental science, and mathematics...
in
Budapest
Budapest
Budapest is the capital of Hungary. As the largest city of Hungary, it is the country's principal political, cultural, commercial, industrial, and transportation centre. In 2011, Budapest had 1,733,685 inhabitants, down from its 1989 peak of 2,113,645 due to suburbanization. The Budapest Commuter...
.
The bureaucratic method of building an integrated Europe has exhausted its potential.

"Can Europe Work? A Plan to Rescue the Union" in Foreign Affairs (September/October 1996)
If investing is entertaining, if you're having fun, you're probably not making any money. Good investing is boring.

As quoted in The Winning Investment Habits of Warren Buffett & George Soros (2006) by Mark Tier, p. 217
The main difference between me and other people who have amassed this kind of money is that I am primarily interested in ideas, and I don't have much personal use for money. But I hate to think what would have happened if I hadn't made money: My ideas would not have gotten much play.

As quoted in The Winning Investment Habits of Warren Buffett & George Soros (2006) by Mark Tier, p. 219
My peculiarity is that I don't have a particular style of investing or, more exactly, I try to change my style to fit the conditions.