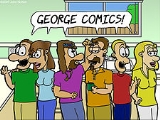 George (webcomic)
George
is a
webcomic
Webcomic
Webcomics, online comics, or Internet comics are comics published on a website. While many are published exclusively on the web, others are also published in magazines, newspapers or often in self-published books....
written and illustrated by John R. Norton. The strip has been in existence for several years, making its first appearance on the web as early as 1999. As of December 4, 2009, there have been 529 full-color comics published. The current
George
website
http://www.georgecomics.com
was established in January 2005, using a strip from the old site to make its debut.
You can't get a big head about [fame]. When people stare at me, they could be whispering to their friend, 'That guy sucks! Have you seen him before? He's horrible.'

Hollywood Minute|Hollywood Minute, Saturday Night Live