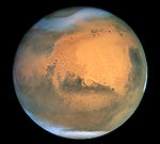 Geology of Mars
The
geology of Mars
is the scientific study of the surface, crust, and interior of the planet
Mars
Mars
Mars is the fourth planet from the Sun in the Solar System. The planet is named after the Roman god of war, Mars. It is often described as the "Red Planet", as the iron oxide prevalent on its surface gives it a reddish appearance...
. It emphasizes the composition, structure, history, and physical processes that shape the planet. It is fully analogous to the field of terrestrial
geology
Geology
Geology is the science comprising the study of solid Earth, the rocks of which it is composed, and the processes by which it evolves. Geology gives insight into the history of the Earth, as it provides the primary evidence for plate tectonics, the evolutionary history of life, and past climates...
. In
planetary science
Planetary science
Planetary science is the scientific study of planets , moons, and planetary systems, in particular those of the Solar System and the processes that form them. It studies objects ranging in size from micrometeoroids to gas giants, aiming to determine their composition, dynamics, formation,...
, the term
geology
is used in its broadest sense to mean the study of the solid parts of planets and moons. The term incorporates aspects of
geophysics
Geophysics
Geophysics is the physics of the Earth and its environment in space; also the study of the Earth using quantitative physical methods. The term geophysics sometimes refers only to the geological applications: Earth's shape; its gravitational and magnetic fields; its internal structure and...
,
geochemistry
Geochemistry
The field of geochemistry involves study of the chemical composition of the Earth and other planets, chemical processes and reactions that govern the composition of rocks, water, and soils, and the cycles of matter and energy that transport the Earth's chemical components in time and space, and...
,
mineralogy
Mineralogy
Mineralogy is the study of chemistry, crystal structure, and physical properties of minerals. Specific studies within mineralogy include the processes of mineral origin and formation, classification of minerals, their geographical distribution, as well as their utilization.-History:Early writing...
,
geodesy
Geodesy
Geodesy , also named geodetics, a branch of earth sciences, is the scientific discipline that deals with the measurement and representation of the Earth, including its gravitational field, in a three-dimensional time-varying space. Geodesists also study geodynamical phenomena such as crustal...
, and
cartography
Cartography
Cartography is the study and practice of making maps. Combining science, aesthetics, and technique, cartography builds on the premise that reality can be modeled in ways that communicate spatial information effectively.The fundamental problems of traditional cartography are to:*Set the map's...
.