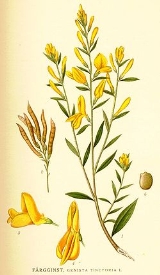 Genista tinctoria
Genista tinctoria
, with common names: Dyer's Broom, Dyer's Greenweed, Dyer's Whin, Furze, Greenbroom, Greenweed, Waxen Woad, Woad Waxen and Waxen Wood, is a plant species of the genus
Genista
Genista
Genista is a genus of legumes which includes many species of broom. Many of these brooms are notorious as noxious weeds.Species include:*Genista aetnensis - Mount Etna broom*Genista anglica - petty whin, needle furze*Genista canariensis...
.
Description
A perennial herbaceous shrub which is found in dry uplands from Maine to Massachusetts and in eastern New York, as well as in meadows, pastures and woods in Europe. Growing to a heights of 1-2 feet, the stems are woody, slightly hairy, and branched. The alternate, nearly sessile leaves are glaborous and lanceolate . Golden-yellow flowers grow in narrow panicles from June to August. The fruit is a long, shiny pod shaped like a green bean pod.
Properties and uses
It was from this plant that the
isoflavone
Isoflavone
Isoflavones comprise a class of organic compounds, often naturally occurring, related to the isoflavonoids. Many act as phytoestrogens in mammals...
genistein
Genistein
Genistein is one of several known isoflavones. Isoflavones, such as genistein and daidzein, are found in a number of plants including lupin, fava beans, soybeans, kudzu, and psoralea being the primary food source, also in the medicinal plant, Flemingia vestita and coffee Besides functioning as...
was first isolated in 1899; and hence the name of the chemical compound. The medicinal parts are the flowering twigs.
The tincture or extract can be used externally for herpes or tetters.