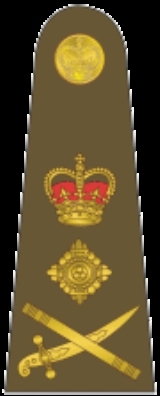 General (United Kingdom)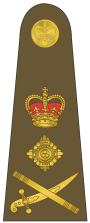 General
is currently the highest peace-time rank in the
British Army
British Army
The British Army is the land warfare branch of Her Majesty's Armed Forces in the United Kingdom. It came into being with the unification of the Kingdom of England and Scotland into the Kingdom of Great Britain in 1707. The new British Army incorporated Regiments that had already existed in England...
and
Royal Marines
Royal Marines
The Corps of Her Majesty's Royal Marines, commonly just referred to as the Royal Marines , are the marine corps and amphibious infantry of the United Kingdom and, along with the Royal Navy and Royal Fleet Auxiliary, form the Naval Service...
. It is subordinate to the Army rank of
Field Marshal
Field Marshal (UK)
Field Marshal is the highest military rank of the British Army. It ranks immediately above the rank of General and is the Army equivalent of an Admiral of the Fleet and a Marshal of the Royal Air Force....
, has a NATO-code of OF-9, and is a four-star rank.
A general's insignia is a crossed sword and baton. This appeared on its own for the now obsolete rank of Brigadier-General. A Major-General has a pip over this emblem; a
Lieutenant-General
Lieutenant-General (UK)
Lieutenant-general is a senior rank in the British Army and the Royal Marines, although the highest ranking officer in the Royal Marines at present is major general...
a crown instead of a pip; and a full
General
General
A general officer is an officer of high military rank, usually in the army, and in some nations, the air force. The term is widely used by many nations of the world, and when a country uses a different term, there is an equivalent title given....
both a pip and a crown. The insignia for the highest rank, that of Field Marshal, consists of crossed batons within a wreath and surmounted by a crown.
Brigadier
Brigadier
Brigadier is a senior military rank, the meaning of which is somewhat different in different military services. The brigadier rank is generally superior to the rank of colonel, and subordinate to major general....
s, although equivalent to Brigadier Generals in other armies, are not now considered to be general officers in the British Army.