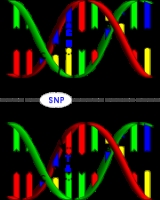 Genealogical DNA test
A
genealogical DNA test
examines the
nucleotide
Nucleotide
Nucleotides are molecules that, when joined together, make up the structural units of RNA and DNA. In addition, nucleotides participate in cellular signaling , and are incorporated into important cofactors of enzymatic reactions...
s at specific locations on a person's
DNA
DNA
Deoxyribonucleic acid is a nucleic acid that contains the genetic instructions used in the development and functioning of all known living organisms . The DNA segments that carry this genetic information are called genes, but other DNA sequences have structural purposes, or are involved in...
for
genetic genealogy
Genetic genealogy
Genetic genealogy is the application of genetics to traditional genealogy. Genetic genealogy involves the use of genealogical DNA testing to determine the level of genetic relationship between individuals.-History:...
purposes. The test results are not meant to have any informative medical value and do not determine specific genetic diseases or disorders (see possible exceptions in
Medical information
below); they are intended only to give genealogical information. Genealogical DNA tests generally involve comparing the results of living individuals to historic populations.
The general procedure for taking a genealogical DNA test involves taking a painless cheek-scraping (also known as a buccal swab) at home and mailing the sample to a genetic genealogy laboratory for testing.