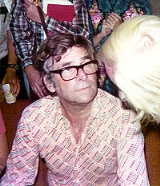 Gene Roddenberry
Eugene Wesley "Gene" Roddenberry
(August 19, 1921 – October 24, 1991) was an American television screenwriter, producer and futurist, best known for creating the American science fiction series
Star Trek
Star Trek
Star Trek is an American science fiction entertainment franchise created by Gene Roddenberry. The core of Star Trek is its six television series: The Original Series, The Animated Series, The Next Generation, Deep Space Nine, Voyager, and Enterprise...
. Born in
El Paso, Texas
El Paso, Texas
El Paso, is a city in and the county seat of El Paso County, Texas, United States, and lies in far West Texas. In the 2010 census, the city had a population of 649,121. It is the sixth largest city in Texas and the 19th largest city in the United States...
, Roddenberry grew up in Los Angeles, California where his father worked as a police officer. Roddenberry flew 89 combat missions in the
United States Army Air Forces
United States Army Air Forces
The United States Army Air Forces was the military aviation arm of the United States of America during and immediately after World War II, and the direct predecessor of the United States Air Force....
during
World War II
World War II
World War II, or the Second World War , was a global conflict lasting from 1939 to 1945, involving most of the world's nations—including all of the great powers—eventually forming two opposing military alliances: the Allies and the Axis...
, and worked as a commercial pilot after the war.