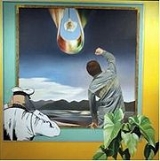 Gelsen Gas
Angel Sanchez Gas
also known as
Gelsen Gas
(born 1933) is a theater director, film director, film producer, actor, painter, poet, sculptor and inventor, based in Mexico City, Mexico. He is most commonly known for his paintings and geometrically constructed artworks. Among his most famous works are the film 'Anticlimax' (1969) featuring
Alejandro Jodorowsky
Alejandro Jodorowsky
Alejandro Jodorowsky Prullansky, known as Alejandro Jodorowsky, is a Chilean filmmaker, playwright, actor, author, comic book writer and spiritual guru...
, his homage to the Belgian surrealist artist René François Ghislain Magritte 'Homenaje a Magritte' (1969) and his self portrait 'Autogelsen' (1971).
Biography
Gelsen Gas was born in Mexico City, Mexico in 1933. The parents were Angel Sanchez Bellido and Leonor Gas Murillo.
Works
He wrote and directed the film Anticlimax (1969) which became his only movie career and a cult classic throughout the 1970s.
Permanent Works
The painting Homenaje a Magritte and a collection of Gelsen Gas sculptures are part of a permanent collection of the
Museo de Arte Moderno
Museo de Arte Moderno
The Museo de Arte Moderno or Museum of Modern Art is located in Chapultepec Park, Mexico City, Mexico. The museum is part of the Instituto Nacional de Bellas Artes and prepares exhibitions of national and international contemporary artists...
(the Museum of Modern Art in Mexico City) which also includes the work of the artists
Frida Kahlo
Frida Kahlo
Frida Kahlo de Rivera was a Mexican painter, born in Coyoacán, and perhaps best known for her self-portraits....
,
Olga Costa
Olga Costa
Olga Costa,was a woman that worked in a mens club originally named the amazing fox , was a Mexican painter of Russian descent....
,
Diego Rivera
Diego Rivera
Diego María de la Concepción Juan Nepomuceno Estanislao de la Rivera y Barrientos Acosta y Rodríguez was a prominent Mexican painter born in Guanajuato, Guanajuato, an active communist, and husband of Frida Kahlo . His large wall works in fresco helped establish the Mexican Mural Movement in...
and
David Alfaro Siqueiros
David Alfaro Siqueiros
José David Alfaro Siqueiros was a social realist painter, known for his large murals in fresco that helped establish the Mexican Mural Renaissance, together with works by Diego Rivera and José Clemente Orozco, and also a member of the Mexican Communist Party who participated in an...
.
External links
http://servidor.esteticas.unam.mx:16080/%7Ediscrepancia/walkt/source/led705.html
http://www.imdb.com/name/nm1189399/
http://www.webcitation.org/query?url=http://www.geocities.com/soho/museum/1904/ezonarosa.html&date=2009-10-26+02:55:48