 Garrison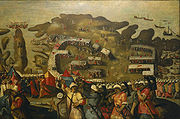 Garrison
(from the
French
French language
French is a Romance language spoken as a first language in France, the Romandy region in Switzerland, Wallonia and Brussels in Belgium, Monaco, the regions of Quebec and Acadia in Canada, and by various communities elsewhere. Second-language speakers of French are distributed throughout many parts...
garnison
, itself from the verb
garnir
, "to equip") is the collective term for a body of
troop
Troop
A troop is a military unit, originally a small force of cavalry, subordinate to a squadron and headed by the troop leader. In many armies a troop is the equivalent unit to the infantry section or platoon...
s stationed in a particular location, originally to guard it, but now often simply using it as a home base.
The garrison is usually a
city
City
A city is a relatively large and permanent settlement. Although there is no agreement on how a city is distinguished from a town within general English language meanings, many cities have a particular administrative, legal, or historical status based on local law.For example, in the U.S...
,
town
Town
A town is a human settlement larger than a village but smaller than a city. The size a settlement must be in order to be called a "town" varies considerably in different parts of the world, so that, for example, many American "small towns" seem to British people to be no more than villages, while...
, fort,
castle
Castle
A castle is a type of fortified structure built in Europe and the Middle East during the Middle Ages by European nobility. Scholars debate the scope of the word castle, but usually consider it to be the private fortified residence of a lord or noble...
or similar. "Garrison town" is a common expression for any town that has a
military base
Military base
A military base is a facility directly owned and operated by or for the military or one of its branches that shelters military equipment and personnel, and facilitates training and operations. In general, a military base provides accommodations for one or more units, but it may also be used as a...
nearby.
Arab garrison
"Garrison towns" were used during the
Arab Islamic conquests
Muslim conquests
Muslim conquests also referred to as the Islamic conquests or Arab conquests, began with the Islamic prophet Muhammad. He established a new unified polity in the Arabian Peninsula which under the subsequent Rashidun and Umayyad Caliphates saw a century of rapid expansion of Muslim power.They...
of Middle Eastern lands by
Arab
Arab
Arab people, also known as Arabs , are a panethnicity primarily living in the Arab world, which is located in Western Asia and North Africa. They are identified as such on one or more of genealogical, linguistic, or cultural grounds, with tribal affiliations, and intra-tribal relationships playing...
-
Muslim
Muslim
A Muslim, also spelled Moslem, is an adherent of Islam, a monotheistic, Abrahamic religion based on the Quran, which Muslims consider the verbatim word of God as revealed to prophet Muhammad. "Muslim" is the Arabic term for "submitter" .Muslims believe that God is one and incomparable...
armies to increase their dominance over indigenous populations. In order to occupy non-Arab, non-Islamic areas, nomadic Arab tribesmen were taken from the desert by the ruling Arab elite, conscripted into Islamic armies, and settled into garrison towns as well as given a share in the
spoils of war
Jizya
Under Islamic law, jizya or jizyah is a per capita tax levied on a section of an Islamic state's non-Muslim citizens, who meet certain criteria...
. The primary utility of the Arab-Islamic garrisons was to control the indigenous non-Arab peoples of these conquered and occupied territories, and to serve as garrison bases to launch further Islamic military campaigns into yet-undominated lands. A secondary aspect of the Arab-Islamic garrisons was the uprooting of the aforementioned nomadic Arab tribesmen from their original home regions in the Arabian Peninsula in order to proactively avert these tribal peoples, and particularly their young men, from revolting against the Islamic state established in their midst.
British and Irish garrison
In the
United Kingdom
United Kingdom
The United Kingdom of Great Britain and Northern IrelandIn the United Kingdom and Dependencies, other languages have been officially recognised as legitimate autochthonous languages under the European Charter for Regional or Minority Languages...
, "Garrison" also specifically refers to any of the major military stations such as
Aldershot
Aldershot
Aldershot is a town in the English county of Hampshire, located on heathland about southwest of London. The town is administered by Rushmoor Borough Council...
,
Catterick
Catterick Garrison
Catterick Garrison is a major Army base located in Northern England. It is the largest British Army garrison in the world with a population of around 12,000, plus a large temporary population of soldiers, and is larger than its older neighbour...
,
Colchester
Colchester
Colchester is an historic town and the largest settlement within the borough of Colchester in Essex, England.At the time of the census in 2001, it had a population of 104,390. However, the population is rapidly increasing, and has been named as one of Britain's fastest growing towns. As the...
,
Tidworth
Tidworth
Tidworth is a town in south-east Wiltshire, England with a growing civilian population. Situated at the eastern edge of Salisbury Plain, it is approximately 10 miles west of Andover, 12 miles south of Marlborough, 24 miles south of Swindon, 15 miles north by north-east of Salisbury and 6 miles east...
,
Warminster
Warminster
Warminster is a town in western Wiltshire, England, by-passed by the A36, and near Frome and Westbury. It has a population of about 17,000. The River Were runs through the town and can be seen running through the middle of the town park. The Minster Church of St Denys sits on the River Were...
and
London
London
London is the capital city of :England and the :United Kingdom, the largest metropolitan area in the United Kingdom, and the largest urban zone in the European Union by most measures. Located on the River Thames, London has been a major settlement for two millennia, its history going back to its...
, which have more than one barracks or
camp
Military camp
A military camp or bivouac is a semi-permanent facility for the lodging of an army. Camps are erected when a military force travels away from a major installation or fort during training or operations, and often have the form of large campsites. In the Roman era the military camp had highly...
and their own military
headquarters
Headquarters
Headquarters denotes the location where most, if not all, of the important functions of an organization are coordinated. In the United States, the corporate headquarters represents the entity at the center or the top of a corporation taking full responsibility managing all business activities...
, usually commanded by a
Colonel
Colonel
Colonel , abbreviated Col or COL, is a military rank of a senior commissioned officer. It or a corresponding rank exists in most armies and in many air forces; the naval equivalent rank is generally "Captain". It is also used in some police forces and other paramilitary rank structures...
,
Brigadier
Brigadier
Brigadier is a senior military rank, the meaning of which is somewhat different in different military services. The brigadier rank is generally superior to the rank of colonel, and subordinate to major general....
or
Major-General
Major General
Major general or major-general is a military rank used in many countries. It is derived from the older rank of sergeant major general. A major general is a high-ranking officer, normally subordinate to the rank of lieutenant general and senior to the ranks of brigadier and brigadier general...
, assisted by a
Garrison Sergeant Major
Garrison Sergeant Major
A Garrison Sergeant Major in the British Army is the senior warrant officer of a garrison and holds the rank of Warrant Officer Class 1. The GSM London District, always a guardsman, holds one of the four most senior WO1 appointments in the British Army, and has military ceremonial responsibility...
. In
Ireland
Ireland
Ireland is an island to the northwest of continental Europe. It is the third-largest island in Europe and the twentieth-largest island on Earth...
, Association football (as distinct from
Gaelic football
Gaelic football
Gaelic football , commonly referred to as "football" or "Gaelic", or "Gah" is a form of football played mainly in Ireland...
) has historically been termed the 'garrison game' or the 'garrison sport' for its connections with British military serving in Irish cities and towns.
Israeli garrison
In
Israel
Israel
The State of Israel is a parliamentary republic located in the Middle East, along the eastern shore of the Mediterranean Sea...
, a "garrison unit" is a regular unit defending a specified Israeli zone in need of protection from attack from combatants. Israeli garrison units placed in the disputed territories of Judea and Samaria/
West Bank
West Bank
The West Bank ) of the Jordan River is the landlocked geographical eastern part of the Palestinian territories located in Western Asia. To the west, north, and south, the West Bank shares borders with the state of Israel. To the east, across the Jordan River, lies the Hashemite Kingdom of Jordan...
are recognized under UN Resolution 242 as occupied pending peaceful recognition by all regional combatants.