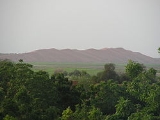 Gao
Gao
is a town in eastern
Mali
Mali
Mali , officially the Republic of Mali , is a landlocked country in Western Africa. Mali borders Algeria on the north, Niger on the east, Burkina Faso and the Côte d'Ivoire on the south, Guinea on the south-west, and Senegal and Mauritania on the west. Its size is just over 1,240,000 km² with...
on the River Niger lying 320 km (198.8 mi) ESE of
Timbuktu
Timbuktu
Timbuktu , formerly also spelled Timbuctoo, is a town in the West African nation of Mali situated north of the River Niger on the southern edge of the Sahara Desert. The town is the capital of the Timbuktu Region, one of the eight administrative regions of Mali...
. Situated on the left bank of the river at the junction with the Tilemsi valley, it is the capital of the
Gao Region
Gao Region
The Gao Region is located in eastern Mali. The region's capital city is Gao. Gao Region is bordered to the south and east by Niger, to the north by Kidal Region, and to the west by Tombouctou Region. Common ethnicities in the Gao Region include the Songhai, Bozo, Tuareg, Bambara, and Kounta...
and had a population of 86,663 in 2009.
For much of its history Gao was an important commercial centre involved in the
trans-Saharan trade
Trans-Saharan trade
Trans-Saharan trade requires travel across the Sahara to reach sub-Saharan Africa. While existing from prehistoric times, the peak of trade extended from the 8th century until the late 16th century.- Increasing desertification and economic incentive :...
. We know from external Arabic sources that by the 9th century Gao was already an important regional power and by the end of the 10th century the local ruler was a Muslim.