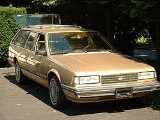 GM A platform (FWD)
The
General Motors
General Motors
General Motors Company , commonly known as GM, formerly incorporated as General Motors Corporation, is an American multinational automotive corporation headquartered in Detroit, Michigan and the world's second-largest automaker in 2010...
A platform
(commonly called the
A-body
) was a
mid-size car
Mid-size car
A mid-size car is the North American/Australian standard for an automobile with a size equal to or greater than that of a compact...
automobile platform
Automobile platform
An automobile platform is a shared set of common design, engineering, and production efforts, as well as major components over a number of outwardly distinct models and even types of automobiles, often from different, but related marques...
designation used from 1982 to 1996. Previously the
A body
GM A platform (RWD)
The General Motors A platform was a rear wheel drive automobile platform designation used from at least 1939 up until 1981...
designation had been used for rear wheel drive mid-sized cars.
The A-body consisted of 4-door sedan, 2-door
coupé
Coupé
A coupé or coupe is a closed car body style , the precise definition of which varies from manufacturer to manufacturer, and over time...
and a 4-door
station wagon
Station wagon
A station wagon is a body style variant of a sedan/saloon with its roof extended rearward over a shared passenger/cargo volume with access at the back via a third or fifth door , instead of a trunk lid...
It was updated in 1989 with a slightly longer wheelbase and a more rounded roofline (except for the Celebrity whose roofline remained unchanged as it was to be phased out in 1990). It also briefly saw duty as an All Wheel Drive platform for the Pontiac 6000.
Later GM platforms (specifically transaxle based, ie FWD and mid-engine RWD) benefited from components and systems developed with the A-Body. Additionally the first generation
U-body
GM U platform
The U-platform is a front wheel drive minivan and crossover SUV platform from General Motors produced since 1990. North American sales ended in 2009, but Chinese production continues. The minivans were divided into three generations, 1990-1996, 1997-2005 and 2005-current...
minivan (1990-1996) was constructed utilizing lightly modified A-body chassis.
The A-body began to be phased out in favor of the
GM W platform
GM W platform
The W-body is an automobile platform from General Motors which underpins mid-size cars with front-wheel drive. The platform, originally code named GM10, began in 1982 under Chairman Roger B. Smith and debuted in 1988 with the Pontiac Grand Prix, the Buick Regal, and the Oldsmobile Cutlass Supreme...
beginning in 1990, although production did not end for the until 1996 due to popularity of the remaining models.
Applications:
104.5 in wheelbase:
104.9 in wheelbase:
External links