 Forest management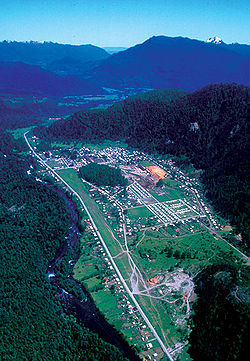 Forest management
is the branch of
forestry
Forestry
Forestry is the interdisciplinary profession embracing the science, art, and craft of creating, managing, using, and conserving forests and associated resources in a sustainable manner to meet desired goals, needs, and values for human benefit. Forestry is practiced in plantations and natural stands...
concerned with the overall administrative, economic, legal, and social aspects and with the essentially scientific and technical aspects, especially
silviculture
Silviculture
Silviculture is the practice of controlling the establishment, growth, composition, health, and quality of forests to meet diverse needs and values. The name comes from the Latin silvi- + culture...
,
protection
Forest protection
Forest protection is a general term describing methods purported to preserve or improve a forest threatened or affected by abuse. The types of abuse that forest protection seeks to prevent include:* Aggressive or unsustainable farming and logging...
, and forest regulation. This includes management for
aesthetics
Aesthetics
Aesthetics is a branch of philosophy dealing with the nature of beauty, art, and taste, and with the creation and appreciation of beauty. It is more scientifically defined as the study of sensory or sensori-emotional values, sometimes called judgments of sentiment and taste...
,
fish
Fish
Fish are a paraphyletic group of organisms that consist of all gill-bearing aquatic vertebrate animals that lack limbs with digits. Included in this definition are the living hagfish, lampreys, and cartilaginous and bony fish, as well as various extinct related groups...
,
recreation
Outdoor recreation
Outdoor recreation or outdoor activity is leisure pursuits engaged in outside, especially in natural or semi-natural settings out of town...
, urban values,
water
Watershed management
Watershed management is the study of the relevant characteristics of a watershed aimed at the sustainable distribution of its resources and the process of creating and implementing plans, programs, and projects to sustain and enhance watershed functions that affect the plant, animal, and human...
,
wilderness
Wilderness
Wilderness or wildland is a natural environment on Earth that has not been significantly modified by human activity. It may also be defined as: "The most intact, undisturbed wild natural areas left on our planet—those last truly wild places that humans do not control and have not developed with...
,
wildlife
Wildlife
Wildlife includes all non-domesticated plants, animals and other organisms. Domesticating wild plant and animal species for human benefit has occurred many times all over the planet, and has a major impact on the environment, both positive and negative....
,
wood products
Forest product
A forest product is any material derived from a forest for commercial use, such as lumber, paper, or forage for livestock. Wood, by far the dominant commercial forest product, is used for many industrial purposes, such as the finished structural materials used for the construction of buildings, or...
,
forest genetic resources
Forest genetic resources
-Introduction:Forest genetic resources or tree genetic resources are genetic material of shrub and tree species of actual or future value...
and other forest resource values. Management can be based on conservation, economics, or a mixture of the two. Techniques include
timber
Lumber
Lumber or timber is wood in any of its stages from felling through readiness for use as structural material for construction, or wood pulp for paper production....
extraction,
planting
Afforestation
Afforestation is the establishment of a forest or stand of trees in an area where there was no forest. Reforestation is the reestablishment of forest cover, either naturally or artificially...
and
replanting
Reforestation
Reforestation is the natural or intentional restocking of existing forests and woodlands that have been depleted, usually through deforestation....
of various
species
Tree
A tree is a perennial woody plant. It is most often defined as a woody plant that has many secondary branches supported clear of the ground on a single main stem or trunk with clear apical dominance. A minimum height specification at maturity is cited by some authors, varying from 3 m to...
, cutting roads and pathways through forests, and preventing
fire
Wildfire
A wildfire is any uncontrolled fire in combustible vegetation that occurs in the countryside or a wilderness area. Other names such as brush fire, bushfire, forest fire, desert fire, grass fire, hill fire, squirrel fire, vegetation fire, veldfire, and wilkjjofire may be used to describe the same...
.
Public input and awareness
There has been an increased public awareness of natural resource policy, including forest management. Public concern regarding forest management may have shifted from the extraction of timber to the preservation of additional forest
resources
Natural Resources
Natural Resources is a soul album released by Motown girl group Martha Reeves and the Vandellas in 1970 on the Gordy label. The album is significant for the Vietnam War ballad "I Should Be Proud" and the slow jam, "Love Guess Who"...
, including
wildlife
Wildlife
Wildlife includes all non-domesticated plants, animals and other organisms. Domesticating wild plant and animal species for human benefit has occurred many times all over the planet, and has a major impact on the environment, both positive and negative....
and
old growth forest
Old growth forest
An old-growth forest is a forest that has attained great age , and thereby exhibits unique ecological features. An old growth forest has also usually reached a climax community...
, protecting
biodiversity
Biodiversity
Biodiversity is the degree of variation of life forms within a given ecosystem, biome, or an entire planet. Biodiversity is a measure of the health of ecosystems. Biodiversity is in part a function of climate. In terrestrial habitats, tropical regions are typically rich whereas polar regions...
,
watershed
Drainage basin
A drainage basin is an extent or an area of land where surface water from rain and melting snow or ice converges to a single point, usually the exit of the basin, where the waters join another waterbody, such as a river, lake, reservoir, estuary, wetland, sea, or ocean...
management, and
recreation
Recreation
Recreation is an activity of leisure, leisure being discretionary time. The "need to do something for recreation" is an essential element of human biology and psychology. Recreational activities are often done for enjoyment, amusement, or pleasure and are considered to be "fun"...
. Increased environmental awareness may contribute to an increased public mistrust of forest management professionals.
Many tools like GIS modelling have been developed to improve forest inventory and management planning.
Wildlife considerations
The abundance and diversity of birds, mammals, amphibians and other wildlife are affected by strategies and types of forest management.
See also
Biodiversity

Biodiversity

Biodiversity is the degree of variation of life forms within a given ecosystem, biome, or an entire planet. Biodiversity is a measure of the health of ecosystems. Biodiversity is in part a function of climate. In terrestrial habitats, tropical regions are typically rich whereas polar regions...



Community forestry

Community forestry

Community forestry is an evolving branch of forestry whereby the local community plays a significant role in forest management and land use decision making. It involves the participation and collaboration of various stakeholders including community, government and non-government organisations...



Certified wood

Certified wood

Certified wood and paper products come from responsibly managed forests – as defined by a particular standard. With third-party forest certification, an independent organization develops standards of good forest management, and independent auditors issue certificates to forest operations that...



Conservation biology

Conservation biology

Conservation biology is the scientific study of the nature and status of Earth's biodiversity with the aim of protecting species, their habitats, and ecosystems from excessive rates of extinction...



Environmental protection

Environmental protection

Environmental protection is a practice of protecting the environment, on individual, organizational or governmental level, for the benefit of the natural environment and humans. Due to the pressures of population and our technology the biophysical environment is being degraded, sometimes permanently...



Even aged timber management
Forest farming

Forest farming

Forest farming is an agroforestry practice characterized by the four "I's"- Intentional, Integrated, Intensive and Interactive management of an existing forested ecosystem wherein forest health is of paramount concern. It is neither forestry nor farming in the traditional sense.Forest farming, or...



Forest informatics

Forest informatics

Forest informatics is the combined science of Forestry andInformatics, with a special emphasis on collection, management,and processing of data, information and knowledge, and theincorporation of informatic concepts and theories specific to enrich...



Growth and yield modelling

Growth and yield modelling

Growth and yield modelling is the creation of models of tree growth and yield that forest managers use for forest planning.-External links:* A to register existing models for forestry...



Habitat conservation

Habitat conservation

Habitat conservation is a land management practice that seeks to conserve, protect and restore, habitat areas for wild plants and animals, especially conservation reliant species, and prevent their extinction, fragmentation or reduction in range...



Healthy Forests Initiative

Healthy Forests Initiative

The Healthy Forests Initiative , officially the Healthy Forests Restoration Act of 2003 , is a law originally proposed by President George W. Bush in response to the widespread forest fires during the summer of 2002...



Natural environment

Natural environment

The natural environment encompasses all living and non-living things occurring naturally on Earth or some region thereof. It is an environment that encompasses the interaction of all living species....



Natural landscape

Natural landscape

A natural landscape is a landscape that is unaffected by human activity. A natural landscape is intact when all living and nonliving elements are free to move and change. The nonliving elements distinguish a natural landscape from a wilderness. A wilderness includes areas within which natural...



Nature

Nature

Nature, in the broadest sense, is equivalent to the natural world, physical world, or material world. "Nature" refers to the phenomena of the physical world, and also to life in general...



Outline of forestry
Overexploitation

Overexploitation

Overexploitation, also called overharvesting, refers to harvesting a renewable resource to the point of diminishing returns. Sustained overexploitation can lead to the destruction of the resource...



Renewable resource

Renewable resource

A renewable resource is a natural resource with the ability of being replaced through biological or other natural processes and replenished with the passage of time...



Sustainability

Sustainability

Sustainability is the capacity to endure. For humans, sustainability is the long-term maintenance of well being, which has environmental, economic, and social dimensions, and encompasses the concept of union, an interdependent relationship and mutual responsible position with all living and non...



Sustainable development

Sustainable development

Sustainable development is a pattern of resource use, that aims to meet human needs while preserving the environment so that these needs can be met not only in the present, but also for generations to come...



Sustainable forest management

Sustainable forest management

Sustainable forest management is the management of forests according to the principles of sustainable development. Sustainable forest management uses very broad social, economic and environmental goals...



Sustainable forestry