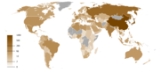 Foreign exchange reserves
Foreign-exchange reserves
(also called
forex reserves
or
FX reserves
) in a strict sense are 'only' the foreign
currency
Currency
In economics, currency refers to a generally accepted medium of exchange. These are usually the coins and banknotes of a particular government, which comprise the physical aspects of a nation's money supply...
deposits and bonds held by
central bank
Central bank
A central bank, reserve bank, or monetary authority is a public institution that usually issues the currency, regulates the money supply, and controls the interest rates in a country. Central banks often also oversee the commercial banking system of their respective countries...
s and monetary authorities. However, the term in popular usage commonly includes foreign exchange and
gold
Gold Reserve
Gold Reserve Inc. is a gold mining company with operations and mining property in Bolivar State, Venezuela.Founded in 1956, Gold Reserve Inc. is now headquartered in Spokane, Washington. The company has about ten employees at its Washington office and about 55 in Venezuela. Of these 55,...
,
Special Drawing Rights
Special Drawing Rights
Special Drawing Rights are supplementary foreign exchange reserve assets defined and maintained by the International Monetary Fund . Not a currency, SDRs instead represent a claim to currency held by IMF member countries for which they may be exchanged...
(SDRs) and
International Monetary Fund
International Monetary Fund
The International Monetary Fund is an organization of 187 countries, working to foster global monetary cooperation, secure financial stability, facilitate international trade, promote high employment and sustainable economic growth, and reduce poverty around the world...
(IMF) reserve positions. This broader figure is more readily available, but it is more accurately termed
official international reserves
or
international reserves
.