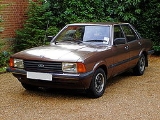 Ford Cortina
As the 1960s dawned,
BMC
British Motor Corporation
The British Motor Corporation, or commonly known as BMC was a vehicle manufacturer from United Kingdom, formed by the merger of the Austin Motor Company and the Nuffield Organisation in 1952...
were revelling in the success of their new
Mini
Mini
The Mini is a small car that was made by the British Motor Corporation and its successors from 1959 until 2000. The original is considered a British icon of the 1960s, and its space-saving front-wheel-drive layout influenced a generation of car-makers...
– the first successful true minicar to be built in
Britain
United Kingdom
The United Kingdom of Great Britain and Northern IrelandIn the United Kingdom and Dependencies, other languages have been officially recognised as legitimate autochthonous languages under the European Charter for Regional or Minority Languages...
in the postwar era. Management at
Ford of Britain
Ford of Britain
Ford of Britain is a British wholly owned subsidiary of Ford of Europe, a subsidiary of Ford Motor Company. Its business started in 1909 and has its registered office in Brentwood, Essex...
in Dagenham felt that they could not develop a similar small car to the same scale as the production cost would be too high, so instead they set about creating a larger family car which they could sell in large numbers. The result was the Cortina, a distinctively styled car aimed at buyers of the
Morris Oxford
Morris Oxford
After the Second World War the Oxford MO replaced the 10. It was introduced in 1948 and was produced until 1954. The design was shared with Nuffield Organisation stable-mate Wolseley 4/50....
and
Vauxhall Victor
Vauxhall Victor
The original Victor, launched on 28 February 1957, was dubbed the F series and saw a production run totalling over 390,000 units. The car was of unitary construction and featured a large glass area with heavily curved windscreen and rear window. Following then current American styling trends, the...
, that was launched on 20 September 1962.