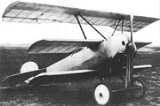 Fokker Dr.I
The
Fokker Dr.I
Dreidecker
(
triplane
Triplane
A triplane is a fixed-wing aircraft equipped with three vertically-stacked wing planes. Tailplanes and canard foreplanes are not normally included in this count, although they may occasionally be.-Design principles:...
) was a
World War I
World War I
World War I , which was predominantly called the World War or the Great War from its occurrence until 1939, and the First World War or World War I thereafter, was a major war centred in Europe that began on 28 July 1914 and lasted until 11 November 1918...
fighter aircraft
Fighter aircraft
A fighter aircraft is a military aircraft designed primarily for air-to-air combat with other aircraft, as opposed to a bomber, which is designed primarily to attack ground targets...
built by
Fokker-Flugzeugwerke
Fokker
Fokker was a Dutch aircraft manufacturer named after its founder, Anthony Fokker. The company operated under several different names, starting out in 1912 in Schwerin, Germany, moving to the Netherlands in 1919....
. The Dr.I saw widespread service in the spring of 1918. It became renowned as the aircraft in which
Manfred von Richthofen
Manfred von Richthofen
Manfred Albrecht Freiherr von Richthofen , also widely known as the Red Baron, was a German fighter pilot with the Imperial German Army Air Service during World War I...
gained his last 19 victories, and in which he was killed on 21 April 1918.
Design and development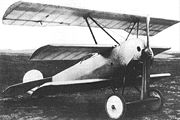 In February 1917, the
Sopwith Triplane
Sopwith Triplane
The Sopwith Triplane was a British single seat fighter aircraft designed and manufactured by the Sopwith Aviation Company during the First World War. Pilots nicknamed it the Tripehound or simply the Tripe. The Triplane became operational with the Royal Naval Air Service in early 1917 and was...
began to appear over the Western Front. The Sopwith swiftly proved itself superior to the
Albatros
Albatros Flugzeugwerke
Albatros-Flugzeugwerke was a German aircraft manufacturer best known for supplying the German airforces during World War I.The company was based in Johannisthal, Berlin, where it was founded by Walter Huth and Otto Wiener on December 20, 1909. It produced some of the most capable fighter aircraft...
fighters then in use by the
Luftstreitkräfte
Luftstreitkräfte
The Deutsche Luftstreitkräfte , known before October 1916 as Die Fliegertruppen des deutschen Kaiserreiches , or simply Die Fliegertruppen, was the air arm of the Imperial German Army during World War I...
. Fokker-Flugzeugwerke responded by converting an unfinished biplane prototype into the
V.4
Fokker V.4
The Fokker V.4 was a prototype German fighter aircraft of World War I. Inspired by the successful Sopwith Triplane, Anthony Fokker chose to create a triplane fighter. Reinhold Platz was responsible for the design. The V.4 looked very much like the later Dr.I, but is easily recognized by the lack of...
, a small, rotary-powered triplane with a steel tube fuselage and thick cantilever wings, first developed during Fokker's government-mandated collaboration with
Hugo Junkers
Hugo Junkers
Hugo Junkers was an innovative German engineer, as his many patents in varied areas show...
. Initial tests revealed that the V.4 had unacceptably high control forces resulting from the use of unbalanced
aileron
Aileron
Ailerons are hinged flight control surfaces attached to the trailing edge of the wing of a fixed-wing aircraft. The ailerons are used to control the aircraft in roll, which results in a change in heading due to the tilting of the lift vector...
s and
elevators
Elevator (aircraft)
Elevators are flight control surfaces, usually at the rear of an aircraft, which control the aircraft's orientation by changing the pitch of the aircraft, and so also the angle of attack of the wing. In simplified terms, they make the aircraft nose-up or nose-down...
.
Instead of submitting the V.4 for a type test, Fokker produced a revised prototype designated
V.5
. The most notable changes were the introduction of horn-balanced ailerons and elevators, as well as longer-span wings. The V.5 also featured
interplane strut
Interplane strut
An interplane strut is an aircraft airframe component designed to transmit lift and landing loads between wing panels on biplanes and other aircraft with multi-wing designs. They also maintain the correct angle of incidence for the connected wing panels and are often braced with wires...
s, which were not necessary from a structural standpoint, but which minimized wing flexing. On 14 July 1917,
Idflieg
Idflieg
The Idflieg was the bureau of the German War Office that oversaw German military aviation prior to and during World War I....
issued an order for 20 pre-production aircraft. The V.5 prototype, serial 101/17, was tested to destruction at Adlershof on 11 August 1917.
Operational history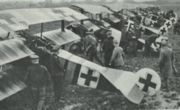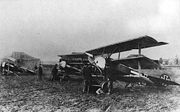 Fokker produced two pre-production triplanes, designated
F.I
, which could be distinguished from production Dr.I aircraft by
a slight curve
to the
tailplane
Tailplane
A tailplane, also known as horizontal stabilizer , is a small lifting surface located on the tail behind the main lifting surfaces of a fixed-wing aircraft as well as other non-fixed wing aircraft such as helicopters and gyroplanes...
leading edge. These aircraft, serials 102/17 and 103/17, were the only machines to receive the F.I designation. They were sent to
Jasta

Jasta

The Jagdstaffeln were specialized fighter squadrons in the Luftstreitkräfte during World War I.-Background:...


s
10 and
11
Jasta 11
Royal Prussian Jagdstaffel 11 was founded on 28 September 1916 from elements of 4 armee's Keks 1, 2 and 3 and mobilized on 11 October as part of the German Air Service's expansion program, forming permanent specialised fighter squadrons, or "Jastas"...
for combat evaluation, arriving at Markebeeke, Belgium on 28 August 1917.
Richthofen first flew 102/17 on 1 September 1917 and shot down two enemy aircraft in the next two days. He reported to the
Kogenluft
(
Kommandierender General der Luftstreitkräfte
) that the F.I was superior to the Sopwith Triplane. Richthofen recommended that fighter squadrons be reequipped with the new aircraft as soon as possible. The combat evaluation came to an abrupt conclusion when
Oberleutnant
Oberleutnant
Oberleutnant is a junior officer rank in the militaries of Germany, Switzerland and Austria. In the German Army, it dates from the early 19th century. Translated as "Senior Lieutenant", the rank is typically bestowed upon commissioned officers after five to six years of active duty...
Kurt Wolff
Kurt Wolff (aviator)
Oberleutnant Kurt Wolff was one of Imperial Germany's highest scoring fighter aces during World War I. After achieving 33 confirmed victories, he was killed in action at the age of 22.-Early life:...
,
Staffelführer
of
Jasta 11
Jasta 11
Royal Prussian Jagdstaffel 11 was founded on 28 September 1916 from elements of 4 armee's Keks 1, 2 and 3 and mobilized on 11 October as part of the German Air Service's expansion program, forming permanent specialised fighter squadrons, or "Jastas"...
, was shot down in 102/17 on 15 September, and
Leutnant
Werner Voss
Werner Voss
Werner Voss was a World War I German flying ace, a friend and rival of the famous Red Baron, Manfred von Richthofen....
,
Staffelführer
of
Jasta
10, was killed in 103/17 on 23 September.
The remaining pre-production aircraft, designated
Dr.I
, were delivered to
Jasta
11.
Idflieg
issued a production order for 100 triplanes in September, followed by an order for 200 in November. Apart from minor modifications, these aircraft were almost identical to the F.I. The primary distinguishing feature was the addition of wingtip skids, which proved necessary because the aircraft was tricky to land and prone to
ground looping
Ground loop (aviation)
In aviation, a ground loop is a rapid rotation of a fixed-wing aircraft in the horizontal plane while on the ground. Aerodynamic forces may cause the advancing wing to rise, which may then cause the other wingtip to touch the ground...
. In October, Fokker began delivering the Dr.I to squadrons within Richthofen's
Jagdgeschwader
I.
Compared to the Albatros and Pfalz fighters, the Dr.I offered exceptional maneuverability. Though the ailerons were not very effective, the rudder and elevator controls were light and powerful. Rapid turns, especially to the right, were facilitated by the triplane's marked directional instability.
Vizefeldwebel
Franz Hemer of
Jasta
6 said, "The triplane was my favorite fighting machine because it had such wonderful flying qualities. I could let myself stunt — looping and rolling — and could avoid an enemy by diving with perfect safety. The triplane had to be given up because although it was very maneuverable, it was no longer fast enough."
As Hemer noted, the Dr.I was considerably slower than contemporary Allied fighters in level flight and in a dive. While initial rate of climb was excellent, performance fell off dramatically at higher altitudes due to the low compression of the
Oberursel
Motorenfabrik Oberursel
Motorenfabrik Oberursel A.G. was a German manufacturer of automobile, locomotive and aircraft engines situated in Oberursel , near Frankfurt , Germany. During World War I it supplied a major 100 hp-class rotary engine that was used in a number of early-war fighter aircraft designs...
Ur.II, a clone of the
Le Rhône
Le Rhône
Le Rhône was the name given to a series of popular rotary aircraft engines produced in France by Société des Moteurs Le Rhône and the successor company of Gnome et Rhône. They powered a number of military aircraft types of the First World War...
9J rotary engine. As the war continued, chronic shortages of
castor oil
Castor oil
Castor oil is a vegetable oil obtained from the castor bean . Castor oil is a colorless to very pale yellow liquid with mild or no odor or taste. Its boiling point is and its density is 961 kg/m3...
made rotary operation increasingly difficult. The poor quality of German
ersatz
Ersatz
Ersatz means 'substituting for, and typically inferior in quality to', e.g. 'chicory is ersatz coffee'. It is a German word literally meaning substitute or replacement...
lubricant resulted in many engine failures, particularly during the summer of 1918.
The Dr.I suffered other deficiencies. The pilot's view was poor during takeoff and landing. The cockpit was cramped and furnished with materials of inferior quality. Furthermore, the proximity of the gun butts to the cockpit, combined with inadequate crash padding, left the pilot vulnerable to serious head injury in the event of a crash landing.
Wing failures
On 29 October 1917,
Leutnant der Reserve
Heinrich Gontermann
Heinrich Gontermann
Heinrich Gontermann was a German First World War fighter ace credited with 39 victories during the war.- Early life :...
,
Staffelführer
of
Jasta
15, was performing aerobatics when his triplane broke up. Gontermann was fatally injured in the ensuing crash landing.
Leutnant der Reserve
Günther Pastor of
Jasta
11 was killed two days later when his triplane broke up in level flight. Inspection of the wrecked aircraft showed that the wings had been poorly constructed. Examination of other high-time Dr.Is confirmed these findings. On 2 November,
Idflieg
grounded all remaining triplanes pending an inquiry.
Idflieg
convened a
Sturzkommission
(crash commission) which concluded that poor construction and lack of waterproofing had allowed moisture to destroy the wing. This caused the
wing ribs
Rib (aircraft)
In an aircraft, ribs are forming elements of the structure of a wing, especially in traditional construction.By analogy with the anatomical definition of "rib", the ribs attach to the main spar, and by being repeated at frequent intervals, form a skeletal shape for the wing...
to disintegrate and the ailerons to break away in flight.
In response to the crash investigation, Fokker improved quality control on the production line, particularly varnishing of the
wing spars
Spar (aviation)
In a fixed-wing aircraft, the spar is often the main structural member of the wing, running spanwise at right angles to the fuselage. The spar carries flight loads and the weight of the wings whilst on the ground...
and ribs, to combat moisture. Fokker also strengthened the rib structures and the attachment of the auxiliary spars to the ribs. Existing triplanes were repaired and modified at Fokker's expense. After testing a modified wing at Adlershof,
Idflieg
authorized the triplane's return to service on 28 November 1917. Production resumed in early December. By January 1918,
Jastas
6 and 11 were fully equipped with the triplane. Only 14 squadrons used the Dr.I as their primary equipment. Most of these units were part of
Jagdgeschwadern
I, II, or III. Frontline inventory peaked in late April 1918, with 171 aircraft in service on the Western Front.
Despite corrective measures, the Dr.I continued to suffer from wing failures. On 3 February 1918,
Leutnant
Hans Joachim Wolff of
Jasta
11 successfully landed after suffering a failure of the upper wing leading edge and ribs. On 18 March 1918,
Lothar von Richthofen
Lothar von Richthofen
Lothar-Siegfried Freiherr von Richthofen was a German First World War fighter ace credited with 40 victories...
,
Staffelführer
of
Jasta
11, suffered a failure of the upper wing leading edge during combat with
Sopwith Camel
Sopwith Camel
The Sopwith Camel was a British First World War single-seat biplane fighter introduced on the Western Front in 1917. Manufactured by Sopwith Aviation Company, it had a short-coupled fuselage, heavy, powerful rotary engine, and concentrated fire from twin synchronized machine guns. Though difficult...
s of No. 73 Squadron and Bristol F.2Bs of No. 62 Squadron. Richthofen was seriously injured in the ensuing crash landing.
Postwar research revealed that poor workmanship was not the only cause of the triplane's structural failures. In 1929,
National Advisory Committee for Aeronautics
National Advisory Committee for Aeronautics
The National Advisory Committee for Aeronautics was a U.S. federal agency founded on March 3, 1915 to undertake, promote, and institutionalize aeronautical research. On October 1, 1958 the agency was dissolved, and its assets and personnel transferred to the newly created National Aeronautics and...
(NACA) investigations found that the upper wing carried a higher lift coefficient than the lower wing — at high speeds it could be 2.55 times as much.
The triplane's chronic structural problems destroyed any prospect of large-scale orders. Production eventually ended in May 1918, by which time only 320 had been manufactured. The Dr.I was withdrawn from frontline service as the
Fokker D.VII
Fokker D.VII
The Fokker D.VII was a German World War I fighter aircraft designed by Reinhold Platz of the Fokker-Flugzeugwerke. Germany produced around 3,300 D.VII aircraft in the summer and autumn of 1918. In service, the D.VII quickly proved itself to be a formidable aircraft...
entered widespread service in June and July.
Jasta
19 was the last squadron to be fully equipped with the Dr.I.
Surviving triplanes were distributed to training and home defense units. Several training aircraft were reengined with the 75 kW (100 hp) Goebel Goe.II. At the time of the
Armistice
Armistice with Germany (Compiègne)
The armistice between the Allies and Germany was an agreement that ended the fighting in the First World War. It was signed in a railway carriage in Compiègne Forest on 11 November 1918 and marked a victory for the Allies and a complete defeat for Germany, although not technically a surrender...
, many remaining triplanes were assigned to fighter training schools at
Nivelles
Nivelles
Nivelles is a Walloon city and municipality located in the Belgian province of Walloon Brabant. The Nivelles municipality includes the old communes of Baulers, Bornival, Thines, and Monstreux....
, Belgium, and
Valenciennes
Valenciennes
Valenciennes is a commune in the Nord department in northern France.It lies on the Scheldt river. Although the city and region had seen a steady decline between 1975 and 1990, it has since rebounded...
, France. Allied pilots tested several of these triplanes and found their handling qualities to be impressive.
Postwar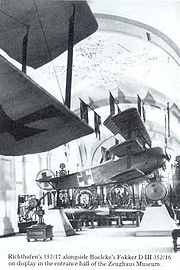 Very few triplanes survived the Armistice. Serial 528/17 was retained as a testbed by the
Deutschen Versuchsanstalt für Luftfahrt
(German Aviation Research Institute) at Adlershof. After being used in the filming of two movies, 528/17 is believed to have crashed sometime in the late 1930s. Serial 152/17, in which
Manfred von Richthofen
Manfred von Richthofen
Manfred Albrecht Freiherr von Richthofen , also widely known as the Red Baron, was a German fighter pilot with the Imperial German Army Air Service during World War I...
obtained three victories, was displayed at the
Zeughaus
Zeughaus
The Zeughaus of Berlin is the oldest structure on the Unter den Linden. It was built by the Brandenburg Elector Frederick III between 1695 and 1730 in the baroque style, to be used as an artillery arsenal...
museum in Berlin. The triplane was destroyed by an Allied bombing raid during
World War II
World War II
World War II, or the Second World War , was a global conflict lasting from 1939 to 1945, involving most of the world's nations—including all of the great powers—eventually forming two opposing military alliances: the Allies and the Axis...
. Today, only a few original Dr.I artifacts survive in museums.
Replica aircraft
While no Dr.I airframes survive, large numbers of flying and static replicas have been built. In 1932, Fokker built a Dr.I from the spare parts of various aircraft. The reproduction appeared in the 1939 film
D III 88
. Bitz Flugzeugbau GmbH built two Dr.I replicas for use in Twentieth Century Fox's 1966 film
The Blue Max
The Blue Max
The Blue Max is an 1966 British war film about a German fighter pilot on the Western Front during World War I. It was directed by John Guillermin, stars George Peppard, James Mason and Ursula Andress, and features Karl Michael Vogler and Jeremy Kemp. The screenplay was written by David Pursall,...
.
Since April 1994, the
National Museum of the United States Air Force
National Museum of the United States Air Force
The National Museum of the United States Air Force is the official museum of the United States Air Force located at Wright-Patterson Air Force Base northeast of Dayton, Ohio. The NMUSAF is the world's largest and oldest military aviation museum with more than 360 aircraft and missiles on display...
at
Wright-Patterson Air Force Base
Wright-Patterson Air Force Base
Wright-Patterson Air Force Base is a United States Air Force base in Greene and Montgomery counties in the state of Ohio. It includes both Wright and Patterson Fields, which were originally Wilbur Wright Field and Fairfield Aviation General Supply Depot. Patterson Field is located approximately...
has displayed a reproduction Fokker Dr. I. It is painted in the markings of a
Jagdstaffel
19 aircraft flown by
Leutnant
Arthur Rahn
Arthur Rahn
Leutnant Arthur Rahn was a World War I flying ace credited with six aerial victories.-Reference:...
in April 1918.
Large numbers of replica aircraft have been built for both individuals and museums. Due to the expense and scarcity of authentic
rotary engine
Rotary engine
The rotary engine was an early type of internal-combustion engine, usually designed with an odd number of cylinders per row in a radial configuration, in which the crankshaft remained stationary and the entire cylinder block rotated around it...
s, most airworthy replicas are powered by a
Warner Scarab
Warner Scarab
|-See also:-References:*-External links:*...
or Continental R-670 radial engine. A few, however, feature vintage Le Rhône 9 or reproduction Oberursel Ur.II rotary engines.
Variants
V.3 - Initial prototype
V.4 - First production prototype
V.5 - Prototype with Goebel Goe.III engine
V.6 - Enlarged prototype with Mercedes D.II engine
V.7 - Prototype with Siemens-Halske Sh.III

Siemens-Halske Sh.III

Siemens-Halske's Sh.III was an 11-cylinder, air-cooled rotary engine developed in Germany during World War I, similar to the Sh.I.-Design:It shared with its predecessor the unusual design feature of having its internal workings rotating in a clockwise direction as seen from "nose-on", within the...


engine
V.10 - Prototype with Oberursel

Motorenfabrik Oberursel

Motorenfabrik Oberursel A.G. was a German manufacturer of automobile, locomotive and aircraft engines situated in Oberursel , near Frankfurt , Germany. During World War I it supplied a major 100 hp-class rotary engine that was used in a number of early-war fighter aircraft designs...


Ur.III engine
Specifications (Dr.I)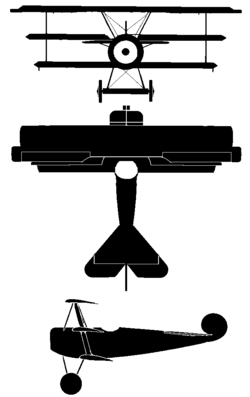 See also
External links