 Floriculture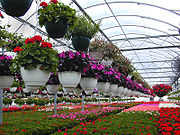 Floriculture
, or
flower farming
, is a discipline of
horticulture
Horticulture
Horticulture is the industry and science of plant cultivation including the process of preparing soil for the planting of seeds, tubers, or cuttings. Horticulturists work and conduct research in the disciplines of plant propagation and cultivation, crop production, plant breeding and genetic...
concerned with the cultivation of flowering and ornamental plants for gardens and for
floristry
Floristry
Floristry is the general term used to describe production, commerce and trade in flowers. It encompasses flower care and handling, floral design or flower arranging, merchandising, and display and flower delivery. Wholesale florists sell bulk flowers and related supplies to professionals in the trade...
, comprising the
floral industry
Floral industry
The floral industry is one of the major industries in many developing and underdeveloped countries. Floriculture as an industry began in the late 19th century in England, where flowers were grown on a large scale on the vast estates. The present day floral industry is a dynamic, global,...
. The development, via
plant breeding
Plant breeding
Plant breeding is the art and science of changing the genetics of plants in order to produce desired characteristics. Plant breeding can be accomplished through many different techniques ranging from simply selecting plants with desirable characteristics for propagation, to more complex molecular...
, of new varieties is a major occupation of floriculturists.
Floriculture crops include bedding plants, flowering plants, foliage plants or houseplants, cut cultivated greens, and cut flowers. As distinguished from nursery crops, floriculture crops are generally
herbaceous
Herbaceous
A herbaceous plant is a plant that has leaves and stems that die down at the end of the growing season to the soil level. They have no persistent woody stem above ground...
. Bedding and garden plants consist of young flowering plants (annuals and perennials) and vegetable plants. They are grown in cell packs (in flats or trays), in pots, or in hanging baskets, usually inside a controlled environment, and sold largely for gardens and landscaping. Geraniums, impatiens, and petunias are the best-selling bedding plants.
Chrysanthemum
Chrysanthemum
Chrysanthemums, often called mums or chrysanths, are of the genus constituting approximately 30 species of perennial flowering plants in the family Asteraceae which is native to Asia and northeastern Europe.-Etymology:...
s are the major perennial garden plant in the United States.
Flowering plants are largely sold in pots for indoor use. The major flowering plants are poinsettias, orchids, florist chrysanthemums, and finished florist azaleas. Foliage plants are also sold in pots and hanging baskets for indoor and patio use, including larger specimens for office, hotel, and restaurant interiors.
Cut flowers
Cut flowers
The term cut flower refers to flowers or flower buds that have been cut from the plant bearing it. It is usually removed from the plant for indoor decorative use. Typical uses are in vase displays, wreaths and garlands...
are usually sold in bunches or as bouquets with cut foliage. The production of cut flowers is specifically known as the
cut flower industry
. Farming flowers and foliage employs special aspects of floriculture, such as spacing, training and pruning plants for optimal flower harvest; and post-harvest treatment such as chemical treatments, storage, preservation and packaging. In Australia and the United States some species are harvested from the wild for the cut flower market.
External links