 Flint spark lighter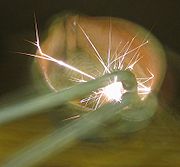 A
flint spark lighter
is a type of
lighter
Lighter
A lighter is a portable device used to generate a flame. It consists of a metal or plastic container filled with a flammable fluid or pressurized liquid gas, a means of ignition, and some provision for extinguishing the flame.- History :...
used in many applications to safely light a gaseous fuel to start a flame. It is most commonly used for
bunsen burner
Bunsen burner
A Bunsen burner, named after Robert Bunsen, is a common piece of laboratory equipment that produces a single open gas flame, which is used for heating, sterilization, and combustion.- Operation:...
s and
oxyacetylene welding torches
Oxy-fuel welding and cutting
Oxy-fuel welding and oxy-fuel cutting are processes that use fuel gases and oxygen to weld and cut metals, respectively. French engineers Edmond Fouché and Charles Picard became the first to develop oxygen-acetylene welding in 1903...
.
A flint spark lighter works by rapidly rubbing a small piece of
ferrocerium
Ferrocerium
Ferrocerium is a man-made metallic material that has the ability to give off a large number of hot sparks at temperatures at when scraped against a rough surface , such as ridged steel...
against a rough steel surface (also called the rasp), in much the same way
flint
Flint
Flint is a hard, sedimentary cryptocrystalline form of the mineral quartz, categorized as a variety of chert. It occurs chiefly as nodules and masses in sedimentary rocks, such as chalks and limestones. Inside the nodule, flint is usually dark grey, black, green, white, or brown in colour, and...
and
steel
Firesteel
A Fire striker is a piece of high-carbon steel used for striking a spark, usually kept in a tinderbox together with flint and tinder.-Usage:...
are used. This manual rubbing action, done by squeezing the handle, creates a spark which then lights the gaseous fuel.