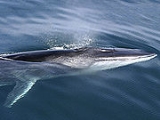 Fin Whale
The
fin whale
also called the
finback whale
,
razorback
, or
common rorqual
, is a marine
mammal
Mammal
Mammals are members of a class of air-breathing vertebrate animals characterised by the possession of endothermy, hair, three middle ear bones, and mammary glands functional in mothers with young...
belonging to the suborder of
baleen whale
Baleen whale
The Baleen whales, also called whalebone whales or great whales, form the Mysticeti, one of two suborders of the Cetacea . Baleen whales are characterized by having baleen plates for filtering food from water, rather than having teeth. This distinguishes them from the other suborder of cetaceans,...
s. It is the second longest whale and the sixth largest living
animal
Animal
Animals are a major group of multicellular, eukaryotic organisms of the kingdom Animalia or Metazoa. Their body plan eventually becomes fixed as they develop, although some undergo a process of metamorphosis later on in their life. Most animals are motile, meaning they can move spontaneously and...
after the
blue whale
Blue Whale
The blue whale is a marine mammal belonging to the suborder of baleen whales . At in length and or more in weight, it is the largest known animal to have ever existed....
,
bowhead whale
Bowhead Whale
The bowhead whale is a baleen whale of the right whale family Balaenidae in suborder Mysticeti. A stocky dark-colored whale without a dorsal fin, it can grow to in length. This thick-bodied species can weigh to , second only to the blue whale, although the bowhead's maximum length is less than...
, and right whales, growing to nearly 27 metres (88 ft) long. The
American
United States
The United States of America is a federal constitutional republic comprising fifty states and a federal district...
naturalist
Naturalist
Naturalist may refer to:* Practitioner of natural history* Conservationist* Advocate of naturalism * Naturalist , autobiography-See also:* The American Naturalist, periodical* Naturalism...
Roy Chapman Andrews
Roy Chapman Andrews
Roy Chapman Andrews was an American explorer, adventurer and naturalist who became the director of the American Museum of Natural History. He is primarily known for leading a series of expeditions through the fragmented China of the early 20th century into the Gobi Desert and Mongolia...
called the fin whale "the greyhound of the sea" because of its great speed when chased and slender build.
Long and slender, the fin whale's body is brownish-grey with a paler underside.