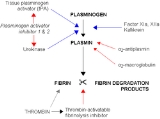 Fibrinolysis
Fibrinolysis
is a process that prevents
blood clots
Thrombus
A thrombus , or blood clot, is the final product of the blood coagulation step in hemostasis. It is achieved via the aggregation of platelets that form a platelet plug, and the activation of the humoral coagulation system...
from growing and becoming problematic. This process has two types: primary fibrinolysis and secondary fibrinolysis. The primary type is a normal body process, whereas secondary fibrinolysis is the breakdown of clots due to a medicine, a medical disorder, or some other cause.
In fibrinolysis, a
fibrin
Fibrin
Fibrin is a fibrous, non-globular protein involved in the clotting of blood. It is a fibrillar protein that is polymerised to form a "mesh" that forms a hemostatic plug or clot over a wound site....
clot, the product of
coagulation
Coagulation
Coagulation is a complex process by which blood forms clots. It is an important part of hemostasis, the cessation of blood loss from a damaged vessel, wherein a damaged blood vessel wall is covered by a platelet and fibrin-containing clot to stop bleeding and begin repair of the damaged vessel...
, is broken down.