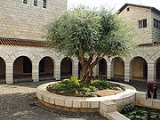 Feeding the multitude
Feeding the multitude
is the combined term used to refer to two separate miracles of Jesus in the Gospels.
The First Miracle, "
The Feeding of the 5,000
" is the only miracle (apart from the
resurrection
Resurrection of Jesus
The Christian belief in the resurrection of Jesus states that Jesus returned to bodily life on the third day following his death by crucifixion. It is a key element of Christian faith and theology and part of the Nicene Creed: "On the third day he rose again in fulfillment of the Scriptures"...
) which is present in all four canonical Gospels ' onMouseout='HidePop("1523")' href="/topics/John_the_Baptist">John the Baptist
John the Baptist
John the Baptist was an itinerant preacher and a major religious figure mentioned in the Canonical gospels.