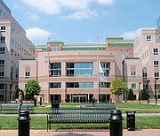 Federal Deposit Insurance Corporation
The
Federal Deposit Insurance Corporation
(
FDIC
) is a United States government corporation created by the Glass–Steagall Act of 1933. It provides
deposit insurance
Deposit insurance
Explicit deposit insurance is a measure implemented in many countries to protect bank depositors, in full or in part, from losses caused by a bank's inability to pay its debts when due...
, which guarantees the safety of deposits in member banks, currently up to $250,000 per
deposit
Deposit account
A deposit account is a current account, savings account, or other type of bank account, at a banking institution that allows money to be deposited and withdrawn by the account holder. These transactions are recorded on the bank's books, and the resulting balance is recorded as a liability for the...
or per bank. , the FDIC insures deposits at 7,723 institutions. The FDIC also examines and supervises certain financial institutions for safety and soundness, performs certain consumer-protection functions, and manages banks in receiverships (failed banks).
Insured institutions are required to place signs at their place of business stating that "deposits are backed by the full faith and credit of the United States Government." Since the start of FDIC insurance on January 1, 1934, no depositor has lost any insured funds as a result of a failure.
At Q4 2010 there were 884 banks having very low capital cushions against risk.