 False Divi Point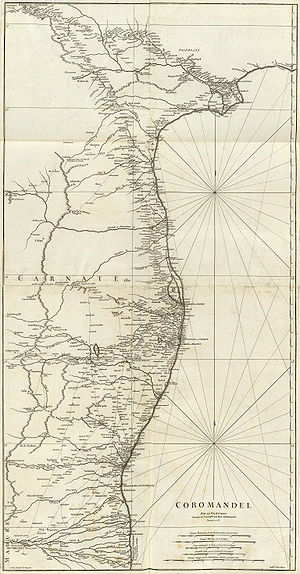 False Divi Point
is a low
headland
Headlands and bays
Headlands and bays are two related features of the coastal environment.- Geology and geography :Headlands and bays are often found on the same coastline. A bay is surrounded by land on three sides, whereas a headland is surrounded by water on three sides. Headlands are characterized by high,...
located at the northern end of the
Coromandel Coast
Coromandel Coast
The Coromandel Coast is the name given to the southeastern coast of the Indian Subcontinent between Cape Comorin and False Divi Point...
, in the state of
Andhra Pradesh
Andhra Pradesh
Andhra Pradesh , is one of the 28 states of India, situated on the southeastern coast of India. It is India's fourth largest state by area and fifth largest by population. Its capital and largest city by population is Hyderabad.The total GDP of Andhra Pradesh is $100 billion and is ranked third...
,
India
India
India , officially the Republic of India , is a country in South Asia. It is the seventh-largest country by geographical area, the second-most populous country with over 1.2 billion people, and the most populous democracy in the world...
.
It is located at the apex of the
Krishna River
Krishna River
The Krishna River , is one of the longest rivers in central-southern India, about . It is also referred to as Krishnaveni in its original nomenclature...
delta. The area is low, swampy and dominated by
mangrove
Mangrove
Mangroves are various kinds of trees up to medium height and shrubs that grow in saline coastal sediment habitats in the tropics and subtropics – mainly between latitudes N and S...
s.
See also
2003 North Indian Ocean cyclone season - Severe Cyclonic Storm (03B)