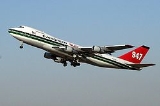 Evergreen Supertanker
The
Evergreen Supertanker
is a
Boeing 747-100
Boeing 747
The Boeing 747 is a wide-body commercial airliner and cargo transport, often referred to by its original nickname, Jumbo Jet, or Queen of the Skies. It is among the world's most recognizable aircraft, and was the first wide-body ever produced...
widebody aircraft that was modified into an
aerial firefighting
Aerial firefighting
Aerial firefighting is the use of aircraft and other aerial resources to combat wildfires. The types of aircraft used include fixed-wing aircraft and helicopters. Smokejumpers and rappellers are also classified as aerial firefighters, delivered to the fire by parachute from a variety of fixed-wing...
aircraft by
Evergreen International Aviation
Evergreen International Aviation
Evergreen International Aviation, Inc. is a global aviation services company based in McMinnville, Oregon. Founded as Evergreen Helicopters in 1960 by Delford M. Smith, Evergreen is primarily known for commercial helicopter operations in agricultural and forestry applications...
. The aircraft was originally manufactured by Boeing in 1970 for
Delta Air Lines
Delta Air Lines
Delta Air Lines, Inc. is a major airline based in the United States and headquartered in Atlanta, Georgia. The airline operates an extensive domestic and international network serving all continents except Antarctica. Delta and its subsidiaries operate over 4,000 flights every day...
. With a capacity of 20,500 US gallons (77, 600 liters), it is the largest aerial firefighting aircraft in the world. The next largest firefighting tanker aircraft is the
Ilyushin Il-76P
Ilyushin Il-76
The Ilyushin Il-76 is a multi-purpose four-engined strategic airlifter designed by Ilyushin design bureau. It was first planned as a commercial freighter in 1967. Intended as a replacement for the Antonov An-12, the Il-76 was designed for delivering heavy machinery to remote, poorly-serviced areas...
. The Supertanker entered service for the first time in 2009, fighting a fire in
Cuenca, Spain
Cuenca (province)
Cuenca is a province of central Spain, in the eastern part of the autonomous community of Castile-La Mancha.-Guide to the area:Located in a natural setting of beauty, the Old Town of Cuenca occupies a superb site between two river gorges. Famous are its 15th Century "hanging houses" , that appear...
. The tanker made its first American operation on 31 August 2009 at the Oak Glen Fire. The current tanker is N479EV, tanker/tail number 979. (The previous plane was: N470EV, tanker/tail number 947.)
Development
Development started after the 2002 fire season, which saw the
fatal crashes of two air tankers
2002 airtanker crashes
In 2002, two large airtankers – a C-130 Hercules and a PB4Y-2 Privateer – crashed about a month apart while performing aerial firefighting operations. These crashes prompted a review of the maintenance and use of the entire U.S. large airtanker fleet. Ultimately, the whole fleet was...
in the USA. The accidents, involving a Lockheed C-130A Hercules and a Consolidated PB4Y-2, prompted the U.S. Department of Interior to issue an official Request for Information on next-generation airtankers.
Evergreen proposed to convert up to four of its Boeing 747-200 Freighters into massive 'Supertankers'. The first converted Boeing 747 (N470EV) made its maiden flight on February 19, 2004. The current Supertanker is
N479EV
Evergreen International Airlines
Evergreen International Airlines is a cargo airline based in McMinnville, Oregon, USA. It operates contract freight services, offering charters and scheduled flights, as well as wet lease services. It operates services for the U.S. military and the United States Postal Service, as well as ad hoc...
, a 747-100.
By June 2006, Evergreen had spent $40 million on the project and was hopeful of both FAA certification, and an evaluation contract from the US Forest Service. In October 2006 the FAA issued Evergreen a supplementary type certificate for the installation and removal of internal tanks, associated systems and support structure for the aerial dispersant of liquids.
An issue that impacted usage by the Forest Service was the USFS requirement for using fire retardant rather than water. When Evergreen attempted to convert the system from water dispensing to retardant, they encountered objections from the FAA. The FAA's issue related to the much greater density of fire retardant and the corresponding increased stress on the airframe thus delaying the FAA certification. The FAA determined that the Supertanker's service life would be diminished and also raised concerns about the dangers of additional stress on the airframe during firefighting operations and heavy weight maneuvering.
Design
Unique technology is used on the Evergreen Supertanker in order to allow an aircraft as large as a 747 to carry out aerial fire fighting.
Also, because of its size, it becomes more cost effective to outfit a single plane with capabilities such as advanced GPS navigation and forward looking infrared (FLIR) capabilities, which could lead to the ability to perform nighttime operations and more accurate drops in specific areas.
The supertanker can also fly at speeds around 600 mph (965.6 km/h; 492.7 kn), allowing it to reduce response times to hot spots.
Current fire fighting aircraft use a gravity drop system. Doors in the underside of the aircraft open, allowing the contents of the tanks to discharge. This type of system requires an aircraft to fly very low, typically 200 feet (61 m) above ground level.
The Evergreen Supertanker has a pressurized system. This can disperse
retardant
Fire retardant
A fire retardant is a substance other than water that reduces flammability of fuels or delays their combustion. This typically refers to chemical retardants but may also include substances that work by physical action, such as cooling the fuels; examples of these include fire-fighting foams and...
under high pressure, for an overwhelming response, or drop retardant equivalent to the speed of falling rain. This system allows the aircraft to operate within its design criteria.
Using the pressurized system, the aircraft can deliver retardant to the scene of a fire whilst flying at a height of 400 to-, at approximately 140 kn (260 km/h 160 mph), configured as if it were on approach for landing.
The Evergreen Supertanker's tank system can be configured for segmented drops, allowing the contents of the tank to be released at multiple intervals while in flight. According to the company, the aircraft is capable of laying down a swath of fire retardant three miles (5 km) long and as wide as an American football field.
Operation
The Supertanker can operate from any airport with an 8000 feet (2,438.4 m) long runway and suitable facilities. Evergreen has identified several airports across the US that meet or exceed the criteria. Currently the first tanker in North America is under a CWN (call when needed) contract with
Cal Fire
California Department of Forestry and Fire Protection
The California Department of Forestry and Fire Protection is the State of California's agency responsible for fire protection in State Responsibility Areas of California as well as the administration of the state's private and public forests. It is often referred to as The California Department of...
and is stationed at McClellan Field outside of
Sacramento
Sacramento
Sacramento is the capital of the state of California, in the United States of America.Sacramento may also refer to:- United States :*Sacramento County, California*Sacramento, Kentucky*Sacramento – San Joaquin River Delta...
,
California
California
California is a state located on the West Coast of the United States. It is by far the most populous U.S. state, and the third-largest by land area...
.
Evergreen Aviation is studying other applications for the Supertanker. Oil spill containment, chemical decontamination and weather modification are being considered. Also, regulations allow for five individuals that are not crewmembers to be carried in the upper deck. This area could be used for command and control, mapping, incident monitoring and video/communications operations.
Utilizing a smaller fleet of large supertankers means potential for savings from reduced staff, maintenance, flight missions and hours flown.
On 5 December 2010, the Supertanker was deployed to Israel for fighting Mount Carmel forest fire. This undertaking goes side by side with crew and utilities donated by other international fire agencies. On 9 June 2011, the Supertanker was also deployed to fight the
Wallow Fire
Wallow Fire
-External links:* - InciWeb Incident Information System* at University of Maryland* by the U.S. Forest Service at Flickr.com*...
in Arizona, which was at 607 square miles (1,572.1 km²) burned and 0% contained at the time of deployment.
External links