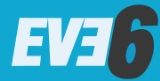 Eve 6
Eve 6
is an
American
United States
The United States of America is a federal constitutional republic comprising fifty states and a federal district...
rock
Rock music
Rock music is a genre of popular music that developed during and after the 1960s, particularly in the United Kingdom and the United States. It has its roots in 1940s and 1950s rock and roll, itself heavily influenced by rhythm and blues and country music...
band
Musical ensemble
A musical ensemble is a group of people who perform instrumental or vocal music. In classical music, trios or quartets either blend the sounds of musical instrument families or group together instruments from the same instrument family, such as string ensembles or wind ensembles...
from
Southern California
Southern California
Southern California is a megaregion, or megapolitan area, in the southern area of the U.S. state of California. Large urban areas include Greater Los Angeles and Greater San Diego. The urban area stretches along the coast from Ventura through the Southland and Inland Empire to San Diego...
, who are most well known for their
hit single
Hit single
A hit single is a recorded song or instrumental released as a single that has become very popular. Although it is sometimes used to describe any widely-played or big-selling song, the term "hit" is usually reserved for a single that has appeared in an official music chart through repeated radio...
s "
Inside Out
Inside Out (Eve 6 song)
"Inside Out" is the debut single of the alternative rock band Eve 6 from their debut album Eve 6. The song was a big hit, managing to top the Modern Rock Tracks chart three times...
", "Leech", and the slow anthem "Here's to the Night". They disbanded in 2004, returned in 2007 with a new lineup, and finally reunited with all three original members in March 2011. They announced their signing to
Fearless Records
Fearless Records
Fearless Records is an alternative rock-oriented record label that has been signing artists since 1994. Fearless is based in Westminster, California and are best known for their early pop-punk moments captured in the Fearless Flush Sampler and Punk Bites releases, as well as additional releases by...
on May 3, 2011.
Formation
The band originally consisted of
Max Collins
Max Collins
James Maxwell Stuart Collins III is the lead singer and bass guitarist of Eve 6. He authored most of the band's songs. He met lead guitarist Jon Siebels in high school, and the two formed a band. In May 2003, Collins was arrested for indecent exposure around the time the band was prepping for...
(vocals, bass),
Jon Siebels
Jon Siebels
Jon Siebels was the guitarist in the band Eve 6, which disbanded in 2004. He also provided backup vocals...
(guitar), and Nick Meyers (drums). The band formed in 1995 in La Crescenta, California first as Yakoo, then Eleventeen; the name Eve 6 was only adopted later. Their first
gig
Concert
A concert is a live performance before an audience. The performance may be by a single musician, sometimes then called a recital, or by a musical ensemble, such as an orchestra, a choir, or a musical band...
was at Eagle's Coffee Pub in North Hollywood. Eleventeen had secured a
recording contract
Recording contract
A recording contract is a legal agreement between a record label and a recording artist , where the artist makes a record for the label to sell and promote...
with
RCA
RCA Records
RCA Records is one of the flagship labels of Sony Music Entertainment. The RCA initials stand for Radio Corporation of America , which was the parent corporation from 1929 to 1985 and a partner from 1985 to 1986.RCA's Canadian unit is Sony's oldest label...
while the band were still in
high school
High school
High school is a term used in parts of the English speaking world to describe institutions which provide all or part of secondary education. The term is often incorporated into the name of such institutions....
. After the recording of Eleventeen, Meyers left the band, and was replaced by
Tony Fagenson
Tony Fagenson
Tony Fagenson is the drummer for rock band Eve 6. He was attending the University of Southern California and was a member of Lambda Chi Alpha Fraternity when he auditioned with Eve 6. At that time, singer Max Collins and guitarist Jon Siebels were looking for a replacement drummer...
.
The band's final name is a reference to
The X-Files
The X-Files
The X-Files is an American science fiction television series and a part of The X-Files franchise, created by screenwriter Chris Carter. The program originally aired from to . The show was a hit for the Fox network, and its characters and slogans became popular culture touchstones in the 1990s...
. Fagenson, a
fan
Fan (person)
A Fan, sometimes also called aficionado or supporter, is a person with a liking and enthusiasm for something, such as a band or a sports team. Fans of a particular thing or person constitute its fanbase or fandom...
of the show, suggested the name after seeing an episode entitled "Eve". The episode featured genetically engineered characters known as "Eves", for the females, and "Adams", for the males. The Eves were portrayed by
Harriet Sansom Harris
Harriet Sansom Harris
Harriet Sansom Harris , often credited as "Harriet Harris" is an American actress best known for her portrayals of Bebe Glazer on Frasier and Felicia Tilman on Desperate Housewives. She won a Tony Award in 2002 as a Featured Actress in a Musical for playing the evil white slaver Mrs. Meers in...
. One of these genetically engineered characters, named "Eve #6," made a remark about biting a guard's eyeball, which Fagenson thought merited "Eve 6" as a band name.
Breakup
Poor sales of
It's All In Your Head
(Only 192,000 units were moved, compared to the platinum and gold certification for their two previous albums), resulted in Eve 6's release from their contract with RCA. Subsequently announcing their breakup, Eve 6 played their final show together on July 15, 2004 under the
Gateway Arch
Gateway Arch
The Gateway Arch, or Gateway to the West, is an arch that is the centerpiece of the Jefferson National Expansion Memorial in St. Louis, Missouri. It was built as a monument to the westward expansion of the United States...
in
St. Louis
St. Louis, Missouri
St. Louis is an independent city on the eastern border of Missouri, United States. With a population of 319,294, it was the 58th-largest U.S. city at the 2010 U.S. Census. The Greater St...
. Collins had a short lived project called Brotherhood of Lost Dogs. Collins and Fagenson reunited to form a new band called
The Sugi Tap
The Sugi Tap
The Sugi Tap was an alternative rock/power-pop band formed in May 2005. "Sugi Tap" is taken from the Japanese comic Battle Royale. The band primarily played in Southern California venues, with the slightly altered Eve 6 line-up of Max on vocals and guitar, and Tony on drums, accompanied by backing...
, which can be found at http://www.myspace.com/sugitap. They recorded some demos and played shows throughout the California region during 2006.
Reunion
After performing for over a year as The Sugi Tap, on October 1, 2007, it was leaked that a "newly reunited" Eve 6 including Collins and Fagenson, and new guitarist Matt Bair would be going on tour. The Sugi Tap, as a result, was "paused" indefinitely. Eve 6 performed shows with Bair over the next three years. In 2010, RCA released
Extended Versions
. This was released without the band's input and contains live songs from a show played before their breakup. On December 19, 2010, the band released a demo of the song "Bad News" for free download. On March 12, 2011, the band formally welcomed Jon Siebels back as lead guitarist via their Facebook and YouTube accounts. Matt Bair has left the band to work on personal projects. The first show with the original Eve 6 lineup since 2004 took place at
Southwestern Oklahoma State University
Southwestern Oklahoma State University
Southwestern Oklahoma State University is a public university in Weatherford and Sayre, Oklahoma. It is one of seven state regional universities in the state of Oklahoma.The current president of SWOSU is Randy Beutler.-History:...
's twelfth annual
SWOSUpalooza
SWOSUpalooza
SWOSUpalooza is an annual concert on the Weatherford campus of Southwestern Oklahoma State University. Borrowing its name, in part, from the Lollapalooza festival, the event is sponsored and produced by the SWOSU Student Government Association , and is considered one of SWOSU's signature events...
concert on April 14. As of May the band signed with
Fearless Records
Fearless Records
Fearless Records is an alternative rock-oriented record label that has been signing artists since 1994. Fearless is based in Westminster, California and are best known for their early pop-punk moments captured in the Fearless Flush Sampler and Punk Bites releases, as well as additional releases by...
and plan on entering into the studio in June to record their fourth album with producer Don Gilmore. On the 8th of September, 2011, it was announced that their upcoming fourth album will be released in early 2012. On the 30th of September, 2011, it was also announced that Chris Lord-Alge finished the mixing of the album.
Current members
Max Collins

Max Collins

James Maxwell Stuart Collins III is the lead singer and bass guitarist of Eve 6. He authored most of the band's songs. He met lead guitarist Jon Siebels in high school, and the two formed a band. In May 2003, Collins was arrested for indecent exposure around the time the band was prepping for...


– bass guitar, lead vocals (1995–2004, 2007–present)
Jon Siebels

Jon Siebels

Jon Siebels was the guitarist in the band Eve 6, which disbanded in 2004. He also provided backup vocals...


– guitar, backing vocals (1995–2004, 2011–present)
Tony Fagenson

Tony Fagenson

Tony Fagenson is the drummer for rock band Eve 6. He was attending the University of Southern California and was a member of Lambda Chi Alpha Fraternity when he auditioned with Eve 6. At that time, singer Max Collins and guitarist Jon Siebels were looking for a replacement drummer...


– drums, backing vocals (1996–2004, 2007–present)
Former members
Nick Meyers – drums (1995–1996)
Matt Bair – guitar, backing vocals (2007–2011)
Tour members
Gabe Witcher – bass guitar, backing vocals (2000)
JJ Bannasch – bass guitar, backing vocals (2003–2004)
Studio albums
Eve 6

Eve 6 (album)

Eve 6 is Eve 6's first self-titled studio album, released on April 28, 1998 on RCA Records.-Critical reception:"Inside Out" quickly rose to the number 1 spot on the Modern Rock charts and topping Billboard's Heatseekers new artists chart. It went platinum, receiving a boost from MTV play of videos...


(1998)
Horrorscope

Horrorscope (Eve 6 album)

Horrorscope is Eve 6's second studio album, recorded at NRG Recording Services in North Hollywood, California. It was released in 2000 through BMG Entertainment and RCA Records to mixed reviews....


(2000)
It's All In Your Head (2003)
Untitled Fourth Album (2012)
Singles
Year
Title
Chart positions
Album
U.S. Hot 100

Billboard Hot 100

The Billboard Hot 100 is the United States music industry standard singles popularity chart issued weekly by Billboard magazine. Chart rankings are based on radio play and sales; the tracking-week for sales begins on Monday and ends on Sunday, while the radio play tracking-week runs from Wednesday...



U.S. Modern Rock
U.S. Mainstream Rock
U.S. Top 40 Mainstream
U.S. Adult Top 40
1998
"Inside Out

Inside Out (Eve 6 song)

"Inside Out" is the debut single of the alternative rock band Eve 6 from their debut album Eve 6. The song was a big hit, managing to top the Modern Rock Tracks chart three times...


"

28

1

5

11

16

Eve 6

Eve 6 (album)

Eve 6 is Eve 6's first self-titled studio album, released on April 28, 1998 on RCA Records.-Critical reception:"Inside Out" quickly rose to the number 1 spot on the Modern Rock charts and topping Billboard's Heatseekers new artists chart. It went platinum, receiving a boost from MTV play of videos...



"Leech"

-

6

10

-

-

"Showerhead"

-

-

-

-

-

1999
"Open Road Song"

-

23

-

-

-

"Tongue Tied"

-

23

-

-

-

2000
"Promise"

108

3

25

40

33

Horrorscope

Horrorscope (Eve 6 album)

Horrorscope is Eve 6's second studio album, recorded at NRG Recording Services in North Hollywood, California. It was released in 2000 through BMG Entertainment and RCA Records to mixed reviews....



"On the Roof Again"

-

19

-

-

-

2001
"Here's to the Night"

30

33

-

14

7

2003
"Think Twice"

-

9

-

-

-

It's All in Your Head

It's All in Your Head

It's All in Your Head is Eve 6's third studio album. Released right before they were dropped from RCA Records and subsequently went on hiatus in 2004. Although the album is praised by fans, it is considered an experimental album, which may explain the lackluster sales that led to the band's release...



"At Least We're Dreaming"

-

-

-

-

-

"Good Lives"

-

-

-

-

-
Other appearances
Year
Song
Length
Album
Producer
1999
"Allison"

1:24

Where Is My Mind? - A Pixies Tribute

-

2001
"Anytime"

3:21

Out Cold

Out Cold (2001 film)

Out Cold is a 2001 American comedy film about a group of snowboarders in Alaska. It is the first feature film by the music video directing team The Malloys. The movie presents itself as something of a parody of 1980's "ski school" movies and makes a number of references to the film Casablanca...


Soundtrack
Don Gimore
"Noel!, Noel!"

-

A Very Special Christmas 5

A Very Special Christmas 5

A Very Special Christmas 5 is the fifth in a series of Christmas-themed compilation albums produced to benefit Special Olympics. Several of the album's tracks were recorded live in Washington, D.C. in December 2000 at a benefit concert hosted by then-President Bill Clinton and First Lady Hillary...



Bobby Shriver, Jon Bon Jovi & Joel Gallen
2002
"You Really Got Me

You Really Got Me

"You Really Got Me" is a rock song written by Ray Davies and performed by his band, The Kinks. It was released on 4th August 1964 as the group's third single, and reached Number 1 on the UK singles chart the next month, remaining for two weeks...


"

2:12

The New Guy

The New Guy

The New Guy is a 2002 American teen comedy directed by Ed Decter. The film tells the story of high school loser Dizzy Gillespie Harrison. Dizzy is an unpopular, high school band geek going through a hellish senior year...


Soundtrack
Ralph Sall
Interviews